Friends of Branded!
Happy Saturday.
I'm going right after it today and will channel my inner General Sun Tzu and one of his most famous quotes - "in the midst of chaos, there is also opportunity."
It's very off-brand for me to bring the work Branded does and the community we're building into the military zone and to reference a general from ancient history who was known for his strategy to win wars and specifically beat his enemy using methods other than sheer force.
For those interested, General Sun Tzu was born Sun Wu around 544 BC. Sun Tzu, which means "master" was a Chinese General, military strategist, and author of The Art of War. I believe more than anything else, his book stresses how important it is to know your enemy and to use brains over brawn as much as possible. Maybe we should give Sun Tzu credit for the philosophy or saying – "work smarter, not harder." I think he certainly would have been a proponent of that in today's world.
For avoidance of any doubt, I do NOT look at our work as remotely being engaged in war and for those that have spent any time with me, I don't think we have any competition (or enemies). I say that with absolutely no hubris or arrogance whatsoever. We have so much fun and deeply desire to work with others – other investors, hospitality groups, vendors, service providers, corporates (big and small) – that I just don't view these folks as competitors. We don't work with everyone of course, but we'll embrace and welcome any players that want to do good things for this industry. That's it, that's the goal. Create value for the industry and start with the operators. The rest will fall into place.
If I'm all kumbaya as well as peace, love (and rock & roll), why did I start this edition of The Weekend Update with a quote from a famous general? Because things are tough out there right now. "Things? What Things" – the economy, markets, inflation, war in Ukraine, the long-tail of a pandemic and I'm sure a myriad of other things I didn't include. All of this is stressful and is both mentally and physically draining and challenging.
I chose, with a great deal of intentionality, the quote above. Branded is an investment and accelerator platform. Entry points matter and are critically important to generating strong returns. Timing matters. When are fortunes made – in times of uncertainty, during corrections, when others are fearful, when capital is being rewarded and respected.
None of this is or should be easy, but in my opinion, it should and will be worth it. When is the best time to build and expand a business – that is in the eye of the beholder of course.
For Branded – we think this is the right time for our own expansion and some of what that means for our platform is shared below. Specifically, we're expanding our platform services as we believe that will make us better at our single most important objective, to be a strong steward of capital.
The Branded Team is working hard to advance our goals and the best way we can do that is to help our Partner Companies, Hospitality Network and friends in this industry succeed. If our community wins, we'll be just fine (okay, maybe better than just fine). That's why I embrace, in almost everything I write, that it takes a village! On a most personal note, I know my mother was NOT the originator of that saying, but she's the person who said it to me and explained what those words really mean. So for me, I'll always attribute that saying to her. Thanks mom.
Okay, lots to cover below. So as always, LFG!!!
---
---
MARKET COMMENTARY
Articles that caught my eye combined with some Branded commentary and insights.
U.S. grocer Kroger carts away Albertsons for $25 bln but faces antitrust test
When the #1 and #2 standalone grocers in the US merge to create an absolute grocery BEHEMOTH, that deserves the top spot in this section of the Weekend Update!
The Branded Team wants to congratulate our good friends from Citigroup and specifically Brian and Matt. Wow, fellas…wow!!!
But here's why I'm so interested in this story – the way in which consumers are engaging with hospitality venues and food & beverage overall is rapidly changing. Grocery stores are going to be forced into prepared foods and they will continue to leverage their footprint for virtual dining concepts (those last three words were not chosen randomly). 😊
Branded believes the winners in the ghost kitchen, dark kitchen, and virtual restaurants will start with the strongest brick & mortar players. This important and emerging segment in the market is NOT about the need to build new commercial kitchens, it's about using (and modernizing of course…with the help of amazing companies like The Middleby Corporation…yes…that was a shameless, but absolutely intentional shoutout!) existing kitchens.
I've already given a shoutout in a previous edition of the Update to the partnership between Kroger and Kitchen United and how they're working together to bring participating restaurants to millions of Kroger's customers. What do you think the merger with Albertsons will do for this partnership? Spoiler alert, it will add fuel to the fire!
Not remotely lost on me and wonderfully highlighted in the article – this merger creates a better company to compete with Walmart. This will prove to be a battle of the titans and as a finance and markets junkie, this is going to be a wild battle to watch. Not just in the world of the price of goods at these stores, but how these now two giants change a little more of the landscape in the hospitality industry. Let's get ready to rumble!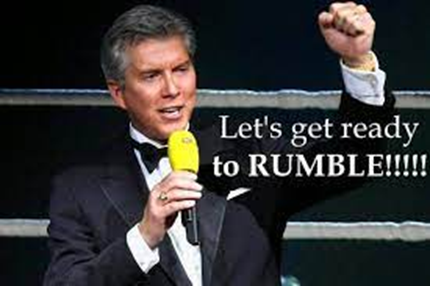 The Future of Restaurant Tech and M&A
LOVE LOVE LOVE this article!
Branded does NOT believe the embracement and cultivating of a better and more integrated tech stack is by any means complete, but it's clear that while tech (SaaS) has been embraced innovation (hardware + software) has lagged. That's understandable of course, software, by definition requires a far lower capital expenditure as opposed to hardware, which by definition requires a great investment of capital.
At the FSTEC conference (hosted by our friends at Winsight, I'm clearly in a shoutout mood today), one of the great questions I was asked at Innovation Alley from a CEO of a major corporation was "I've got software fatigue, what's the best hardware solution you can show me here?"
Automation and specifically robotics are not new to the space, but similar to the challenges software faced only a few years ago, embracement (on both sides – the operators and guests) was lagging. Necessity is the mother of invention and the need for restaurants to embrace automation and robotics has never been clearer. The restaurant industry is SHORT STAFFED and is being PLAGUED by labor shortages. As an industry, we've lost a meaningful part of our workforce and they're NOT coming back (and to be fair to these workers, the industry is challenged to afford to entice them to come back).
Like most things, it will be a balancing act, but leveraging automation to specifically take on the tasks that are viewed as chores is an ideal place to start. To be crystal clear, many of the available solutions are in the early stages, but again, the need is now obvious, so the time for capital and embracement of these innovations is absolutely upon us.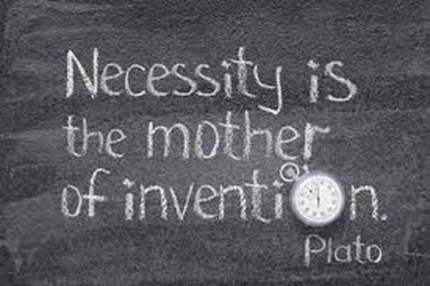 ---
---
TECHNOLOGY
The Branded team likes to walk with a small stick, but we LOVE to boast about our Partner Companies.
Readers of The Weekend Update know that I love themes, so it was only natural for me to make Lavit the company featured in this week's edition.
Branded has worked with Lavit for up and over a year now and we also have version 1.0 of Lavit's countertop beverage solution in our offices at B Works (and our team and guests freaking LOVE it).
The Lavit beverage solution is a compact and true countertop water dispenser with flavored EcoCaps that can be used with both still and sparkling, iced teas, energy drinks, lemonades, seltzer waters etc. Installation of this countertop solution is frictionless and easy.
One of the things that attracted Branded to Lavit was the fully recyclable capsules that reduce carbon emissions throughout the supply chain. At a previous company, I had the privilege of leading, like so many other companies, we filled our refrigerator and breakrooms with bottles and cans of an assortment of single-serve beverages. Either I wasn't aware or there wasn't a more economic and viable option.
Thanks to our friends across the pond in the European Union, we've learned not only how disproportionate and negative these single-serve containers are with respect to waste and the environment, but more importantly how to address this issue! The European Union is lightyears ahead of the US in addressing packaging and specifically addressing single-use offerings and products. Come on America, LFG!!! We're leaders in so many things and should be in the green space as well.
Branded believes Lavit creates a better consumer and guest experience for breakrooms, micro-kitchens, hospitality suites, waiting areas, and many other use cases where single-serve offerings currently exist. Add to that the ESG component, and this is a company creating economic value and doing good things! That's a combination Branded can get behind and did).
Today's edition of the Update talked about automation, robotics and hardware. Lavit represents one of a select number of hardware companies we've embraced as a Partner Company. I've also talked about how corrections create opportunities. However, to learn about the opportunities associated with Lavit, you will need to subscribe to Branded's Access Hospitality Network. Sorry for that, but I respect and appreciate the attorneys that support Branded's business (and protect me from myself). 😊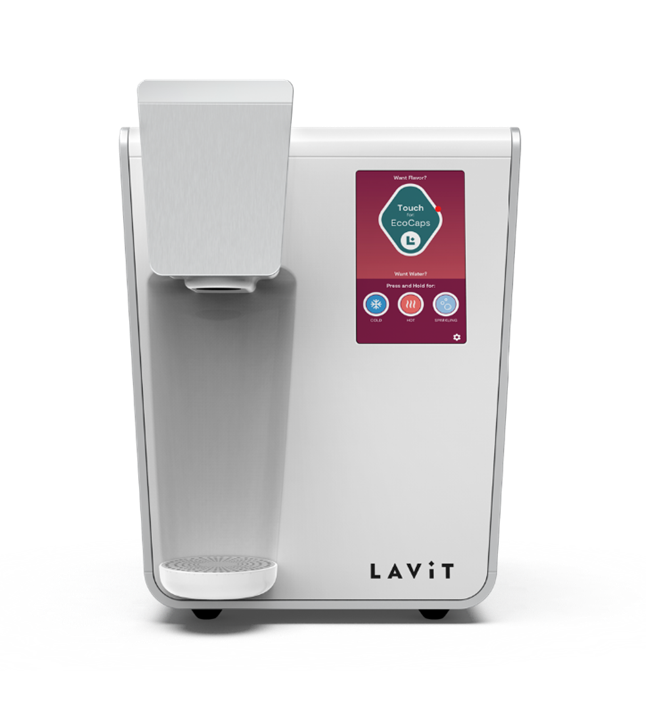 ---

The Access Hospitality Network is off and running!
If you're interested (and only if you're an accredited investor), please consider signing up for Branded's Access Hospitality Network. This is our very own investment club & community that will be afforded unique and differentiated investment opportunities. Commentary shared with the Network will focus on the M&A and Capital Markets associated with this industry and this emerging alternative asset class. There are no dues or membership fees. Members of the Network will benefit from specialized publications, thought leadership, proprietary deal access, exclusive events and more!
If you're interested in joining The Network, please click the link: Access Hospitality - powered by Branded Hospitality Ventures.
---
---
FINANCE & DEALS
We are pleased to announce that Max Schapiro will be joining Branded Hospitality Ventures as a partner in Branded's Capital Market Services! Max has previously worked at Goldman Sachs and the Raine Group, where he specialized in mergers and acquisitions, capital raising, and joint venture formations across the digital media, technology, consumer, and IP sectors, and now has his own firm, Wolfson Partners, where he continues this work on behalf of best-in-class companies, family offices, entrepreneurs, and funds. We are beyond excited to have Max as part of our team and helping support our Capital Market Services on behalf of Branded and our portfolio companies. Max can be reached at max@brandedstrategic.com.
About BCMS:
Branded's Corporate Advisory & Capital Markets Services team is comprised of specialists who help Branded's portfolio companies explore market expansion strategies, capital raising, M&A structuring and execution, and potential exit strategies. We take a long-term view to working with our portfolio companies in order to maximize value for all stakeholders. We leverage our deep sector knowledge and global network of industry participants to assist our partner companies in achieving their goals.
---
---
BUSINESS
We're thrilled to announce that Giancarlo Fiorarancio will be joining team Branded as a partner & advisor in Branded Hospitality Solutions! With over 25 years of experience in leading technology and innovation teams at a variety of retailers and restaurant groups, he is the perfect addition to our BHS team. His ability to bridge the gap between technology, operation and the guest experience will drive quality results for restaurant operators, food tech VC/PE/ Investors and tech startups. We're excited to have him at Branded.
Giancarlo has over 25 years of experience in leading technology and innovation teams who have bridged the gap between technology, operations and the guest experience. His in-depth knowledge of both front-of-house and back-of-house has allowed his teams to deliver solutions that have resulted in operational efficiencies, digital transformation and frictionless commerce. Giancarlo has held technology leadership roles at Dean & Deluca, Steve Madden/Betsey Johnson, Le Pain Quotidien, Shake Shack and The Howard Hughes Corporation. You can learn more about him on the Hospitality Hangout Podcast. Check out his episode here!
What is BHS:
Branded's Hospitality Solutions team works with Startups, VC/PE/Investors and Restaurant Operators of all sizes offering technological assessments, advisory services and solutions to pain points and setbacks to key areas of growth utilizing our deep expertise as restaurant operators and technologists.
---
---
PODCAST
THOUGHT LEADERSHIP
Tuesday, October 11th- Hospitality Hangout: In the latest episode Michael "Schatzy" Schatzberg "The Restaurant Guy" and Jimmy Frischling "The Finance Guy" chat with Jeff Chandler, chief executive officer and President at Hopdoddy Burger Bar & HiBar Hospitality Group.
Chandler grew up in the business. He has been in the industry for more than thirty years. He shared, "My dad was a tavern owner and growing up, if I wanted to spend time with my dad that meant kind of sometimes early mornings and weekends hanging out at the tavern picking quarters out of booth seats and cleaning the grill and cleaning beer lines and emptying pool tables." Handler joined Hopdoddy Burger Bar in 2016 as CEO and in 2021 he was also named CEO of HiBar Hospitality, a growth-focused umbrella company owned by L Catterton that in 2022 completed its first acquisition, Grub Burger Bar.
Listen to the full episode here: Hopdoddy aspires to be the best burger place you've been to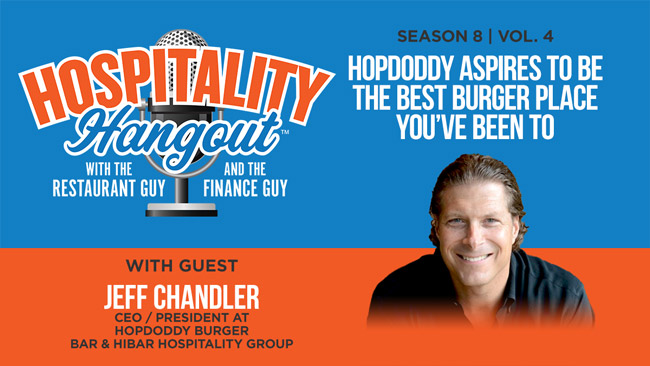 ---
---
IN THE NEWS
Hospitality Tech and F&B Innovation IN THE NEWS:
We love to highlight Food Service & Hospitality news, especially when it's Partners & Friends making it!
And in other News…please see some of the stories that caught our attention and that we're paying attention to. This week was loaded with headlines and news!!
---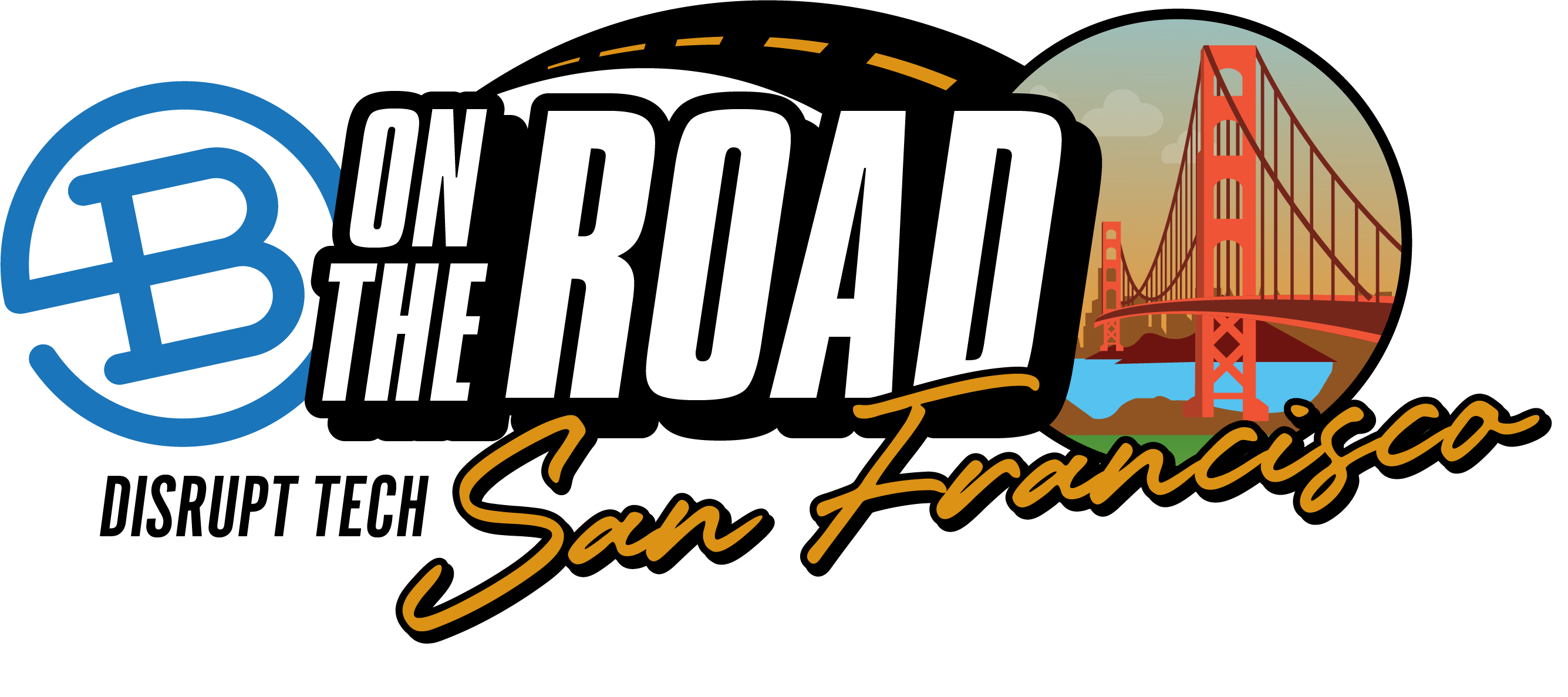 The Branded team is heading to the Techcrunch Disrupt in San Francisco from October 18-20. The global startup community comes together each year to discover insights, collaborate, and celebrate achievements that have defined each founder's journey and for those yet to come in the future.
If you'd like to link up, email us at events@brandedstrategic.com!
---
---
MARKETING
Fast Casual Executive Summit was incredible! Everyone in attendance came to play their A-game, making great connections, asking incredible questions and trying to advance the ball. Get a high-level recap with takeaways from our restaurant evangelist, Rev Ciancio, HERE!
If you're a solutions provider (SaaS, Hardware, Manufacturer, distributor, etc) Rev can help you with lead generation and content marketing.
If you're a restaurant operator or marketer, Rev can help you to create a scalable and measurable marketing system.
Connect with him directly: rev@brandedstrategic.net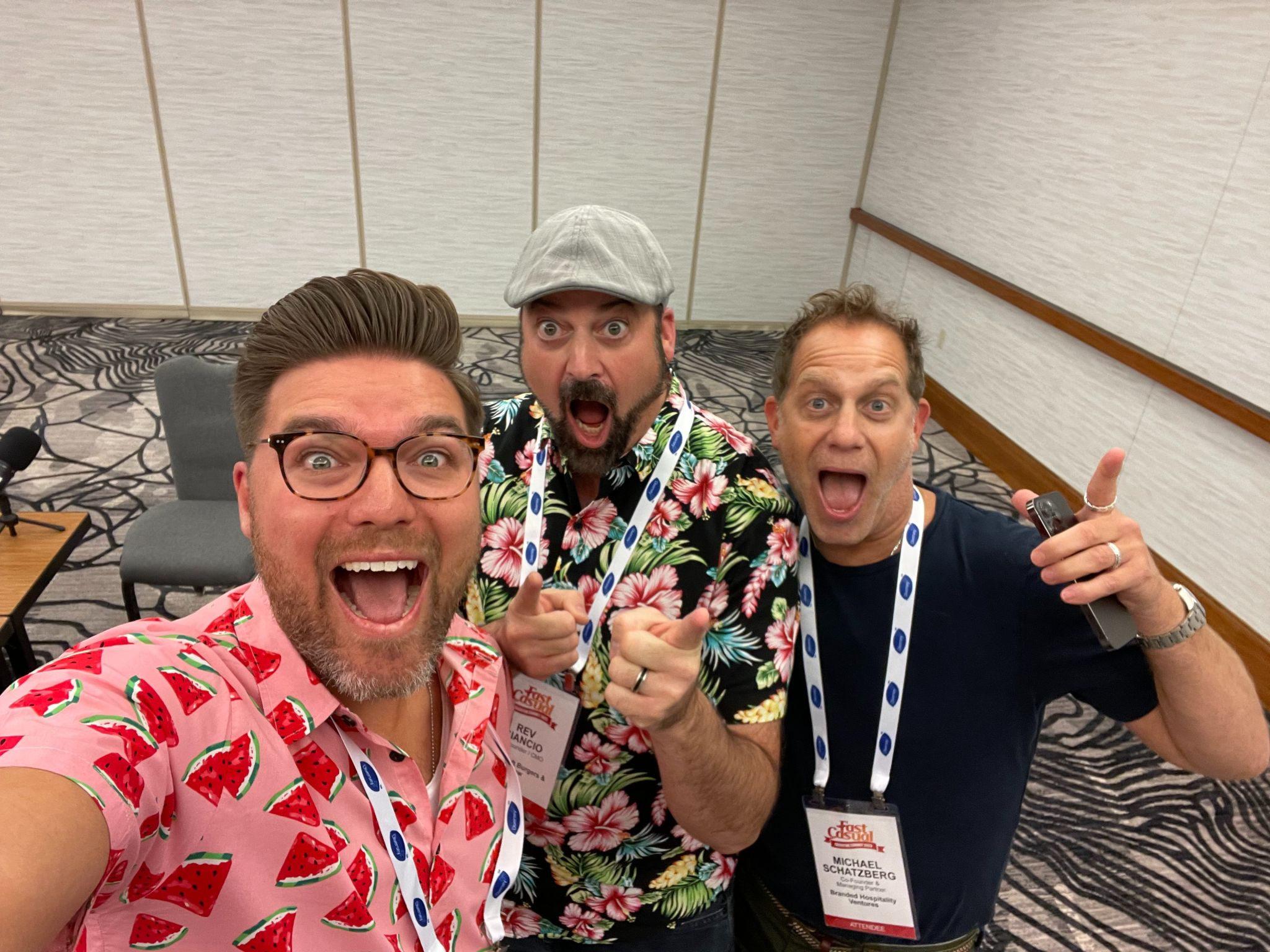 That's it for today!  I wish you a wonderful weekend!
See you next week, (about the) same bat-time, same bat-channel.
It takes a village!
Jimmy Frisch
Co-Founder & Managing Partner
Branded Hospitality Ventures
jimmy@brandedstrategic.com
235 Park Ave South, 4th Fl | New York, NY 10003
---
Branded Hospitality Ventures ("Branded") is an investment and advisory platform at the intersection of food service, technology, innovation and capital. As experienced hospitality owners and operators, branded brings value to its portfolio companies through investment, strategic counsel, and its deep industry expertise and connections.