Friends of Branded!
Happy Saturday.
We'll jump into the action below, but not before sending our sincerest and best wishes to all our friends and to the millions of people that faced (and are facing) the brutality of Hurricane Ian. The wreckage from this storm is staggering and the destruction seems to be nothing less than something of biblical proportion. Floridians are tough MOFOs and have battled mega-storms before, but this one appears to be even more brutal as it pulverized roads, tore apart homes & businesses and hurled boats of all kinds around like they were bathtub toys. The flooding and damage are historic and have left people across southwestern Florida without electricity, drinking water and inhabitable homes.
The economic toll of this storm is still unknown, but it will be nothing less than monstrous. That's something we'll address later, and the focus now will remain on the people of Southwest Florida and the hope that they're safe and getting the care & help they need to get through this unprecedented destruction.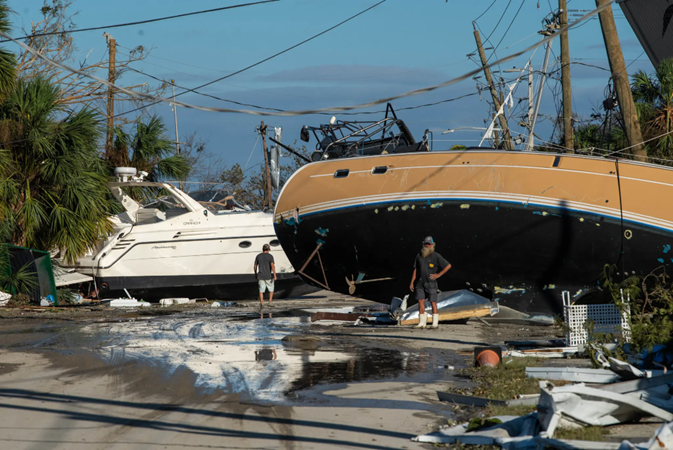 Okay, as always…LFG!!!
---
---
MARKET COMMENTARY
Articles that caught my eye combined with some Branded commentary and insights.
There was one article that caught my eye more than any other and that was from Branded's now most beloved publication – Business Insider and author Nancy Luna.
While the article did capture Branded's unbridled enthusiasm, commitment and love of the hospitality industry most accurately, it was the overarching theme that Nancy put forward that I valued the most. The industry is stepping in and stepping up to support and drive technology investing. I'll blatantly 'borrow' the acronym made famous by Daymond John – legendary businessman, investor and TV personality, who founded and is the CEO of FUBU.
FUBU and its meaning - For Us, By Us was a most meaningful part of the impetus for the launch of Branded Hospitality Ventures. As longstanding restaurant owners & operators, we continued to see more often than not, a disconnect between what technologists thought the industry WANTED versus what the industry NEEDED. As a "finance guy" (or as a "suit" as many of my restaurant friends used to (and some still do) refer to me as) that has spent time in other emerging and alternative asset classes, I've never seen an asset class that for the most part was less interested in leveraging the very experts available to them. This false sense of familiarity with the food service and hospitality industry was creating real friction and distance between these two parties that were far better off working closely together.
The slowdown in food-tech funding from traditional sources of capital has created a void and it's the industry itself that's stepping in to fill it!
The article wonderfully highlights some of the very best and most significant industry players that have added an investment arm to their respective arsenal of services. Chipotle created a $50mm venture fund called Cultivate Next (love that name) to support early-stage companies with technology that aligns with Chipotle's ethos and aggressive growth plans. Inspire Brands, IGC Hospitality, McDonald's, Restaurant Brands International ("RBI"), Sweetgreen, Taco Bell, and Yum Brands are all engaged and active in this space.
Here's a little secret I'm happy to (not fully) share - these companies highlighted above are some of the biggest dogs in the yard, but they're NOT remotely the only dogs. More and more owners and operators are seeing the value they bring to the technology & innovation industry and it's far more than just capital. The industry itself is becoming far more active in the investment space and these players represent a cross section of hospitality companies and the many others that might not own the restaurant or brands you know, but they sell into this industry and they want to see it THRIVE (and not just survive).
Nothing in my comments above should lead you to believe that I don't respect and sincerely love the traditional VC community. They're a critical and much needed force in the launching and supporting of new companies and the entrepreneurship that makes technology and innovation such an incredible and important industry.  But they can't and shouldn't fund emerging companies alone and in times of pullbacks and corrections like we're experiencing now, I love that it's the very users and beneficiaries of technology and innovation that are filling the void. The strategic nature of these industry players and their respective motivations also make these capital providers extremely attractive to emerging companies. The traditional VCs will return in force to this market, but the strategic investors have just solidified a major seat at the table (and for avoidance of any doubt, that concluding hospitality reference was completely intentional). 😊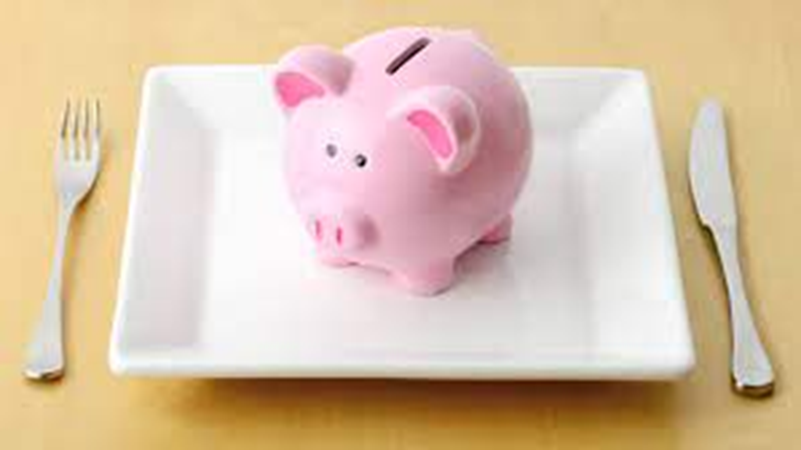 Yes, this is a FIRST for The Weekend Update. I'm going to the same publication for a second article and shoutout and I even went back to the same FREAKING author! Yes, I've brought back an article from late summer, but I just think it belongs in this week's edition of TWU.
Nancy Luna is on it and highlights that VC investment in the FoodTech sector has fallen for the 4th straight quarter.
Here are a few highlights (since Insider is a subscription service and, in my opinion, worth EVERY penny):
-VC interest in restaurant tech companies is declining, according to PitchBook
-Food tech start-ups raised $5.6 billion in the second quarter, down 21.5% from last year.
-The number of deals declined by about 33% from last year.
-Tech companies are facing a reckoning as the days of fast growth and limitless capital are over.
Friend of Branded and the CEO of online-ordering platform ChowNow Chris Webb wonderfully captures how the tech industry has been "addicted to venture capital" and that it was time to go "cold turkey" by "trying to kick the bad habit."
To be nothing less than crystal clear, corrections are painful, but they're also healthy and necessary. A lot of bad f##king and useless ideas were getting funded (and that's really not in anyone's interest and certainly not going to help our industry). The correction will help rebalance the relationship between founders and investors. I also expect it will help drive companies that are more on-point when it comes to have the right recipe of product, market, fit (yes, I'm in some kind of mood this morning b/c I used hospitality reference). 😊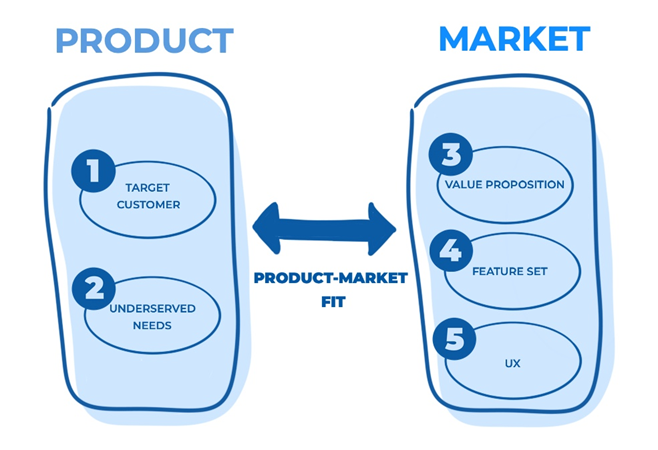 ---
---
TECHNOLOGY
The Branded team likes to walk with a small stick, but we LOVE to boast about our Partner Companies.

The Branded Team had the pleasure of hosting our friends and partners from Tablz last week and their visit to NYC was an exciting one!
Tablz allows customers to take 3D online walkthroughs of restaurants and pay extra (at their option) to reserve a premium table. Paying extra for a premium or desired seat?  Hmmmm…have we EVER seen this concept effectuated before?!?
After making an investment, Branded sends out a note about our bringing the newest Partner Company into our growing community with our Hospitality Network. We're an operator-centric investment, so sharing our portfolio activity with the operator community is important to us. At the risk of upsetting some (or many) of Branded's other (wonderful) Partner Companies, I can say unequivocally, that no other company has generated as much of a response from our Operator Network as our announcement about Tablz. The restaurant industry has long tried to figure out why it's been left out of the dynamic pricing game. If you're on an airplane, the chance that you've paid the same amount for the ticket of the person sitting next to you is about the same as Schatzy still reading this far into the Weekend Update. Also, if you want a better seat at, oh, I don't know, almost anything, you can pay for it, right? The hotdog at Yankee Stadium might cost the same in the bleachers as it does behind home plate, but the seats don't cost the same.
Tablz allows restaurants to place a fee on highly sought-after tables and offers something restaurant operators desperately need – incremental revenues. This is an industry that operates on razor-thin profit margins and was hit incredibly hard by the pandemic. We're now being hit by inflation and supply chain issues. Tablz is a unique platform that affords the guest the opportunity to pay-up ONLY if they want to participate in selecting an available table and, wait for it, the restaurants get 70% of the revenues the premium charged for the table. This is EXTRA income for restaurants and will prove both meaningful and helpful not only in this most difficult time, but ALWAYS!
One final comment about Tablz – they're a Canadian company. Of course it would be a crew of Canadians that came up with the most effective strategy to help restaurants satisfy guests and earn the lion share of the incremental revenues in the process of doing so!
---

The Access Hospitality Network is off and running!
If you're interested (and only if you're an accredited investor), please consider signing up for Branded's Access Hospitality Network. This is our very own investment club & community that will be afforded unique and differentiated investment opportunities. Commentary shared with the Network will focus on the M&A and Capital Markets associated with this industry and this emerging alternative asset class. There are no dues or membership fees. Members of the Network will benefit from specialized publications, thought leadership, proprietary deal access, exclusive events and more!
If you're interested in joining The Network, please click the link: Access Hospitality - powered by Branded Hospitality Ventures.
---
---
PODCAST
THOUGHT LEADERSHIP
Tuesday, September 27th- Hospitality Hangout: In the latest episode of Hospitality Hangout, Michael "Schatzy" Schatzberg "The Restaurant Guy" and Jimmy Frischling " The Finance Guy" were on the road and with a a special edition live from FSTEC in Dallas.
Featured in this episode:
Andy Freivogel - co-founder and chief executive officer of Science On Call
Kimberly Smith -CEO of Copia
Stephanie Sollers- CEO at Virtual Dining Concepts
Chris Keating, EVP at Winsight
Listen to the full episode here: On The Road Live From FSTEC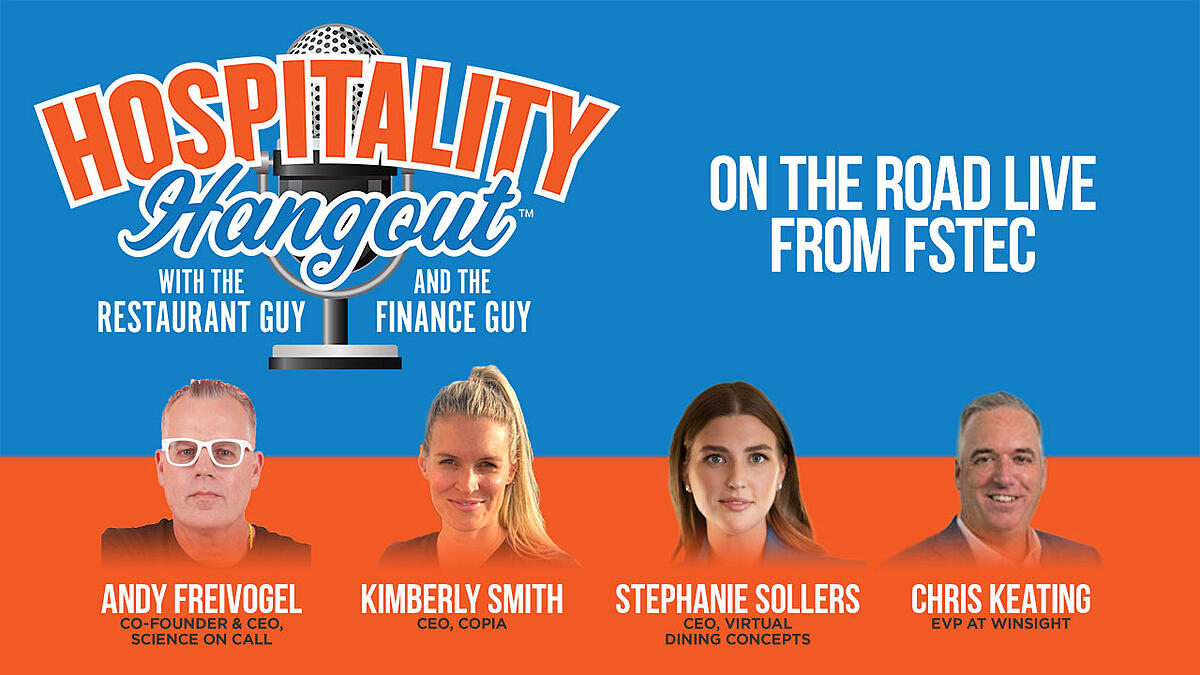 Thursday, September 29th- Branded Insights: Perhaps you've heard us say this before; "At Branded we subscribe to the theory that the pandemic has changed nothing, but accelerated everything".
Okay okay, unless you're new here (we welcome you if you are) you've probably heard us say it at least a dozen times. Regardless of our repetitiveness, our theory continues to ring true.
Trends like QR codes, contactless ordering, and curbside pickup were all fast-tracked by the pandemic and continue to remain relevant, they just may look a bit different and work a little more efficiently today.
Check out the full article here: Pandemic Contactless Dining Trends Are Here To Stay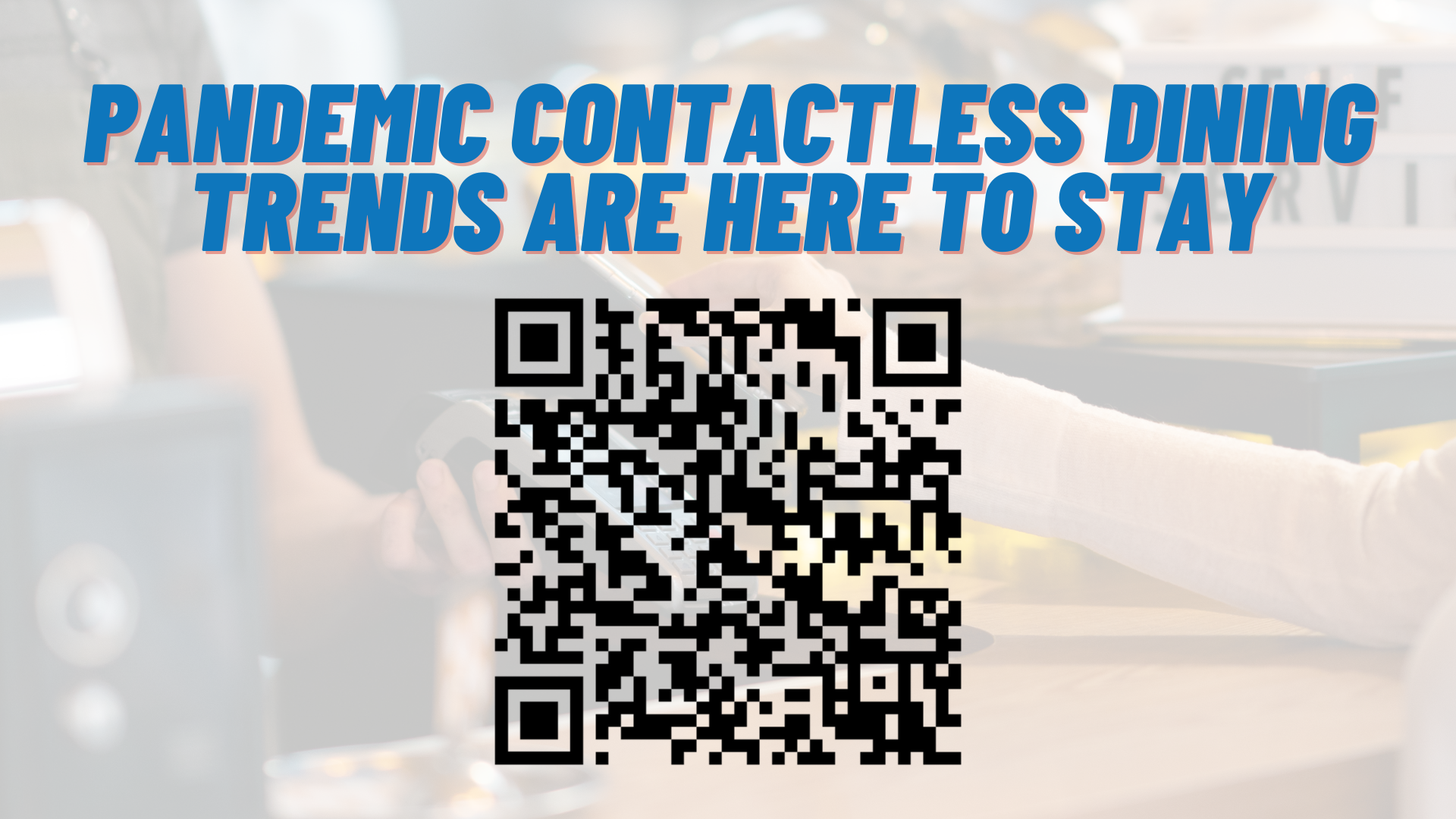 ---
---
IN THE NEWS
Hospitality Tech and F&B Innovation IN THE NEWS:
We love to highlight Food Service & Hospitality news, especially when it's Partners & Friends making it!
And in other News…please see some of the stories that caught our attention and that we're paying attention to. This week was loaded with headlines and news!!!
---

The Branded team is heading to the Fast Casual Executive Summit in Indianapolis from October 9-11. The conference is organized by our good friends at Networld Media Group! This conference is reserved for top-level restaurant executives, leaders and innovators of the fast casual industry.
We're eager to connect with old friends, make some new friends and of course boast about our partner companies. This year Branded partners Ovation, Leasecake, Bite, and Incentivio will be hitting the road with us to Indy.
If you'd like to link up or want an introduction to any of our partners, email us at events@brandedstrategic.com!
---
---
MARKETING
26,571 impressions, 66 link clicks, 100 growth in meaningful LinkedIn connections
Going to Fast Casual Executive Summit, MURTEC Executive Summit, Florida Restaurant & Lodging Show, Pizza and Pasta North East or any other trade show and want to crush it on LinkedIn?
Our restaurant evangelist and tech marketer, Rev Ciancio has a social media playbook for LinkedIn that drove the above results to his personal page.
Check it out here
He'll give you the playbook so you can do the same. Just ask: rev@brandedstrategic.net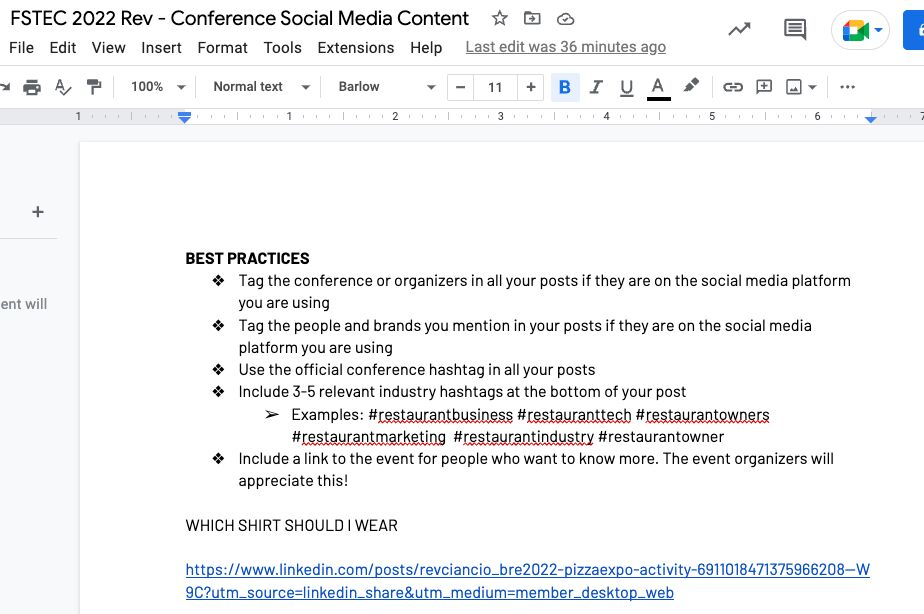 ---
That's it for today!  I wish you a wonderful weekend!
See you next week, (about the) same bat-time, same bat-channel.
It takes a village!
Jimmy Frisch
Co-Founder & Managing Partner
Branded Hospitality Ventures
jimmy@brandedstrategic.com
235 Park Ave South, 4th Fl | New York, NY 10003
---
Branded Hospitality Ventures ("Branded") is an investment and advisory platform at the intersection of food service, technology, innovation and capital. As experienced hospitality owners and operators, branded brings value to its portfolio companies through investment, strategic counsel, and its deep industry expertise and connections.