Friends of Branded!
Happy Final Saturday of 2022!
Wow! What a year it's been for Branded and specifically our Weekend Update community. We started 2022 with about 2,000 subscribers and we're finishing the year at nearly 20,000 (thank you)!
We know it's NOT a short newsletter (and we're working on that), but we appreciate the folks that read this each & every week as well as the folks that check it out every now & then. We've got plans for how we can raise the bar on The Branded Weekend Update as we roll into 2023, but that's for next week & next year!
For this week's edition, we've captured a fair amount of Year-in-Review ("YIR") information which should not be confused with anyone's Night-in-Review ("NIR") that may or may not be part of your breakfast or brunch discussions tomorrow on New Year's Day. 😊
My above-the-fold contribution this week is about looking forward, but I'm going to do so in a far less predictive manner and instead be more tactical (which is how we view technology for our industry – solutions that can have an immediate or near-term impact and create value for operators).
Branded is very proud to offer our clients Revenue Marketing Services ("RMS"), but as an investment platform, I recognize that this part of our business, although LOVED by its clients, is relegated to a position in the newsletter just above my signature. Well not today my friends, not today!
On January 25th & 26th, Branded is proud to present the Branded Restaurant Marketing Summit. My enthusiasm to highlight this event can be attributed to two things: (i) the community of over 30 experts that have all signed-on to make this a most meaningful and impactful experience; and (ii) I sincerely believe that the host of the Summit, Branded's Head of RMS and the industry's leading restaurant evangelist, Rev Ciancio, would haunt me in the sleep if I didn't show this event the respect it deserves.
In all seriousness, the Summit is entirely dedicated to helping restaurant owners & operators improve their marketing and the Branded team is sincerely touched by the support and engagement of these industry experts that have committed so much time, effort and content to making this an engaging event for the attendees.
Readers of the Weekend Update know my obsession with community, team and of course the village. The 32 experts that have signed-on for this event represent members of our inner circle and I so appreciate their commitment to this Summit and similar to Branded, love of this industry.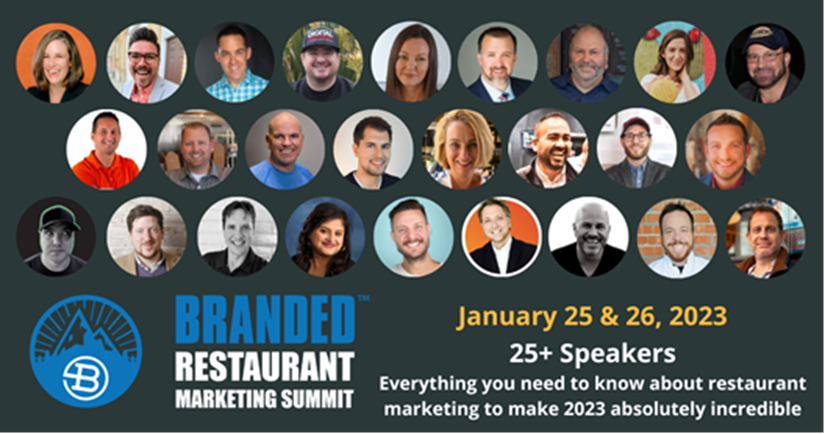 While I hope my invitation to the Branded Restaurant Market Summit is welcoming, I know I can't compete with Mr. Shawn P. Walchef's post on LinkedIn.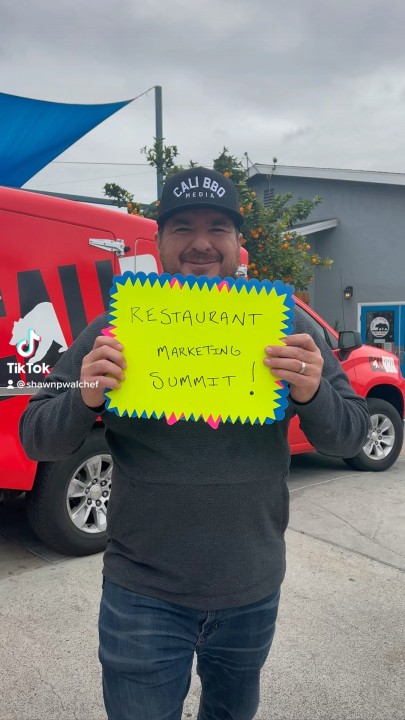 As for the title and image used for this week's edition, getting a reference from this 1980s classic has always been on my list of wants and this image & this scene specifically!
First, the famed "Dirty Dancing" lift was improvised and never happened again. In a 2015 interview Jennifer Grey did with The Guardian, when asked about recreating the "lift" she responded "I only did it on the day I shot it. Never rehearsed it, never done it since."
But it's the meaning behind the phrase "nobody puts baby in the corner" that I love. It means that no one with talent should be stopped from expressing it or showing it off. It's about self-expression, about enabling anyone to be their best self and a striking call against anyone who strives to keep people's potential at bay. No one person should force another person to sit out of an activity that they want to join.
These are powerful messages and takeaways from a line in the movie that the co-star (Patrick Swayze of course) felt was "corny" and didn't want to say. In his own book, Swayze said "we did a lot of rewriting for the big final scene, but one line that I hated stayed in. I could hardly bring myself to say: 'nobody puts baby in the corner.' It sounded so corny, but seeing the finished film, I had to admit, it worked."
I loved this movie that was released in 1987 (and since I'm the Finance Guy, the film has grossed over $200mm on a budget of only $6mm), I love the meaning behind the phrase "nobody puts baby in the corner" and I love the lift. The connection and trust between Jennifer Grey and Patrick Swayze and how Jennifer is taking flight, taking off and her journey is about to begin.
As we roll into 2023, take a moment to reflect of course on the year gone by, but look forward to the year ahead with enthusiasm & joy and embrace the journey we're all on!
My parting image for the close of 2022 and the launch into 2023, a painting by a friend & artist Adi Oren - it's called Freedom Flier. Happy New Year and I wish you all good things for the year ahead.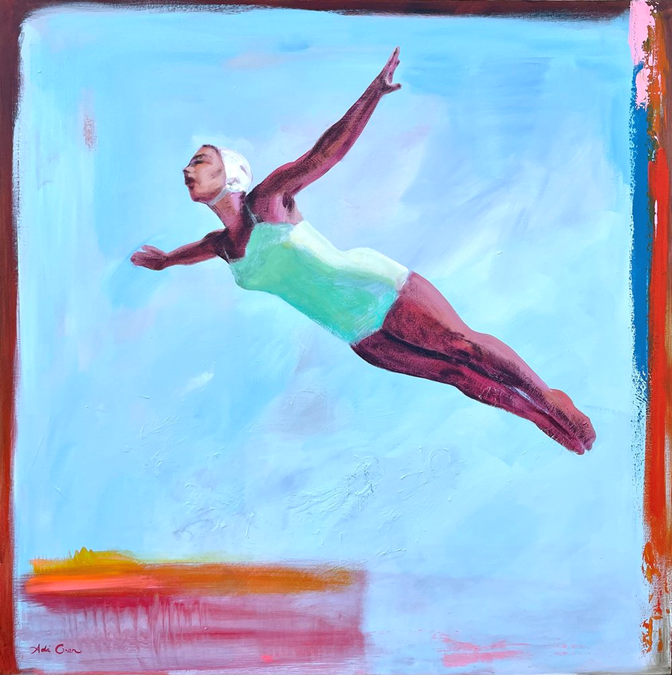 Okay, there's a lot to cover below, so as always, Let's Go!!!
---
---
MARKET COMMENTARY
Articles that caught my eye combined with some Branded commentary and insights.
I don't like jumping on bandwagons and piling on the troubles of others. We all have our issues, trips & stumbles and even a fall down. I've been a fan of Southwest Airlines, have always appreciated their stock ticker symbol (LUV) and felt they were as customer-centric an airline as any for years. Things of course change and growth, expansion and competition result in changing roadmaps, priorities and otherwise.
My inclusion of a story about Southwest is simply this – don't neglect your tech-stack.
This article by Dhierin Bechai from Seeking Alpha captures in detail Southwest's failure of epic proportions better than any other I've read. There were many factors that contributed specifically to Southwest Airlines being an outlier of absolute cancellations, but the key takeaway from the article was "the real reason why this eventually turned into mass cancellations, it's because Southwest Airlines does not have the technology available to handle its complex network."
Some may accuse me of highlighting the importance of technology as being motivated by self-interest b/c Branded is an investor in emerging technology. Please know, I also respect the importance of oxygen and gravity, so my highlighting the importance of a modernized tech-stack may not be self-interest, but rather an embracement of something that's now simply table stakes.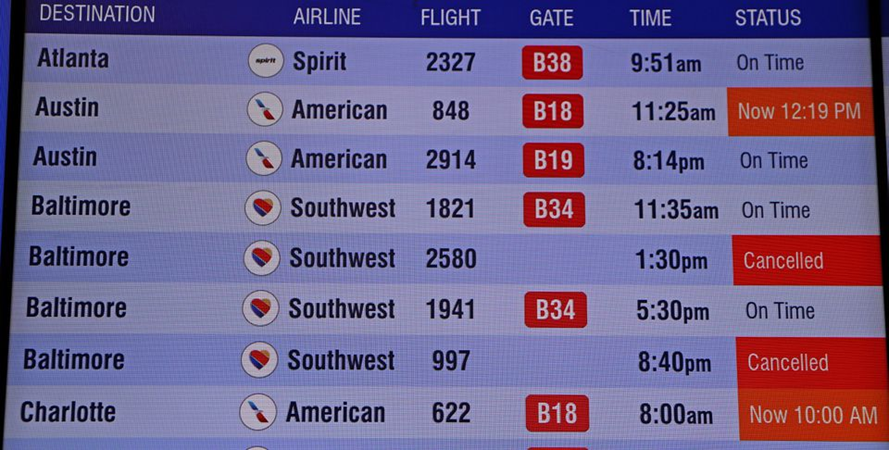 I'm not ending the year without including our friends from Insider (businessinsider.com) who continue to provide amazing content and bring their much needed and valued spotlight on the importance of technology & innovation for the foodservice and hospitality industry.
The attached article is from Nancy Luna - Insider (businessinsider.com) and includes some recommendations and shoutouts to the 10 most promising FoodTech start-ups. The Branded team and specifically my co-founder, Michael Schatzberg and I were thrilled to be included alongside Rini Greenfield, ReThink Food; Brita Rosenheim, Vita Ventures; and Liza Feria, Stray Dog Capital.
The article highlights that capital flows by mid-2022 had dried up, but also the importance of FoodTech start-ups that are "helping restaurants and food retailers improve profits at a time when every penny counts." We think all of the recommendations captured in the article are worthy of exploration (and we of course love that we got to put forward our own recommendations in the article).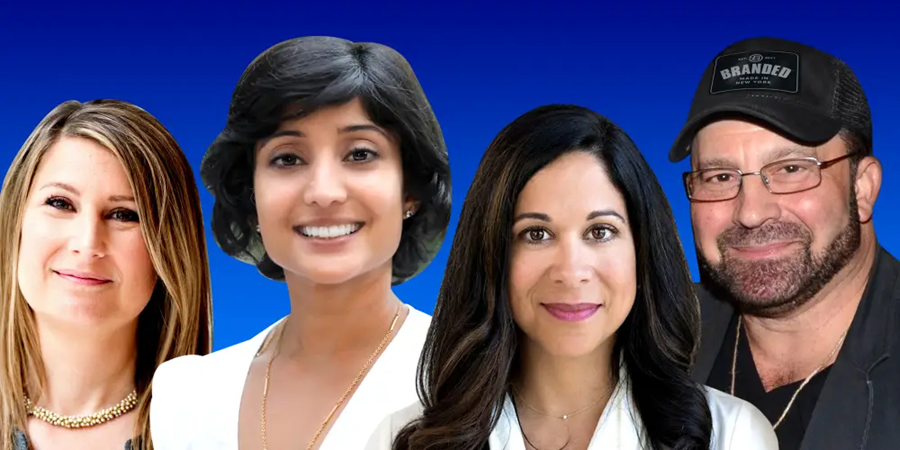 ---
---
TECHNOLOGY
Billed as Netflix meets Home Shopping Network, direct-to-consumer video commerce platform NBTV Channels is unveiling Golf Nation, the golf industry's first in-video shopping channel. Nick Buzzell, chairman and CEO of NBTV Channels and NBTV Studios, believes the concept — which eliminates interruptive advertising — represents nothing short of the future of media.
"Shoppable video itself is not new — it's just time to reinvent it," Buzzell said. " Amazon didn't invent e-commerce, they just made it better, they made it incredibly easy for the consumer. That's our goal." Golf enthusiasts can watch a smorgasbord of free golf lifestyle shows and instantly purchase from an array of products while never leaving their screen, much less their home.
Golf Nation follows the success of Spirits Network, the shoppable video platform dedicated to premium spirits. Launched in 2019 and profitable within its first year, the channel has amassed more than 1 million users, with more than a third making purchases on a regular basis. With more than 60% of the Spirits Network audience indicating that they are golf fans, Golf Nation became a natural outgrowth.
NBTV's strategy includes a three-pronged revenue model, including making money on customer transactions and securing sponsorships with brand partners that seek to reach and engage targeted customers. Buzzell anticipates more than 1 million active users by the end of next year and, long term, he envisions a quarterly subscription box that customers can buy filled with selected products.
The buy-bar shopping channel concept solves problems both for the advertiser — how do I reach customers more efficiently and sell products? — as well as the customer — how do I watch free content without being interrupted? Golf Nation's content, whose length typically ranges from five to 30 minutes apiece, includes shows like "Ambush with David Feherty," featuring hidden camera hijinks; "Watch. Buy. Play." focusing on popular golf products; and "Don't I Know You?" hailed as golf's "Newlywed Game."
For more information check out Nick Buzzell on Bloomberg below!
---

The Access Hospitality Network is off and running!
If you're interested (and only if you're an accredited investor), please consider signing up for Branded's Access Hospitality Network. This is our very own investment club & community that will be afforded unique and differentiated investment opportunities. Commentary shared with the Network will focus on the M&A and Capital Markets associated with this industry and this emerging alternative asset class. There are no dues or membership fees. Members of the Network will benefit from specialized publications, thought leadership, proprietary deal access, exclusive events and more!
If you're interested in joining The Network, please click the link: Access Hospitality - powered by Branded Hospitality Ventures.
---
---
FINANCE & DEALS
The stock market craze of 2022 has come to an end and next week will be the start of both new year and a new market. Before we launch into 2023, let's click rewind and take a look back at some big headlines that hit the wire in 2022.
January: Elizabeth Holmes sentenced, Apple becomes first U.S. company to reach $3 trillion in market value, U.S. wages & wages rose at a two-decade high
February: Russia invades Ukraine and the U.S. and its allies impose stiff sanctions
March: Oil blasts through $110/bbl, Fed begins raising rates, Dow drops 500 points
April: Supply chain challenges grow, Tesla posts record profits, Twitter accepts Elon Musk's buyout deal
May: SoftBank posts biggest loss, Biden signs Judicial Ethics and Transparency Law
June: Fed raises rates by 0.75 percentage point , Mortgage rates surge, Kellogg announces separation of 2 businesses, Markets post worst first-half performance in decades
July: Inflation reached a 40 year high, Chips Act passes Congress
August: Unemployment rate falls, Bed Bath & Beyond cuts
September: Gas supplies halted to Western Europe, Quen Elizabeth II passes, Stocks plunge
October: Kroger acquires Albertsons for $24.6B, U.S. economy rebounds in Q3, Meta shares plunge 24%, Musk acquires Twitter
November: Fed hikes rates, FTX files for bankruptcy
December: Fed raises rates,
According to TradeThatSwing "The historical average yearly return of the S&P 500 is 11.888% over the last 10 years, as of end of November 2022."
(Note: Data as of 12/30/2022)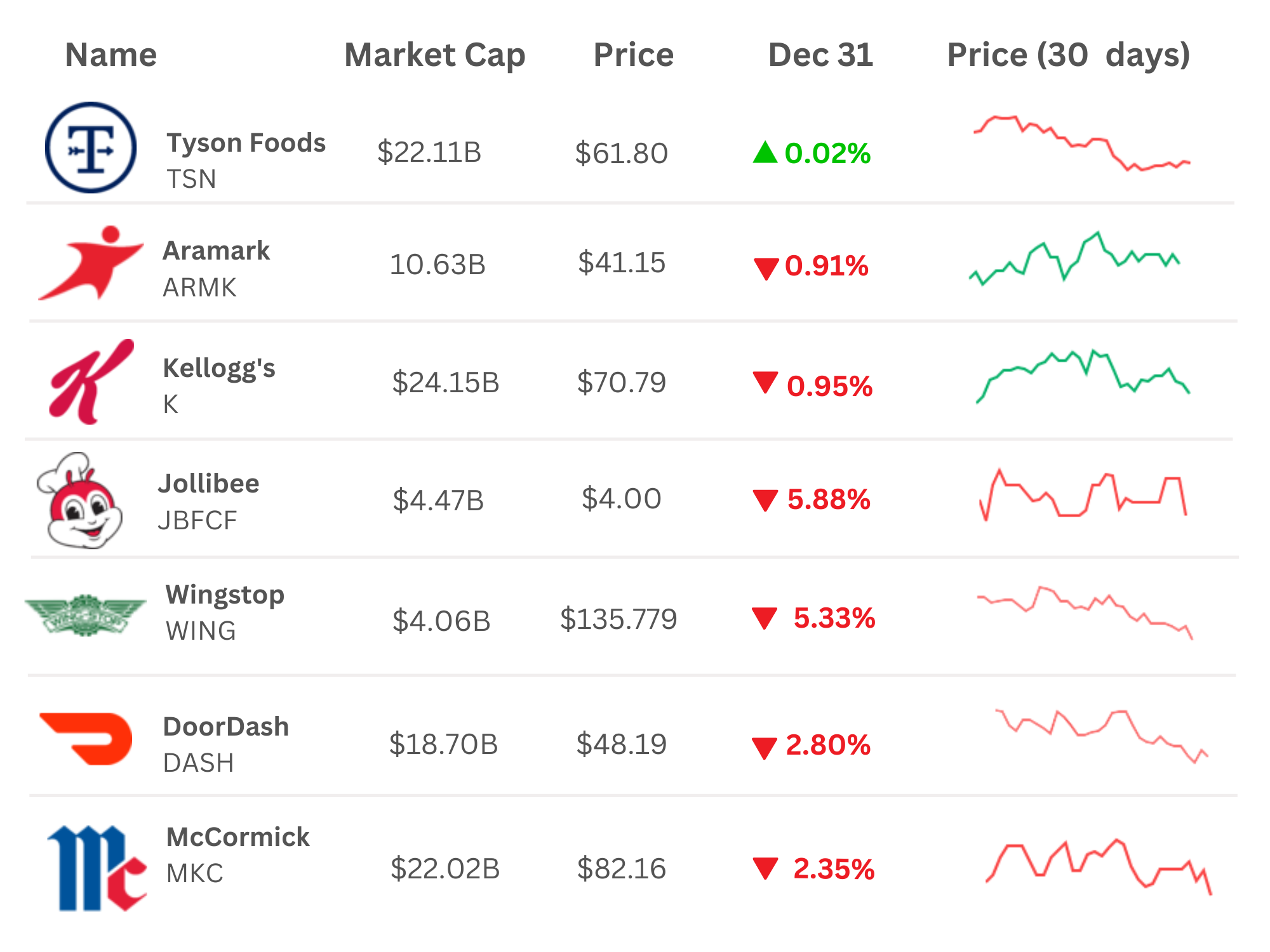 ---
---
BUSINESS
Technology is changing the way restaurants operate and adapt to new challenges. Tech is no longer a nice to have, it's a need to have. For a restaurant to be successful in today's world it must be agile and adapt quickly to changes in procedures and protocols.
Below please find a few insights from some of the largest consulting firms in the world.
---
---
PODCAST
Wednesday, December 28th- Branded Insights: It's no secret that 2022 has been a challenging year not only for the food service industry, but across the board. Inflation, labor pressures, and supply chain were just a few obstacles businesses had to mitigate. Operators turned to technology to alleviate these pain points.
The demand for a better customer experience is high, and the innovative capacity for tech entrepreneurs is only increasing.
With 2023 on the horizon, let's take a look back at some of the tech that is revolutionizing the space with this year's top articles!
Click HERE to read more!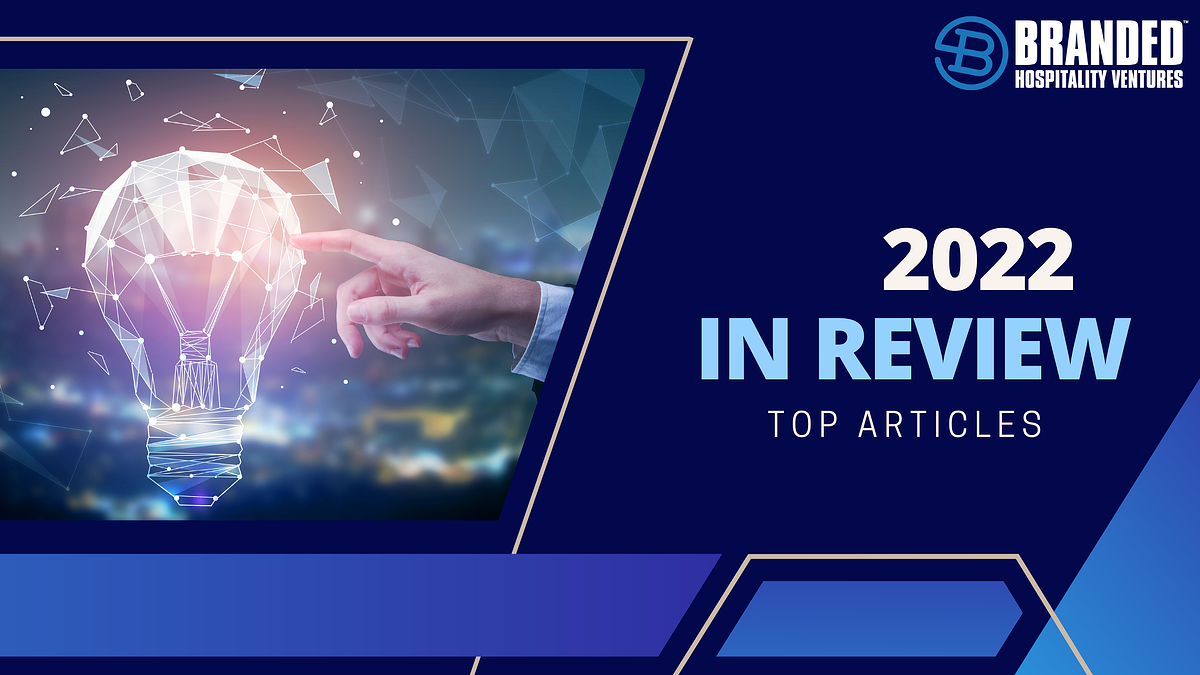 ---


‌Are you looking for a tech solution? A new partnership? Or maybe an easy way to built your tech stack??? Check out BOOM a food service marketplace!‌
‌‌
‌BOOM a food service marketplace! is a digital ratings and review platform providing best in class technology, innovation, professional services and suppliers for the entire spectrum of the hospitality industry.‌
‌‌
‌Want to learn more? Click HERE or contact us at boom@brandedstrategic.com
---
---
IN THE NEWS
‌Hospitality Tech and F&B Innovation IN THE NEWS:
We love to highlight Food Service & Hospitality news, especially when it's Partners & Friends making it!
And in other News…please see some of the stories that caught our attention and that we're paying attention to. This week was loaded with headlines and news!!
---
---
MARKETING
You're invited to the only Summit dedicated entirely to improving your restaurant marketing, the Branded Hospitality Ventures Restaurant Marketing Summit hosted by our very own restaurant evangelist, Rev Ciancio!
Register for FREE and you'll get access to presentations and panels from 32 different hospitality experts who will show you exactly how to uplevel your restaurant marketing.
Don't miss this free online event happening January 25th and 26th!
REGISTER FOR FREE: https://www.restaurantsgrow.com/summit
---
That's it for today! I wish you a wonderful holiday weekend and a very Happy New Year!
See you next week, (about the) same bat-time, same bat-channel.
It takes a village!
Jimmy Frisch
Co-Founder & Managing Partner
Branded Hospitality Ventures
jimmy@brandedstrategic.com
235 Park Ave South, 4th Fl | New York, NY 10003
---
Branded Hospitality Ventures ("Branded") is an investment and advisory platform at the intersection of food service, technology, innovation and capital. As experienced hospitality owners and operators, Branded brings value to its portfolio companies through investment, strategic counsel, and its deep industry expertise and connections.
Learn more about Branded here: Branded At-A-Glance_Dec 2022