I just got back from the Pizza & Pasta Northeast in Atlantic City, NJ.
They describe it as "The Pizza & Pasta Northeast will showcase the top industry suppliers for pizzerias and Italian restaurants. There will be education sessions taught by top industry professionals and competitions that you don't want to miss!"
This was an excellent trade show. Not only is it fun, there is a ton of good food and an overall vibe of people coming together to make the business of pizza even better. Its heavily focused on the independents. As I do, I asked people what problems they were trying to tackle and they're exactly the same as all brands .... they just didn't have the tricks and tips.
Normally, I would share some key takeaways after a trade show, but I'm gonna do this one a little differently. I got asked a lot of questions about restaurant marketing and tech, so here are a few of my top easy to execute marketing tips tricks and tactics shared or learned at the show
1. INCREASE YOUR PRICES TO INCREASE ONLINE ORDERS
Yes, you read that right. I bet you'd like more online orders to your restaurants, wouldn't you? Here's the move: rather than offer a discount for online orders, instead raise all your prices in store by $.50. Then tell all your customers that they can get it for the regular price if they just order online. Those who really really want to call and will pay the $.50 and those who want to save the $.50 will order online. If they complain, it's probably not long before they were gonna be your customer anyway!
2. GIVE AWAY FREE WIFI, NOT FREE FOOD
Want to increase the number of emails you have from your guests? Give away free Wi-Fi in store that they can get access to if they give you their email address. You can set this up for less than $20 a month (ask me how). I can tell you beyond a shadow of a doubt at Handcraft Burgers and Brew 2/3 of our email database has been built this way!
3. STUDIO QUALITY FOOD PHOTOS - ONLY $46
People tell me all the time that they wish they could have better looking food photos like mine. What if I told you that for only $46 your photos could look just as good? Buy this light. That's my biggest secret!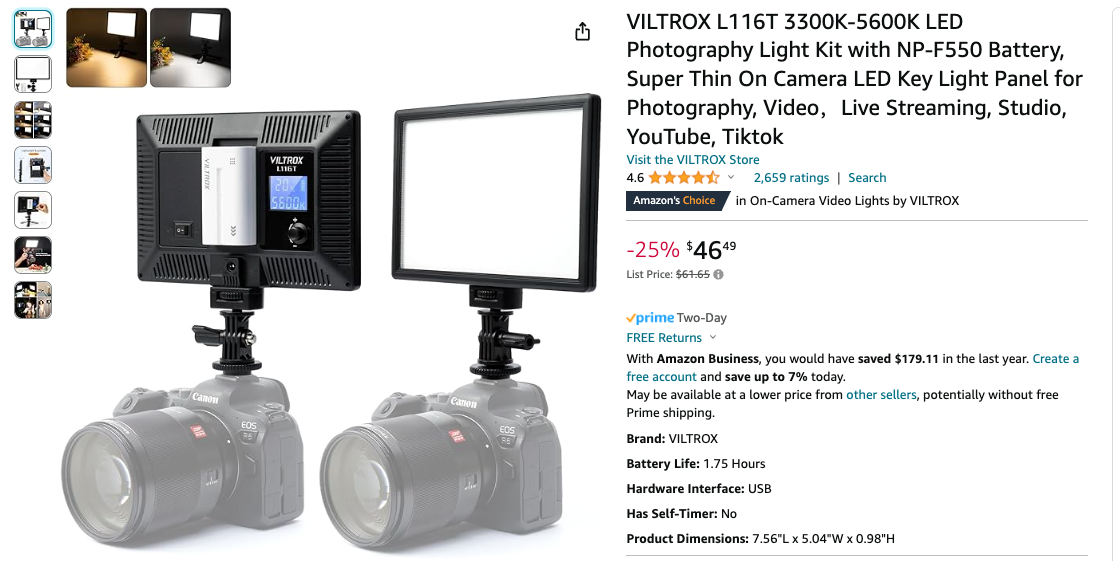 4. MARKETING IS CHEAPER AND EASIER THAN YOU THINK
Don't get caught up in thinking you should be better or put more time into marketing. It's 2023. Independent restaurants have access to enterprise level tech solutions and services at a fraction of the price.
Want to come up higher on Google and Yelp searches? Get Marqiiand manage your listings and your reviews on those sites and 70+ others.
Want to increase the amount of five star readings your restaurant is getting while also reducing the amount of one stars? Get Ovation. It will help you get feedback on every single order, every single time, help you build a database and give you insights that you never had before about your restaurants. Well also helping you to get a better average rating.
Commission Free Online Orders:
Stop giving the 3rd party marketplaces 20-30% commission. No need to pay a monthly software fee for a website. Through a program we built with BistroUX, you can get a great website for a couple hundred bucks and have your own online ordering without giving a top line percentage away. Plus, you'll get all of your guest's email addresses.
Strategy, Tactics, 100% Done For You Marketing:
Wish you had more time in your day to manage social media, place ads on Google and email your guests? You don't need to wish, you just need to hire me and Targetable. We will do it all for you.
For less than what you spend on electricity, you can have full on, done for you marketing, automations, a website and online ordering in a very similar way to how the big chains do.
Hit me up with your questions. I can help you with this: rev@brandedstrategic.net

- Rev Ciancio
---

WHAT DOES REV DO?
*I help restaurants to build guest marketing programs.
*I help hospitality tech companies with lead generation and content marketing.