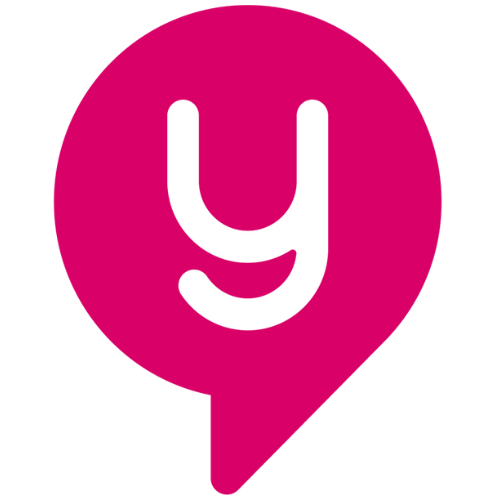 Together with Yumpingo
Next-Generation Customer Experience Management Platform
Friends of Branded!
Happy Saturday and I hope you had a great week!
This week Branded hosted an event for Family Offices and HNWI (High Net Worth Individuals) at a private room at one of our restaurants in midtown - Monterey.
Before I jump into the event, I will say that the team at Monterey absolutely CRUSHED it! Chef James Tracey put together an awesome menu for our evening. Kamil Lyczko is a mixologist for the stars and Alon Moskovitch and his team were perfect (and there's nothing ever easy about that). This shout is deserved, and we appreciate our partners at Monterey for creating such a warm backdrop of our event.
But now back to the event. We called this event Better Together + Ho$pitality Investment Forum and hosted it with our friends and partners at The Elliot Group (this is a unique and special company that makes futures happen!).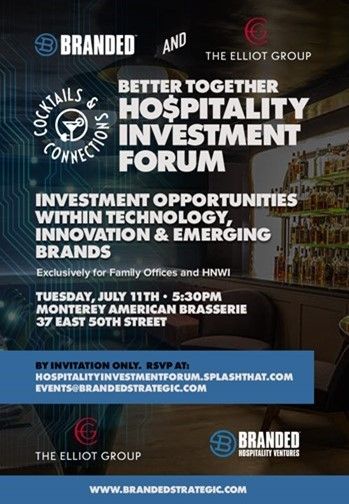 Both Branded and The Elliot Group love connecting and bringing people together (Branded's signature event series is even called "Cocktails & Connections") and both platforms LOVE the hospitality industry. Branded's operator-centric investment thesis is shaped by our being owners of restaurants in NYC, so our obsession with being hospitable and the details, at these events is genuine. The food & beverage we serve are NEVER an afterthought or taken lightly, which again is why I felt it was important to acknowledge the awesome performance by our partners at Monterey.
Attending and speaking at events like this is not new to me and I know firsthand that it's never a good idea to be the one standing between a group of people and an open bar. Therefore, and despite my (absolutely well-deserved) reputation for being a long talker (and you already know I'm a long newsletter writer), I kept my presentation and remarks at the event on the short side (all-in, I spoke for less than 20 minutes).
One of the questions asked of me at the end of my presentation was about the failure rate of restaurants and specifically the staffing shortage that is hitting our industry severely. Since Branded invests exclusively in the hospitality industry and specifically in emerging technology and innovation, the question was great one and whether these factoids were potential headwinds or threats to Branded's business and strategy.
I liked this question so much, I decided to make it a key part of and driver of this week's Top of the Fold section. Recently, I shared a not so popular secret about the hospitality industry, which is, in a meaningful way, an industry that was built on the backs of cheap labor. I've already written about that, and we can revisit why that's not only true, but needs to be fully understood in connection with the transformation the industry is now undertaking.
In this week's edition, let me share another not so popular factoid about the industry – we have too many restaurants. The market is saturated, there are too many seats, options and otherwise.
I don't write the Hospitality Headline to win a popularity contest (although I wouldn't be offended if I ever won one), but rather to be a voice for this industry, for Branded and to hopefully attract some crossover investors and bring some insights, color and maybe even a bit of humor in this weekend read. I'm a positive person. I'm a glass-half-full guy. I'm an optimist and I hope a realistic one. So please understand, when I say that there are too many restaurants, it's not b/c I don't want them all to win and succeed (b/c I do), but that's not the reality of the situation and it's not going to happen.
When the pandemic came crashing down on our shores, the survival of restaurants was really an issue and a cause of tremendous concern. Like a wildfire, it's not only dying trees that get burned and destroyed. A great deal of healthy trees also gets burned and destroyed.
The pandemic didn't only force "bad" or "weak" restaurants to close. It also destroyed some very good and wonderful restaurants (and that's of course awful and I dare say heartbreaking).
The emotions aside, we had too many restaurants then and we still have too many now. I've written often how the hospitality industry is among the most fragmented I've ever seen, but it's also one of the most oversupplied industries.
This saturation is why restaurants, speaking to some extent in generalities of course, lack pricing power and are known as a low margin industry. The supply dwarfs the demand!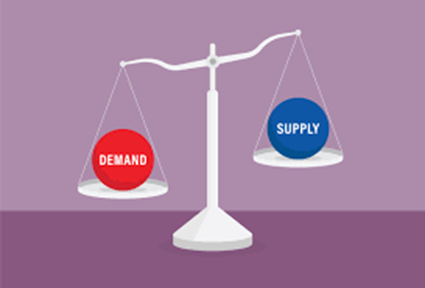 Take a moment to think about the airline industry. How many major airlines are there? How many choices do you have to get from point A to point B on a specific day and at a certain time. Today, four airlines control 80% of the industry and that level of concentration is higher than at any time since 1914. In the airline industry, the "Big Four" is comprised of American, Delta, Southwest and United.
What does the banking industry look like today? Combined, the 10 largest banks in the US own more than 50% of all assets in commercial banking. Here again is an industry with its own "Big Four" comprised of JPMorgan, Bank of America, Citigroup and Wells Fargo.
In the restaurant industry, according to the National Restaurant Association (the original "NRA" by the way), 90% of all American restaurants qualify as small businesses b/c they have fewer than 50 employees on payroll. As long I'm sharing some facts & figures, 41% of restaurants are owned by minorities (compared to 30% of businesses in the overall private sector). And for avoidance of any doubt or to make sure we delineate between franchises and independents, 53% of all restaurants in the US are independents (defined as owners with either one or two restaurants).
The restaurant industry is oversaturated and there's also a challenge around a lack of differentiation in the industry. This ocean of sameness has made it even more critical for restaurants to differentiate themselves as the competition to win the attention of guests is fierce.
If you accept my position that the industry is saturated (and I hope you do), then you'll see why the perceived headwinds and the assumption that the high failure rate of restaurants (the very customers that needed to embrace emerging technology & innovation) and the labor shortage are NOT threats to Branded's investment thesis but are instead meaningful tailwinds.
The digitalization of the hospitality industry continues to be embraced b/c adoption of technology & innovation is critical.
The labor shortage, for example, might be preventing us from keeping one of our late-night concepts open 24 / 7 (as we used to do), but it's created high-demand for labor saving solutions such as our investment in a self-pour beverage system (PourMyBeer) or our investment in a kiosk company (Bite) or our tech-forward point-of-sale solution (GoTab).
Please allow me to channel my inner Socratic dialogue with a quote from Plato, "our need will be the real creator" which was molded over time into the English proverb, "necessity is the mother of all invention."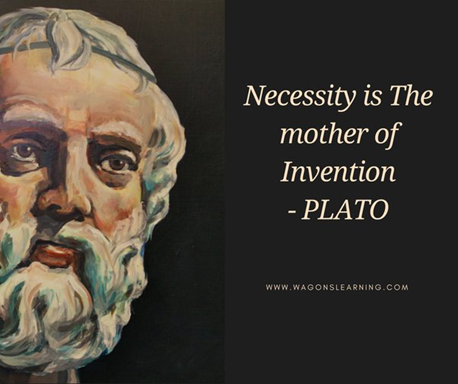 The failure rate of restaurants and the labor shortage are just two of the tailwinds driving the transformation of the industry. A dear friend of mine once told me that if you're standing still, you're falling behind. Thank you, Mr. Wolf, and I promise, the Branded Team is NOT standing still.
There's a great deal to cover below, but with the success of last week's shoutouts, I wanted to make a few again this week.
Innovation Alley is back at FSTEC and we're looking for a few exceptional emerging technology companies!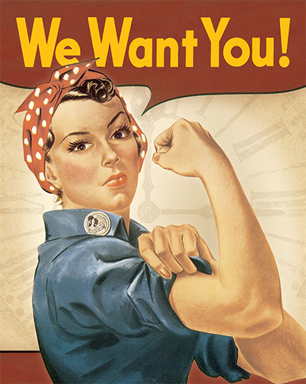 We are thrilled to announce that Branded, for the third year in a row, will be sponsoring the Innovation Alley at Winsight's FSTEC (where restaurants and tech connect)!
This would NOT be possible without the support of our corporate partners, Middleby (for the 3rd year in a row), Cargill (for the 2nd year in a row) and Nestlé (joining us at this event for the first time).
As we've done for each of the past two years, we're curating an exceptional collection of the most innovative and cutting-edge technology companies within the foodservice and hospitality industry. Positioned at the heart of the marketplace, the Branded Innovation Alley will take center stage at the most significant foodservice tech tradeshow of 2023.
With a limited availability of only 20 exclusive turnkey booths, this is an unparalleled opportunity for industry leaders. FSTEC, the largest tradeshow of its kind, presents an incredible platform to connect with influential decision-makers and top-level restaurant executives actively seeking new technologies.
What sets Innovation Alley apart is its 100% turnkey nature. As a participating company, you will be provided with a branded booth that proudly displays your logo. All you need to bring is your sales and marketing collateral, along with your enthusiastic presence. Our aim in offering this experience is to provide early-stage companies and first-time conference participants with an affordable opportunity to showcase their innovations.
We still have a few booths available, so if you or someone you know is interested in participating in the Branded Innovation Alley please e-mail the Branded MARCOM team at marketing@brandedstrategic.com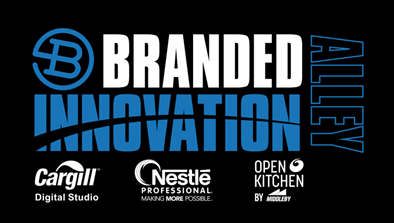 Are you down with the DRA? Branded is proud to be part of the DRA (Digital Restaurant Association) Restaurant Marketing Summit!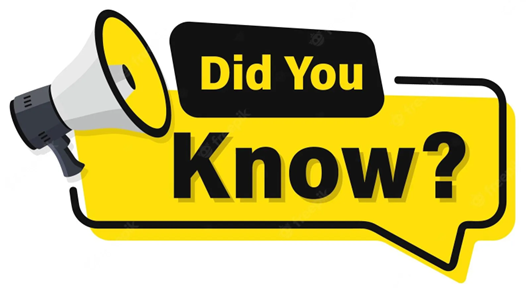 How proud you ask? So proud that I promised our restaurant evangelist, David "Rev" Ciancio, that I'd include this event in the Top of the Fold this week!
You can find information on this summit here: 2023 DRA Restaurant Marketing Summit
This event is happening online (virtual), July 26thand 27th and thanks to our friends at the Digital Restaurant Association (DRA), it's free (for everyone except Schatzy). 😊
The Summit features 25+ of some of the sharpest, most creative, and experienced marketing thought leaders in the restaurant industry (and I'll be there as well).
This event will cover ALL THE THINGS you need to know to make your restaurant marketing INCREDIBLE.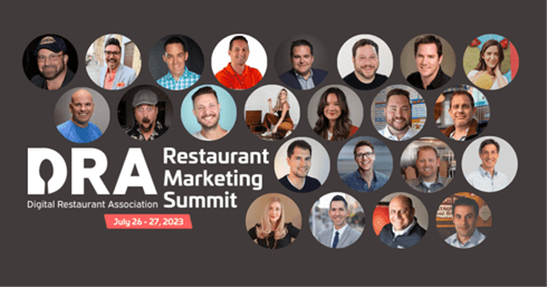 As always, it takes a village.
---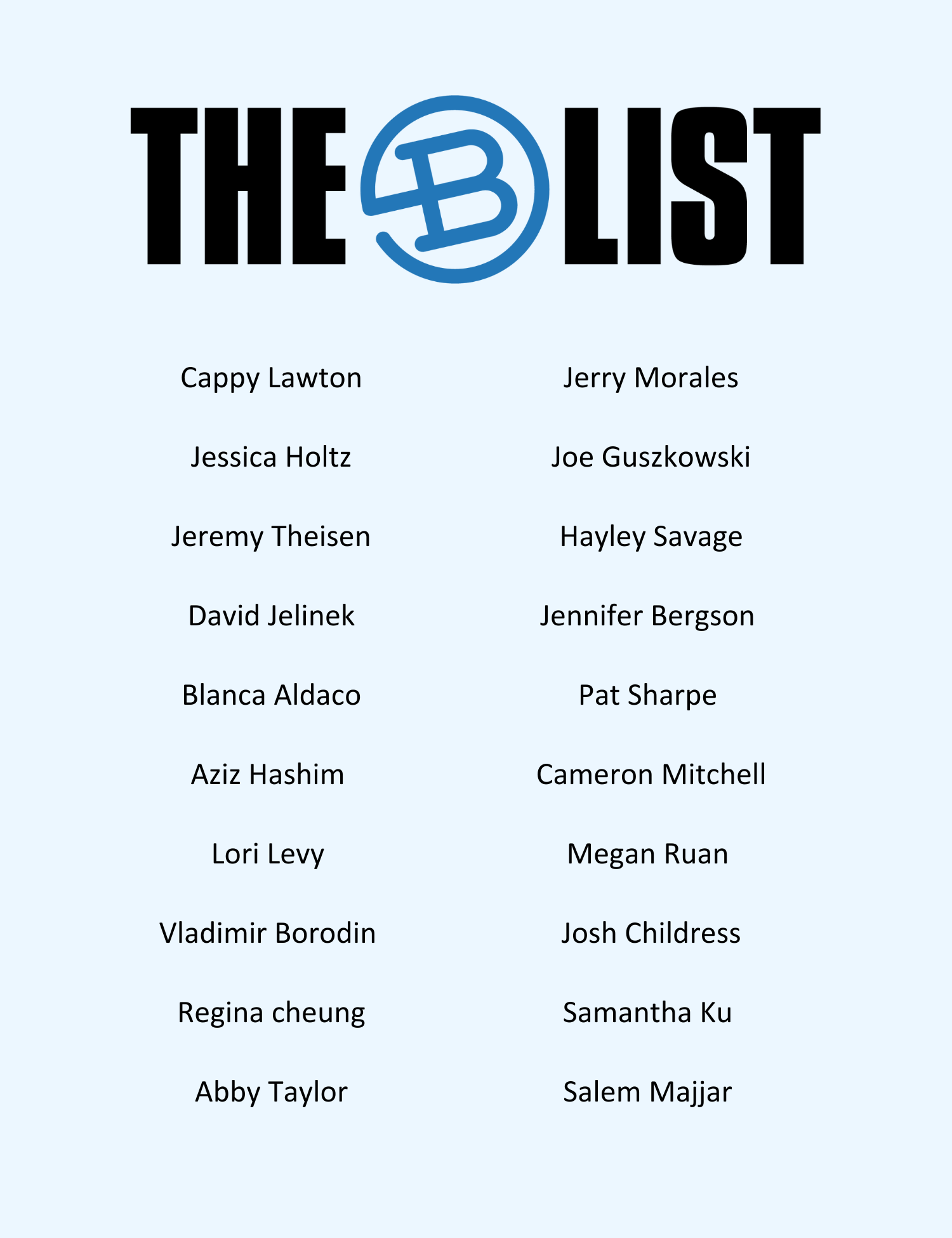 ---
MARKET COMMENTARY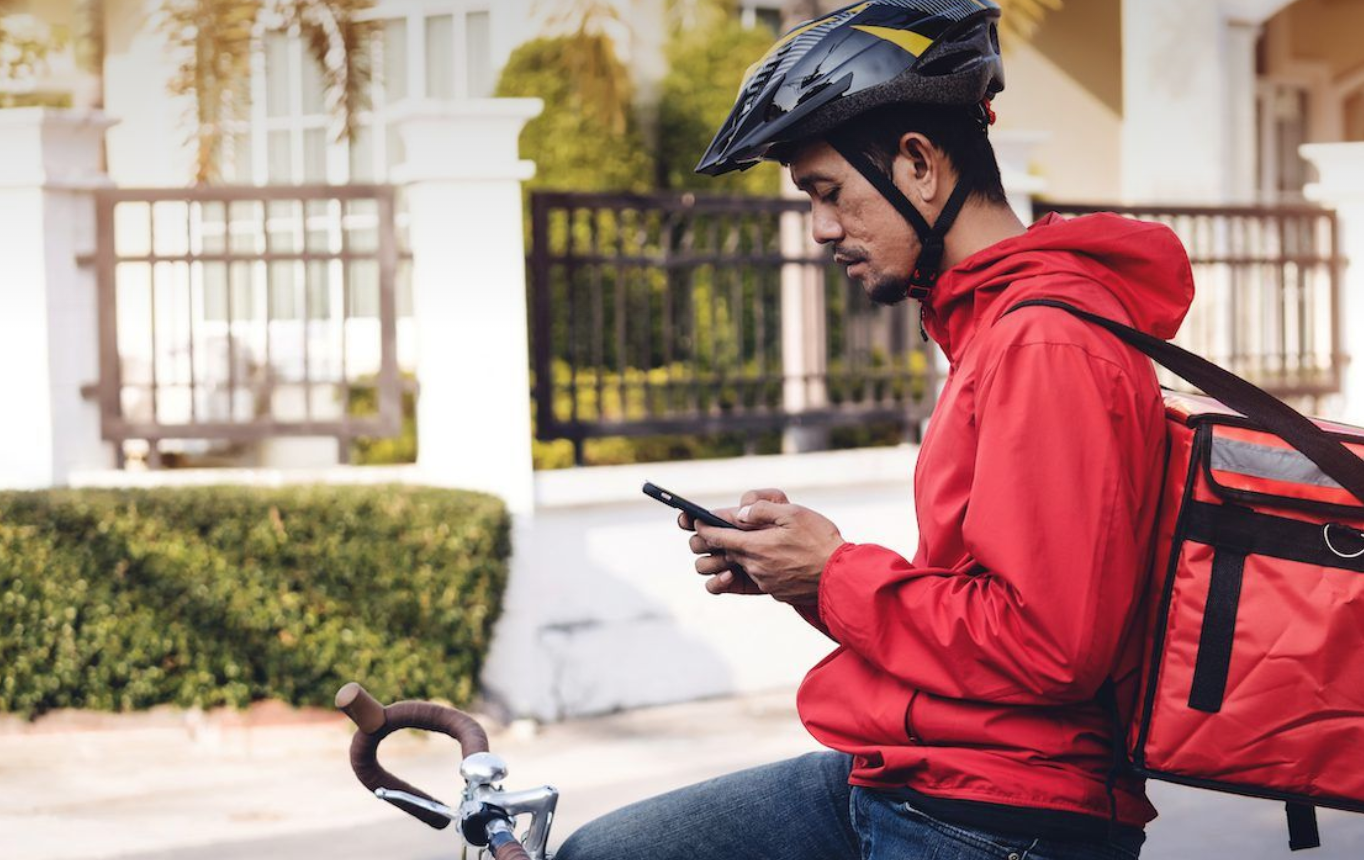 I love Insider (formerly known as Business Insider) and Nancy Luna is one my favorite writers at this publication.
My apologies in advance for including an article that is subscription based, but it was too good not to share. I do highly recommend this financial & business news website and if you sign-up using the code Branded, you will get absolutely nothing b/c I'm just a fan of this media company and Branded has no financial arrangement or commercial deal as a reseller. 😊
In all seriousness, one of the most meaningful blackeyes on the hospitality technology market is the obsession over ultra-fast grocery delivery and DoorDash's exit is yet another nail in the coffin for this segment of the market... Read More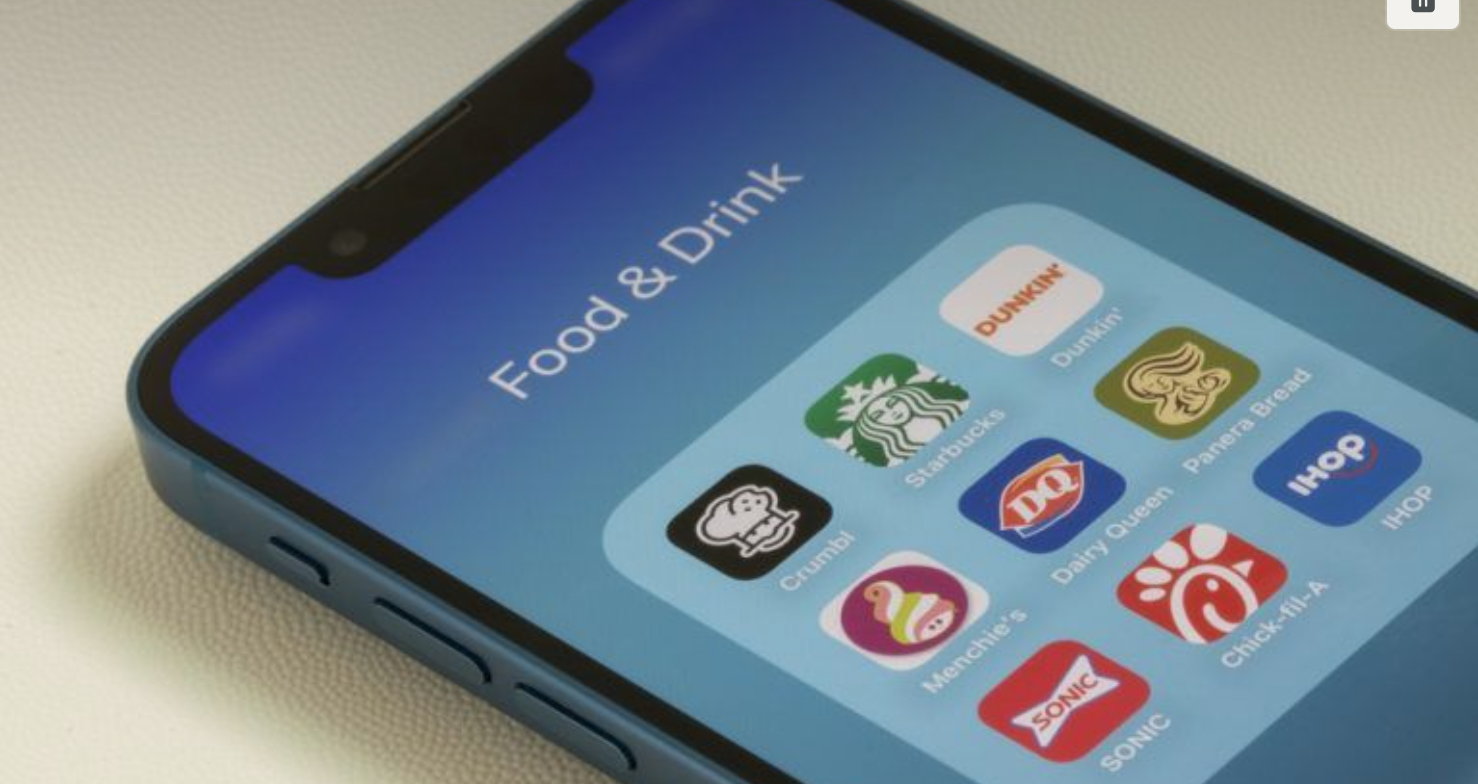 In the category of highlighting an article that's drinking my Kool-Aid (or maybe I'm drinking their Kool-Aid), I decided to share this article from Pymnts, a global news and analysis in payments, retail, fintech, financial services and the digital economy.
An analogue and antiquated industry that is the SECOND largest employer in the US is being transformed and digitized not just to survive, but in order to thrive!?! Someone out there should start focusing on this alternative and emerging asset class! 😊 Read More
---
TODAY'S TRIVIA

QUESTION: How much does the worlds most expensive burger cost?
Answer revealed at the end of the newsletter!
---
TECHNOLOGY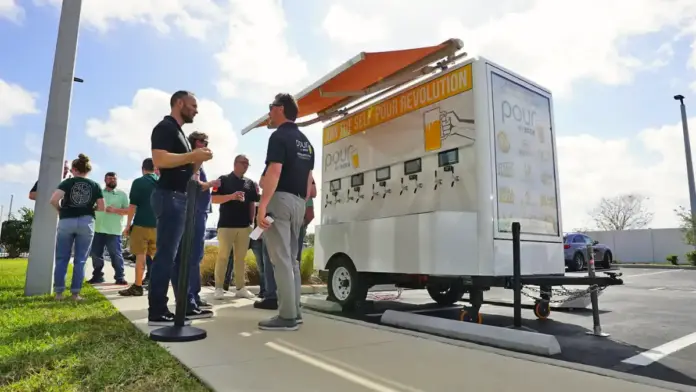 Self-serve technology is increasing sales by 50% resulting in 45% greater profit, 3% less waste and -20% decreased labor cost. Read More
---
BUSINESS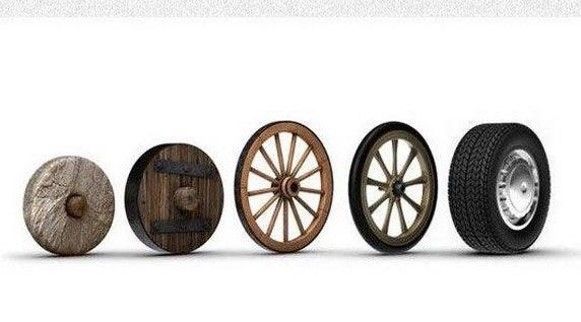 The Hilarious and the Not-So-Glorious: From the infamous pet rock to the Snuggie (yes, that blanket with sleeves), there have been countless products that seemed absurd at first glance. However, they managed to tap into consumer desires and became surprising successes. Read More
---
FINANCE & DEALS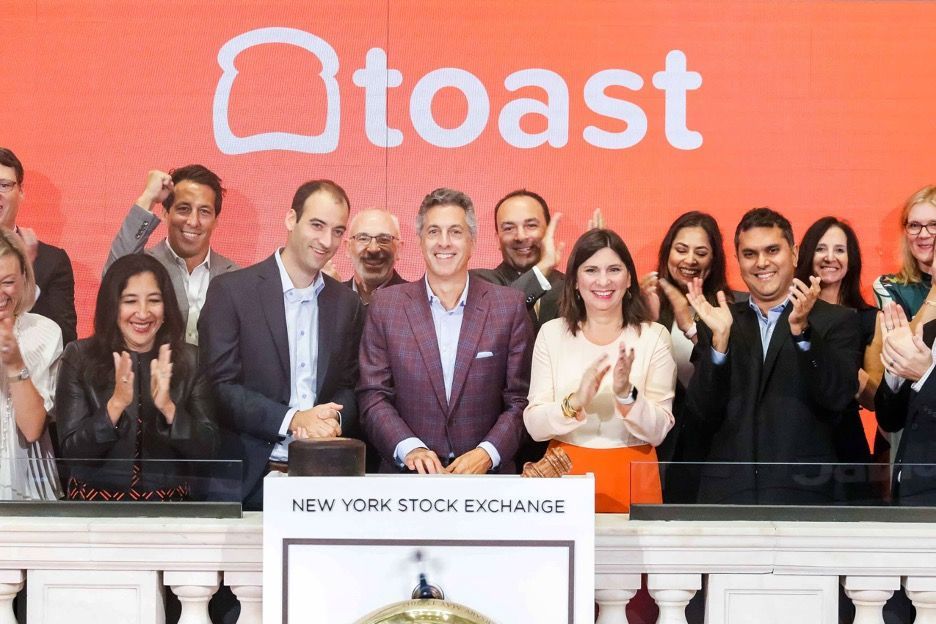 Imagine: Food procurement through Toast supply chain analytics, delivered to restaurants on Toast trucks, staff labor and food costs managed by Toast analytics, served to guests exactly in their preferred way through Toast guest analytics. All accessible only through having a full suite of Toast products. Read More
Restaurant Industry Movers in the Market
—Data as of 7/14/2023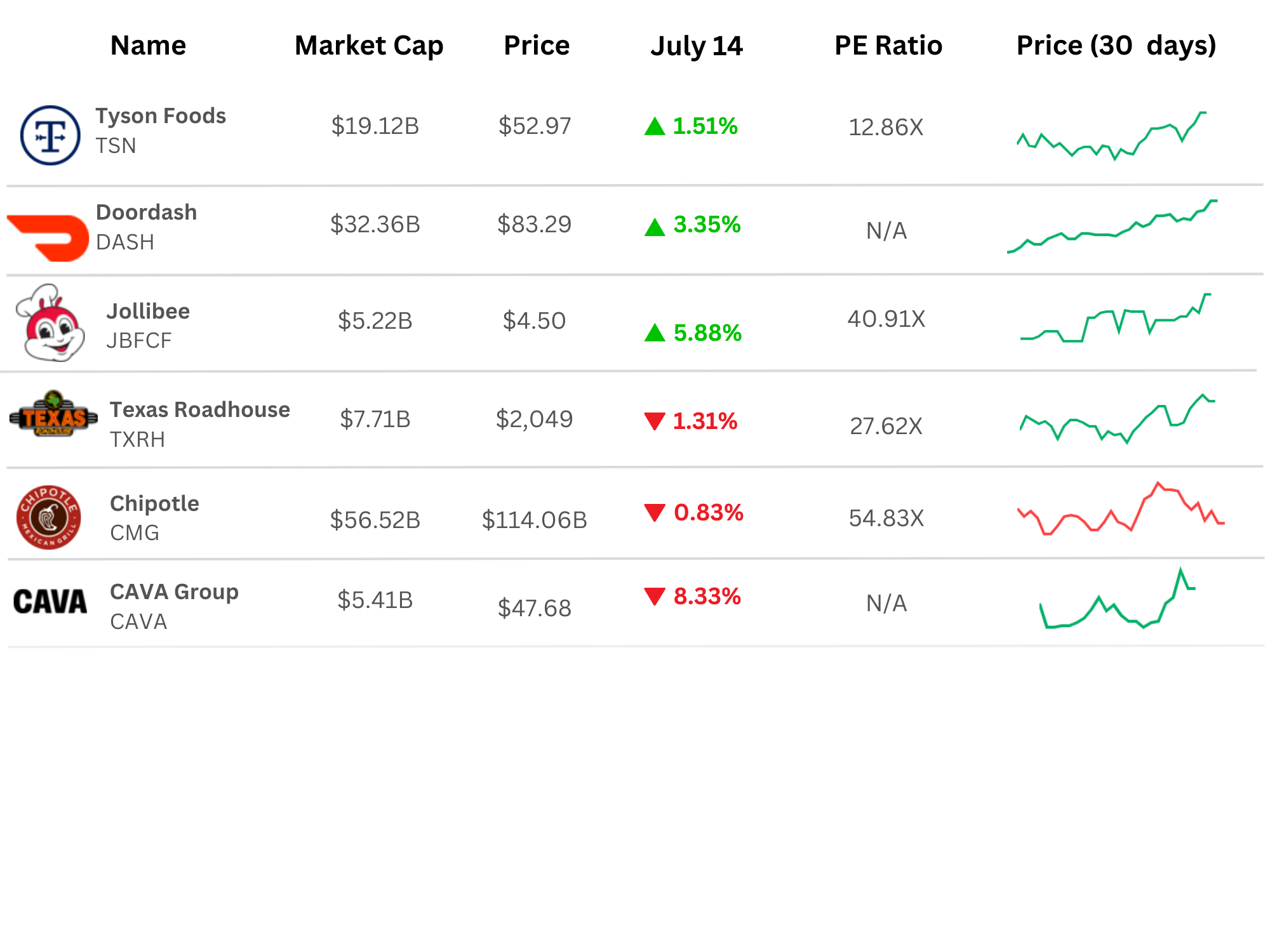 ---
MARKETING

🍽 Restaurant marketing is hard ... RIGHT?!?!

There are so many channels to manage, best practices are always changing and even if we were given a map to the algorithms, it feels like it would change 2 days later...

If only we had a guide ... NOW YOU DO!
Presenting the 2023 DRA Restaurant Marketing Summit!

It's happening online (virtual), July 26th and 27th FOR FREE, thanks to the Digital Restaurant Association (DRA)!

The Summit features 25+ of the sharpest, most creative and experienced marketing thought leaders in the restaurant industry.

This event will cover ALL THE THINGS you need to know to make your restaurant marketing INCREDIBLE.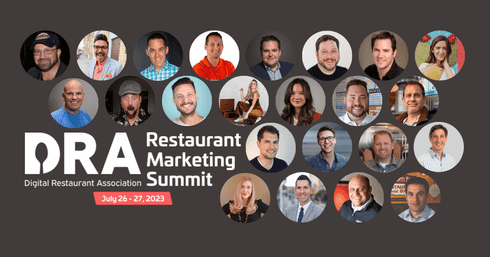 By registering for this virtual summit you'll learn everything you need to know to become a master of social media, loyalty, guest feedback, email marketing, reputation management, birthday marketing and SO MUCH MORE!

Whether you're an independent operator, a multi-unit brand, a hospitality group, agency, cafe, bar, consultant or any food service business, this is for you!
There is also an awesome VIP All Access Pass that gets you even more. I'm serious, don't skip out on that!

Register for the 2023 DRA Restaurant Marketing Summit NOW.
Summit registration is FREE, gets you access to all sessions on July 26 and 27, plus FREE membership in the Digital Restaurant Association.
It's going to be INCREDIBLE!
***
WHAT DOES REV DO?*I help restaurants to build guest marketing programs.*I help hospitality tech companies with lead generation and content marketing.
Need help? reach out: rev@brandedstrategic.net
Rev CiancioBranded Strategic, Head of Revenue Marketing
---
PODCAST
Hospitality Hangout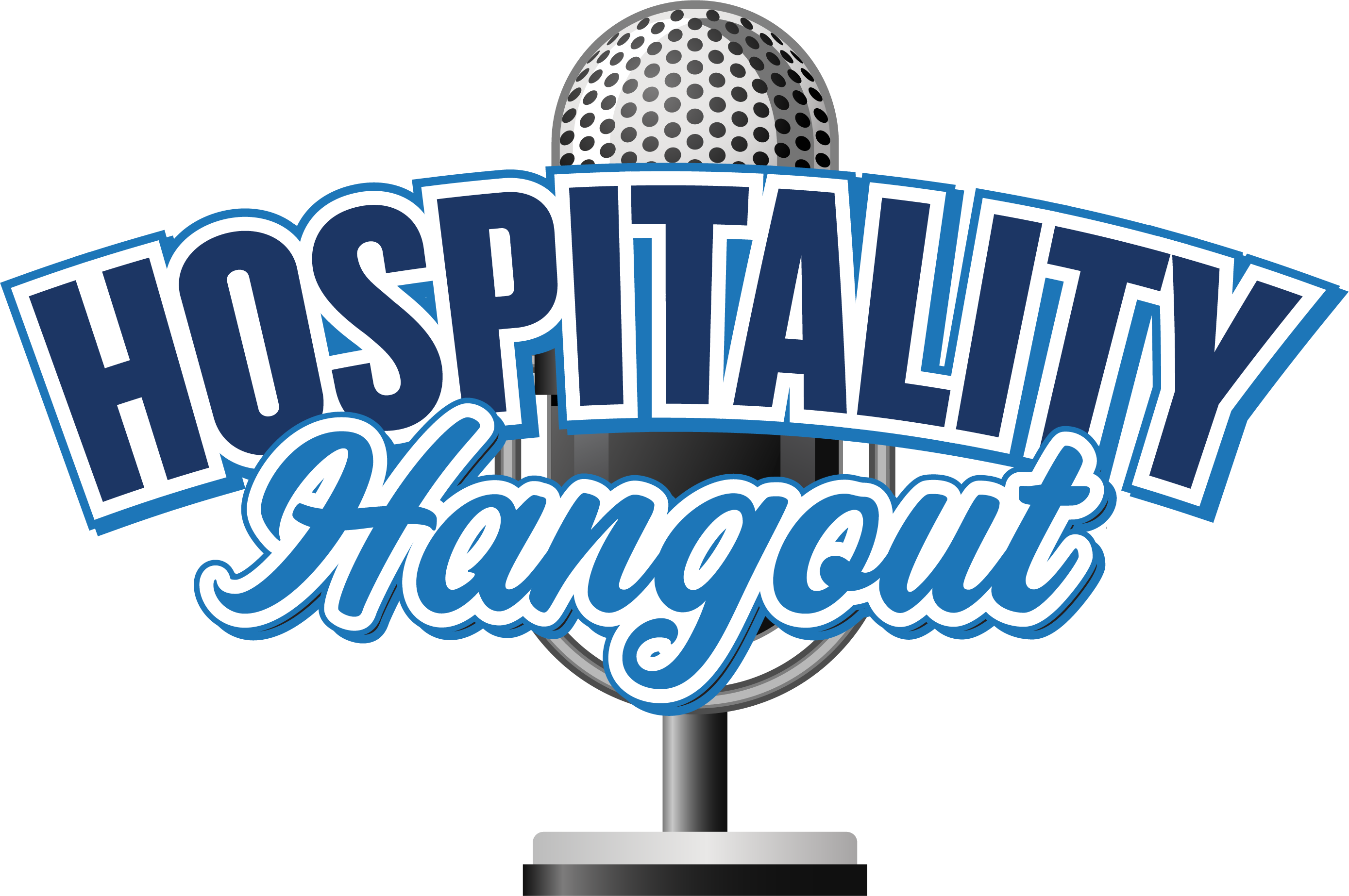 ---
IN THE NEWS
Hospitality Tech and F&B Innovation IN THE NEWS:
We love to highlight Food Service & Hospitality news, especially when it's Partners & Friends making it!
And in other News…please see some of the stories that caught our attention and that we're paying attention to. This week was loaded with headlines and news!!
---
ANSWER:
World's most expensive burger contains caviar and Wagyu beef - and costs €5k. The world's most expensive burger costing a whopping €5,000 (£4,300) has been created by Dutch restaurateur Robert Jan de Veen of De Daltons Diner in Voorthuizen and named 'The Golden Boy'.
---
ASK THE HEADLINE
🔍 Got Questions? We've Got Answers! 🌟
Satisfy your thirst for knowledge? Look no further! It's time to dive into our brand-new segment: "Ask The Headline"! 🎉
📅 Starting this week, we'll be answering YOUR questions every week. And here's the best part: you can choose to stay anonymous or receive a fabulous shout-out when we feature your question!
---
That's it for today!
See you next week, (about the) same bat-time, same bat-channel.