Friends of Branded!
Happy Saturday!
According to Matt Damon, and his now most infamous ad for Crypto.com that appeared in October 2021, the phrase "Fortune Favors the Brave" has been "whispered by the intrepid since the time of the Romans." For avoidance of any doubt, please understand there will be no Matt Damon-bashing here or by me ever. My wife loves him (I think he's on her 'list' and its laminated) and appreciates him for his acting and for being an A-lister that stays out of trouble. As a result, his participation in the Crypto-Craze gets a free pass in my home (boss' orders).
But let's take a step back at the origin of the phrase "fortune favors the brave." According to an article I found by Jon Schwarz at The Intercept, in A.D. 79, Gaius Plnius Secundus (aka: Pliny the Elder), a Roman author, naturalist, philosopher and naval and army commander of the early Roman Empire, witnesses the famed eruption of Mount Vesuvius and decided to stage a rescue mission by sailing several ships straight toward the conflagration.
Despite being warned to abandon the mission and head back, Pliny hesitated a bit about what to do, but directed the helmsman that "fortune favors the brave: head for Pomponianus." This was indeed brave, but the fortune part didn't work very well. Pliny arrived at the desired destination only to be quickly asphyxiated and his body was found later covered in pumice.
Reading about the origin of this most famous and well-regarded phrase, made me think of an old (and favorite) Saturday Night Live skit from the 90s, "Bad Idea Jeans". A bunch of dudes each sharing an idea that's worse than the next, but unified in their choice of blue jeans – Bad Idea Jeans.
I'm told that the explosion of FTX and the arrest of Sam Bankman-Fried (my apologies), the arrest of SBF, will set the cryptocurrency back at least 5 years. That's a topic for someone else to cover, but I respect and need to acknowledge that events such as this are shocks to the financial system, to investor sentiment & confidence and contribute to the risk-off environment that we currently find ourselves in (and there are many reasons justifiably contributing to this risk-off environment).
This is not an environment for the brave, it's an environment for the informed, the intentional and the disciplined. Do you believe we're in or approaching a recession? Historically, during such periods, the defensive industries fared better than others – utilities, healthcare, consumer staples. Let's go a little deeper into that and for a moment at least, accept the premise that rampant inflation is pushing or has pushed the US Economy into a recession. There are industries that not only do well but thrive due to changing patterns of consumption and behavior. Industries where demand is inelastic to changes in prices and incomes and the volume of the consumer demand is relatively stable.
The food service and hospitality industry seem to be such an industry. Inflation, supply chain and procurement issues have caused prices to increase, but thus far, consumer demand remains. As for changing patterns of consumption, the industry is going through a much-needed transformation and modernization (as well as democratization) with technology & innovation being key components supporting the industry's need to meet our guests where they're at.
How does Branded look at this current environment? As an opportunity to deploy capital into strong emerging technology & innovation companies, that represent some of the much-needed (operator-centric) picks & shovels of the industry. We're also doing so at far more favorable valuations and terms that allow us to be a good steward of capital.
I'm NOT going to say that the hospitality industry is recession-proof, but thus far, as we navigate these difficult waters, the consumer's desire and of course the need to eat & drink remains incredibly robust. The industry is embracing and leveraging technology to meet its own challenges (labor shortage, procurement, changing consumer behavior and specifically the optionality the industry is expected to provide in order to satisfy our guests). While these challenges are most certainly real, it's the embracement of tech by BOTH operators and consumers that makes this environment so interesting, and I dare say, attractive.
A more famous financial phrase than "fortune favors the brave" is "buy low, sell high." This phrase is all about timing and investing in good companies when valuations have fallen. The herd instinct is in full effect right now and that's the psychology when large groups of investors react in the same way to real or perceived risk factors.
I'm not telling anyone to be brave, but I'm suggesting you look at the hospitality industry and the performance of many of the industry's best players as a most positive indicator that this is a sector worth exploration and consideration. I'll NEVER make a stock recommendation in this newsletter, but I will tell you that the tech & innovation that the hospitality industry desperately needs, has been repriced in favor of those who believe the transformation of our industry will continue. Branded believes that is very much the case and that the importance of operator-centric technology will be a key driver for margin optimization and for delivering efficiencies.
Several investments banks, and their respective research teams, seem to like the restaurant space right now. I've pasted a few links below
Goldman Sachs bullish-restaurant-stocks
Barclays says buy restaurant stocks
BofA-likes restaurant-stocks-chipotle-starbucks
Okay, there's a lot to cover below, so as always, Let's Go!!!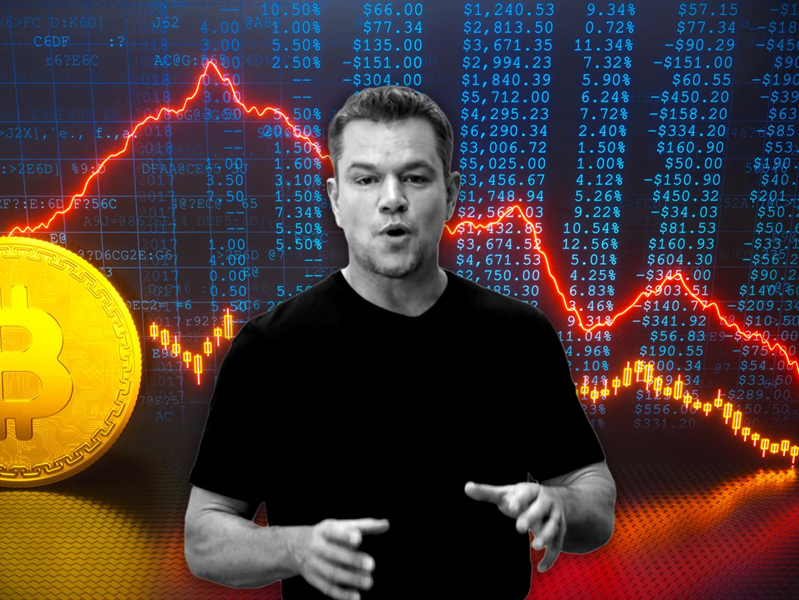 ---
---
MARKET COMMENTARY
Articles that caught my eye combined with some Branded commentary and insights.
For those who have noticed how often I reference articles from Business Insider, it's b/c I love this publication and the great work they do.
At this time of year, making predictions is a rite of passage, and Melia Russell asked a number of VC investors what to expect in 2023. Since this is a subscription-based model, let me share a few takeaways from the article: VCs and investors have almost $300bn in dry powder (according to PitchBook). The expectation is that investors will spend that cash more judiciously and that funding deals will take longer to close. Entrepreneurs will need to prove that their company offers value in this turbulent market.
My favorite (and self-interested) part of the article, the prediction that this is an investing environment for "vertical software" and according to Kyra Durko, a principal partner at Two Sigma Ventures, the golden age of vertical software will "modernize every corner of our economy" from insurance to bodegas to hair salons.
The biggest criticism Branded has received from the more traditional VCs is that the market we're singularly focused on is too small and that the specificity around our investment thesis will make our being part of unicorns challenging. Please note, these VCs are correct and have assessed us absolutely correctly. Our operator-centric approach doesn't lend itself to being unicorn hunters, but it does reduce the risk of early-stage investing by identifying, vetting and validating emerging tech that creates near-term and even immediate value for its customers. I just didn't know the Branded's investment strategy was called vertical software investing. 😊
So one of the key predictions for 2023 is that vertical software is entering a golden age and I've just been educated to fact that Branded has accumulated a portfolio of vertical software companies and that we're a vertical software investor. Cool! This is already a pretty good day!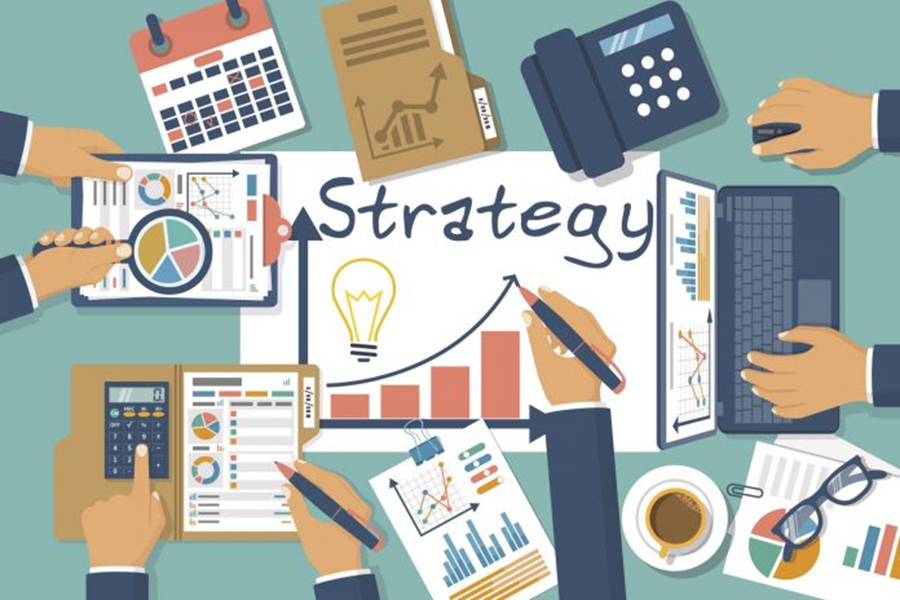 And b/c Branded is an investment platform focused on the tech and innovation side of the foodservice and hospitality industry, I can't share an article with predictions from VCs without respecting my co-founder and Branded's "Restaurant Guy" (Mr. Michael "Schatzy" Schatzberg) and not give equal time to some restaurant predictions for the year ahead.
I referenced this gentleman last week and I'm doing it again this week. Danny Klein is a leader in this space, so I'm leaning on him and his work to help share some predictions.
While I love reading Danny's articles, I admit that I'm not sure I would have picked this one if (similar to above), it also wasn't (at least somewhat) self-serving. While not everyone Danny spoke with made technology their highest prediction for the year ahead, most of them did! Technology has emerged in force over the course of the past two-and-half (men) years and if the predictions of these industry leaders highlighted in the article are any indication, that's going to continue as we roll into 2023!
The buzz words among these predictions included loyalty, integrations, unified commerce technology model, predictive analytics, digital sales & ordering, supply chain, digital table touch, menu management, automation, and delivery adoption & demand for pick-up.
2023 is going to be an exciting year!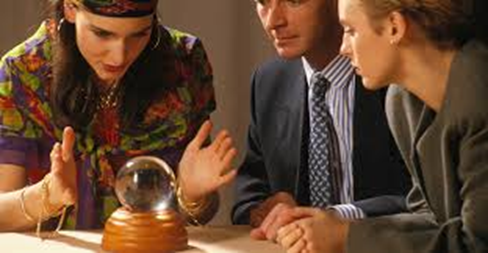 WHAT?!? A 3rd article? I know, I'm going to get (properly) scolded for this and the crazy length of these weekly newsletters. Sorry, not sorry...I'll make this one quick.
The House of Representatives has introduced a companion bill to the Restaurant Revitalization Tax Credit legislation and is continuing to support the industry.
According to the article: "Restaurants and their employees were hit harder than any other industry during the COVID-19 pandemic," Congressman Blumenauer said in a statement. "The federal government has provided some help to these institutions through the Restaurant Revitalization Fund, legislation based on my RESTAURANTS Act. But the program has fallen short, with only one-third of all applicants receiving funding. The Restaurant Revitalization Tax Credit will help fill these gaps and ensure all local restaurants get the support needed to keep their doors open, pay their staff, and protect the industry's trillion-dollar supply chain."
Here's the point: the bill will likely be heard and voted on when Congress is back in session in Jan 2023, and it represents money for the industry and specifically for small business operators. Whatever your view on government subsidies, the support of the restaurant industry puts cash into the system, and that allows these businesses to continue to spend on their employees and on their technology stack!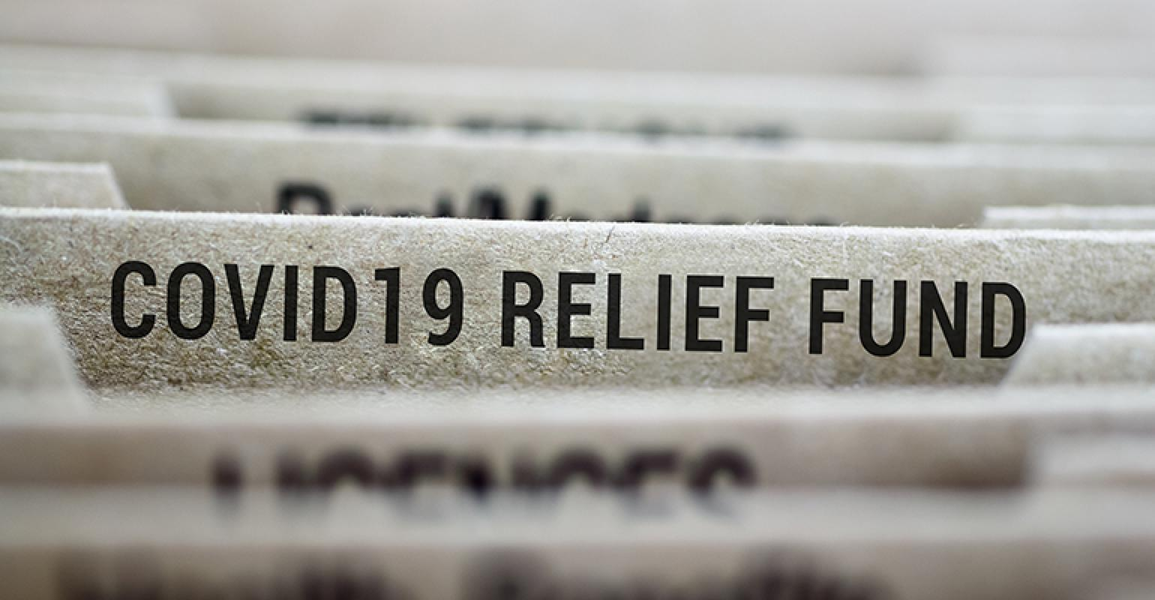 ---
---
TECHNOLOGY
Yumpingo was one of Branded's first investments, #5 to be exact, and to this day Branded still uses Yumpingo in our restaurants simply because... IT WORKS! We love it and more importantly, our guests love it!  
Yumpingo is THE customer experience platform that's proven to reduce unhappy customers by 50% and significantly increase menu margins without negatively impacting guest sentiment. Brands often achieve multimillion-dollar returns through increased visit frequency, less churn and stronger margins.
The team recently announced the launch of its integration with Toast which offers real-time customer satisfaction data at the location, server, shift and dish level across all service styles.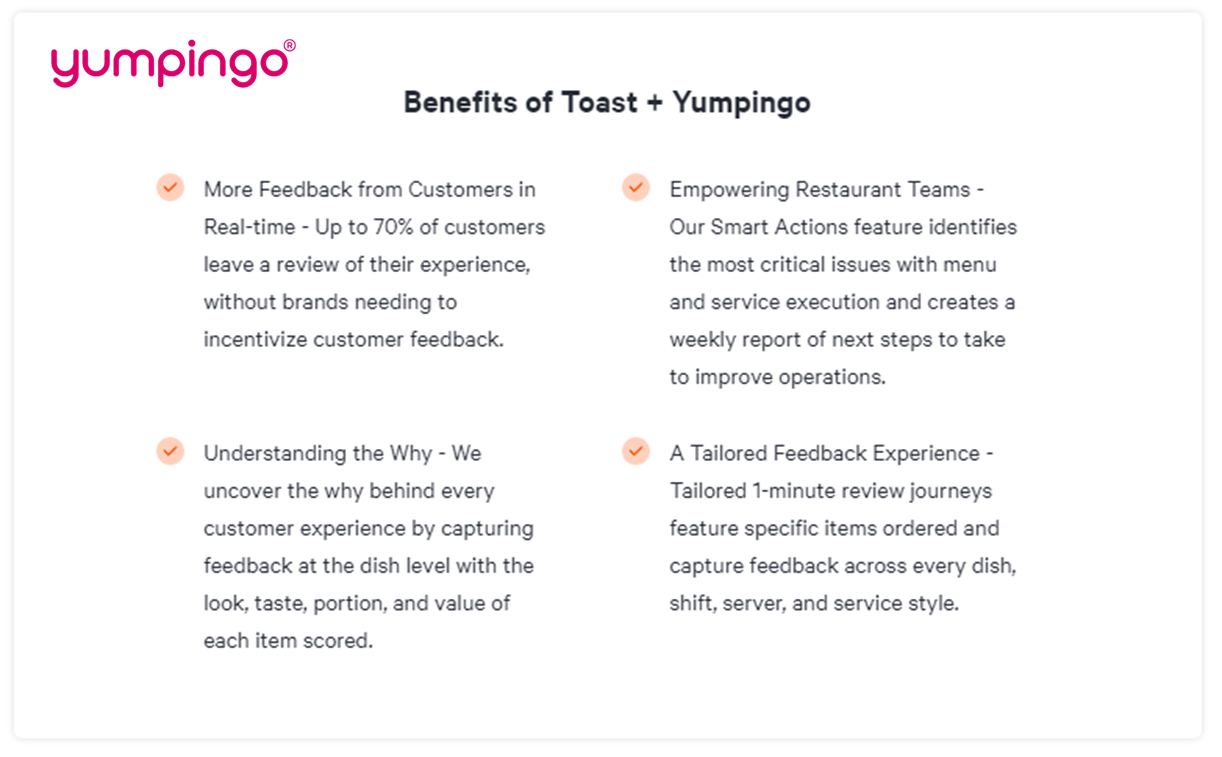 Yumpingo's actionable insights are proven to help brands improve food and service execution, increase efficiency, understand customers' value perception, and create more consistent experiences that meet brand standards. This key integration delivers a more seamless end-to-end experience by giving each customer the opportunity to conveniently order and pay through the Toast platform and leave valuable feedback after each meal.
'We're thrilled to be listed as an integration partner to Toast, where our current and prospective restaurants can now capture seamless guest insights at unprecedented scale to make empowered business decisions that align their entire organization to focus on what matters most to their guests," said George Wetz, COO, Yumpingo. "Toast is an incredible partner who shares our vision to empower restaurant teams to serve their best food and service every day."
---

The Access Hospitality Network is off and running!
If you're interested (and only if you're an accredited investor), please consider signing up for Branded's Access Hospitality Network. This is our very own investment club & community that will be afforded unique and differentiated investment opportunities. Commentary shared with the Network will focus on the M&A and Capital Markets associated with this industry and this emerging alternative asset class. There are no dues or membership fees. Members of the Network will benefit from specialized publications, thought leadership, proprietary deal access, exclusive events and more!
If you're interested in joining The Network, please click the link: Access Hospitality - powered by Branded Hospitality Ventures.
---
---
FINANCE & DEALS
Arguably, the most famous piece of writing advice is to "write what you know," and that advice is usually attributed to Mark Twain. That's of course sound advice, but what really excites me is the exploration of what we don't know. What will the tech investment landscape look like a year from now? What will happen in the market? Who will be the next unicorn? What will M&A activity look like? Remember the saying that "past performance is not an indicator of future success." So what do you do when the facts aren't available? We make educated predictions.
In honor of 2022 coming to a close, I wanted to share some predictions made for 2023 by members of the VC/PE community.
(Note: Data as of 12/16/2022)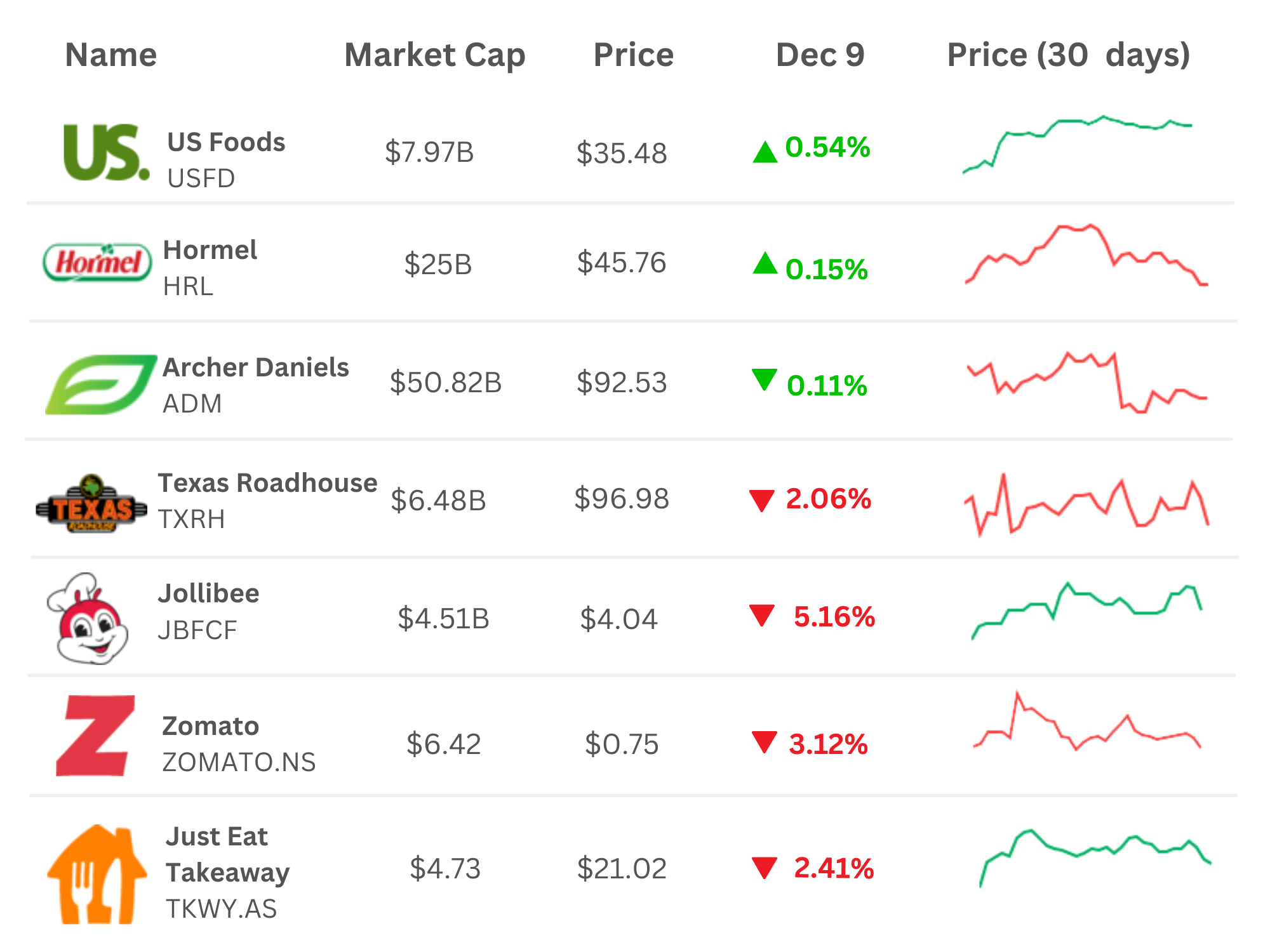 ---
---
BUSINESS
Technology is changing the way restaurants operate and adapt to new challenges. Tech is no longer a nice to have, it's a need to have. For a restaurant to be successful in today's world it must be agile and adapt quickly to changes in procedures and protocols.
I'm excited to share some insights from some of the largest consulting firms in the world.
---
---
PODCAST
Tuesday, December 13th- Hospitality Hangout: In the latest episode of Hospitality Hangout, Michael "Schatzy" Schatzberg "The Restaurant Guy" and Jimmy Frischling "The Finance Guy" chat with Nick Stone, Founder and chief executive officer and Amy Hom, chief operating officer and chief people officer from Bluestone Lane.
Stone talks about Bluestone, an Australian-inspired coffee shop, cafés & lifestyle brand committed to providing a genuine daily escape for all our locals. They offer premium coffee and healthy and delicious food through an 'Aussie' approach to life. Stone comes from a financial background and said he created Bluestone out of necessity. Stone adds that he didn't leave finance until he had twelve Bluestone Lane locations.
Listen to the full episode on Spotify, Google Podcast, Apple Podcasts, or Amazon Music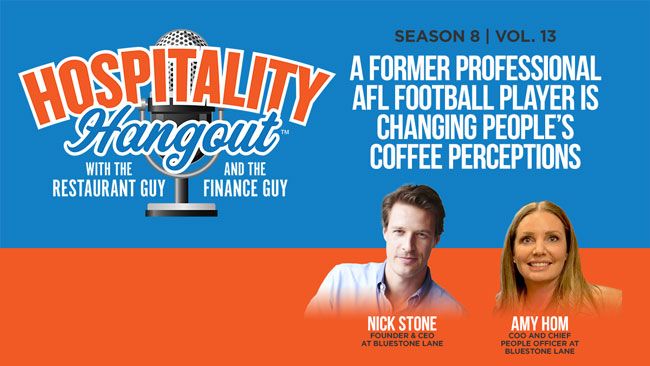 ---

Are you looking for a tech solution? A new partnership? Or maybe an easy way to built your tech stack??? Check out BOOM a food service marketplace!

BOOM a food service marketplace! is a digital ratings and review platform providing best in class technology, innovation, professional services and suppliers for the entire spectrum of the hospitality industry.

‌Want to learn more? Click HERE or contact us at boom@brandedstrategic.com
---
---
IN THE NEWS
Hospitality Tech and F&B Innovation IN THE NEWS:
We love to highlight Food Service & Hospitality news, especially when it's Partners & Friends making it!
And in other News…please see some of the stories that caught our attention and that we're paying attention to. This week was loaded with headlines and news!!
---
---
MARKETING
It is with much honor and excitement that I share with you, The 2023 Branded Restaurant Marketing Summit!
Learn how to master your marketing so you never have to worry about revenue again without wasting countless hours and dollars on marketing that doesn't work.
Click HERE to register for this FREE summit!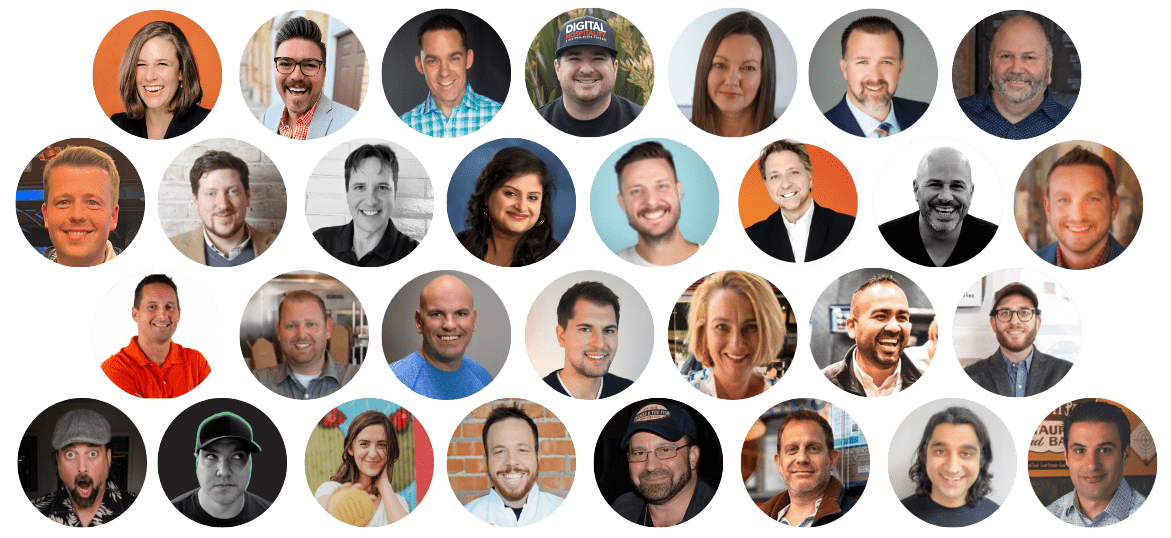 ---
That's it for today! I wish you a wonderful weekend!
See you next week, (about the) same bat-time, same bat-channel.
It takes a village!
Jimmy Frisch
Co-Founder & Managing Partner
Branded Hospitality Ventures
jimmy@brandedstrategic.com
235 Park Ave South, 4th Fl | New York, NY 10003
---
Branded Hospitality Ventures ("Branded") is an investment and advisory platform at the intersection of food service, technology, innovation and capital. As experienced hospitality owners and operators, Branded brings value to its portfolio companies through investment, strategic counsel, and its deep industry expertise and connections.
Learn more about Branded here: Branded At-A-Glance_Dec 2022