Friends of Branded!
Happy Saturday!
Back on August 13th, 2020, a Mr. James Altucher wrote a LinkedIn post with the title "NYC is Dead Forever. Here's Why." As a Native New Yorker, born at Lenox Hill Hospital and now living on the backside of it, I want to be clear, I LOVE New York City!
When I proposed to my wife and we were driving home from the Adirondack Mountains, she asked if we could talk about some of the important things for our future.  I said I'd keep my list short and that I needed only two things: (i) we're an interfaith couple, so I said if we were lucky enough to have a child, I'd like to recognize both of our religions; and (ii) I need for us to live in NYC. My wife is from Westchester, so when she asked what I thought about the wonderful suburbs of maybe Rye and Greenwich, I responded by renouncing my religion and said I now only needed one thing – which was to live in NYC!
You can therefore imagine my disagreement with James Altucher's post and my love and respect for one of New York's favorite sons, Mr. Jerry Seinfeld!  The person who created a show about nothing (and please understand, without Seinfeld, Schatzy would lose at least 50% of his sense of humor), responded to our city being attacked only a few days later in the NY Times with his retort titled "So You Think New York Is 'Dead' (It's Not)."
As you can imagine, I enjoyed and appreciated Mr. Seinfeld's piece and I thought about it this Thursday night. My daughter's school had an outing and thanks to a generous parent, we were able to attend a showing of Take Me Out, written by Richard Greenberg and directed by Scott Ellis. This play made its Broadway debut on February 27th, 2003 and won the 2003 Tony Award for Best Play.  This Broadway revival opened on April 4th, 2022 and was awarded the 2022 Tony for Best Play Revival.
On this night, I took a crowded subway up to Times Square and met up with the other parents from our daughter's class at Carmine's on West 44th street. The restaurant and bar were packed. The streets and sidewalks were jammed. The energy in Times Square was bursting and the enthusiasm from tourists was wonderful to see (I would have just been happy to see tourists, but I'll take enthusiastic ones even more). Native New Yorkers tend to shy away from Times Square (I only do that on New Year's Eve!). I love Times Square for all its lights, restaurants, bars, hotels and of course, the theatres. All of these venues only succeed with tourists and the millions of visitors that come to NYC. Seeing a crowded Times Square is a wonderful thing for New York City and I believe it's a sign of things to come for so many restaurants and other hospitality venues that were horribly hit by the pandemic.
Why do I love restaurants? B/c that's where people gather together, raise a glass, and share a meal. As for the show Take Me Out, two things on that front: (i) catch it before it's done and see for yourself why two "Jesses" is even better than one (Jesse Tyler Ferguson and Jesse Williams); and (ii) check your self-esteem at the door b/c those shower scenes will make you re-evaluate your own dietary and workout decisions (at least that's what it did for me).
Finally, I'm very proud to make a change to The Branded Weekend Update and specifically that the byline will now be shared with my Partner and Branded's Head of Digital Marketing, Julia Suchocki. Julia was the first employee to join Branded Hospitality Ventures and the timing of her start with Branded is forever shared with my getting injured which resulted in my being out of the office, followed by the start of COVID, which kept everyone out of the office.
Julia has been a key member of Branded's Marketing & Communications team, we then invited her to become our partner, promoted her to the Head of Digital and now my partner in crime on The Branded Weekend Update. We've got more changes to come as we try to continue to earn your time and interest in our weekend newsletter, but this step and recognizing Julia as the co-author is well deserved and overdue!
Okay, as always, there's a lot to cover, so Let's Go!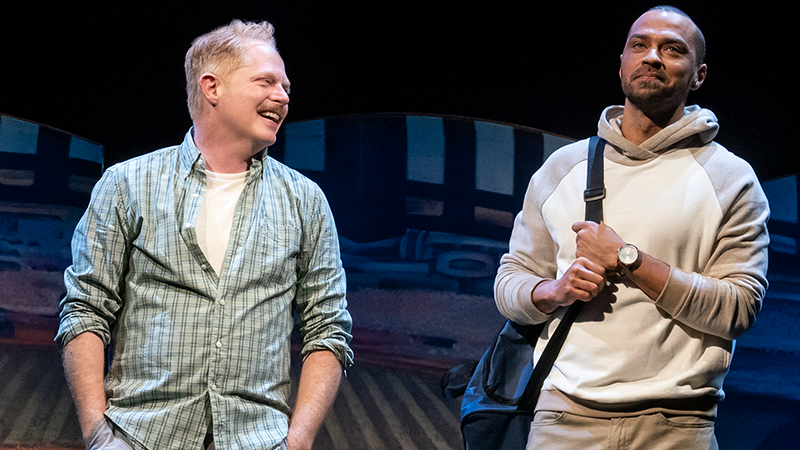 Calling All Restaurant Operators!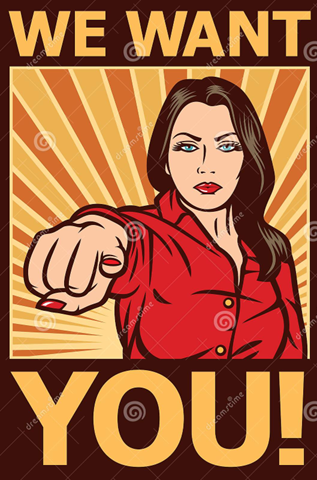 As fellow operators and industry evangelists, we are trying to understand operators' business priorities for 2023. While we know our priorities and what's important to us...we want to know what is important to YOU! This is why we are working with Nation's Restaurant News on their 2023 Restaurant Operator Technology Report! This report will be THE industry resource for restaurant technology - where we are, where we're going and how restaurants can benefit from the tech boom!
We are looking to get as many operators to complete the survey as possible. The survey takes under 5 minutes to complete, is all multiple choice (no typing involved) and is completely anonymous.
3 Reasons to Take the Survey:
Your feedback will be used to drive the future of food service.
Your feedback will help eliminate the static and friction on too much information and provide a clear direction on technology investments.
You can use the report to make smarter business decisions on building a tech stack that works for you business.
You can complete the quick survey HERE !
Not an operator? That's okay! Share the survey with your hospitality friends.  
---
MARKET COMMENTARY
Articles that caught my eye combined with some Branded commentary and insights.
Remember the E.F. Hutton commercials from the late 70s and early 80s with the tagline – "when EF Hutton talks, people listen"? In the world of VC investing, when a firm like Sequoia talks about doubling down on seed-stage investing, investors listen (or at least should).
This article by Kenrick Cai caught my b/c it highlights something Branded has been saying since the pullback in tech, that great opportunities are created during difficult periods and dislocations. The article quotes Sequoia Capital's partner Jess Lee who said "we have found across the vintages of Sequoia that companies built during these periods of uncertainty are often the most legendary ones."
There's no doubt this pullback is a severe one as a result of an unprecedented mix of risk factors all colliding at the same time. Sequoia is leaning into the seed stage space with the conviction that companies at their earliest stages are most insulated from the throes of the public market and therein lies the opportunity.
As an investor currently dedicated to emerging tech & innovation in the foodservice and hospitality space, to my new besties over at Sequoia, in the immortal words of Eddie Murphy in the movie Boomerang, "call me."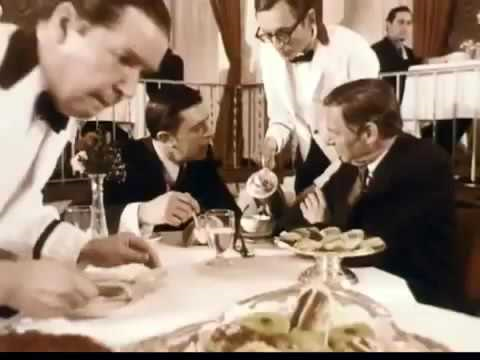 When I say or write the word "mafia" I get corrected quickly for it being a word I should stay away from for a number of reasons including its political incorrectness.  I'm therefore not going to use the word, but seeing it in the title and throughout the article by Samantha Stokes and Stephanie Palazzolo in Business Insider made this a must-capture article for The Weekend Update.
The Insider article looks at ex-Square staffers who have gone on to create more than $40 billion in start-up value. The article begins with a walk down memory lane and the "PayPal Mafia" which started it all and was perhaps the most infamous company that spawned the founders of tech giants like YouTube, Yelp, Tesla and LinkedIn. It goes on to give shoutouts to Facebook and Oracle with their own mafias of former employees that have produced iconic tech companies like Salesforce, Asana and GoodRx.
I found it interesting that this success of former Square employees seems quite ordained as Keith Rabois, the company's former COO, who is now a general partner at Founders Fund and the CEO of Opendoor explained "Jack (Dorsey) and I initially hired aspiring entrepreneurs — we were intentionally looking for people who had aspirations of starting their own company, and we wanted those potential founders to help us build Square."
The article tracks 15 ex-Square employees and their current ventures. My favorite part of the article, is this quote by Mr. Rabois, "I always told employees that it's my job to make your job at Square so challenging and fulfilling that you keep deferring leaving to start your own company. If your role isn't expanding in intellectually challenging ways, I'm perfectly comfortable for you to then depart." That's mentorship, team culture and talent development on steroids! It also flies in the face of the mistake so many people make which is to make themselves irreplaceable so that they can't be terminated. If you're irreplaceable, you're also not promotable. Teach and train the people around you to get better, be better and replace yourself so that you can take on the next opportunity and challenge.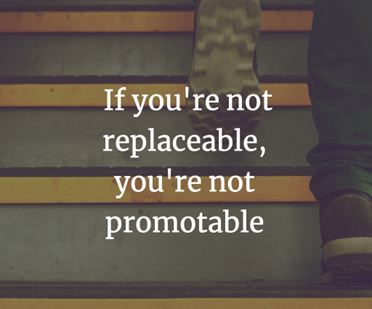 ---
TECHNOLOGY
Foodservice is arguably the most hands-on industry, hands down—which is why the technology that has been served up across the sector in recent years has had such a tremendous impact on it. Restaurant tech is now driving everything from ordering and payment to staffing and inventory. Meanwhile, our kitchens are cooking up remarkable innovation that runs the gamut from robotic woks and pizza-making robots to cheeseburger vending machines.
Brizo FoodMetrics, which provides foodservice market analytics to a number of leading restaurant suppliers and vendors, continually tracks the restaurant tech space, and has assembled a bird's-eye overview of who's doing what in their 2023 Restaurant Tech Landscape Map. It's an at-a-glance, easy-to-digest rundown of the major players in 10 tech categories: POS systems; payment solutions; online ordering; reservation & waitlist systems; inventory, accounting & purchasing; HR & staffing; delivery, pickup & drive-thru; marketing, loyalty & analytics; AI, robotics & automation; and ghost kitchens & virtual brands.
Brizo FoodMetrics monitors over 1.3 million North American establishments and is always updating new market data on how and where foodservice is innovating. Click below to see their findings in the 2023 Restaurant Tech Landscape Map.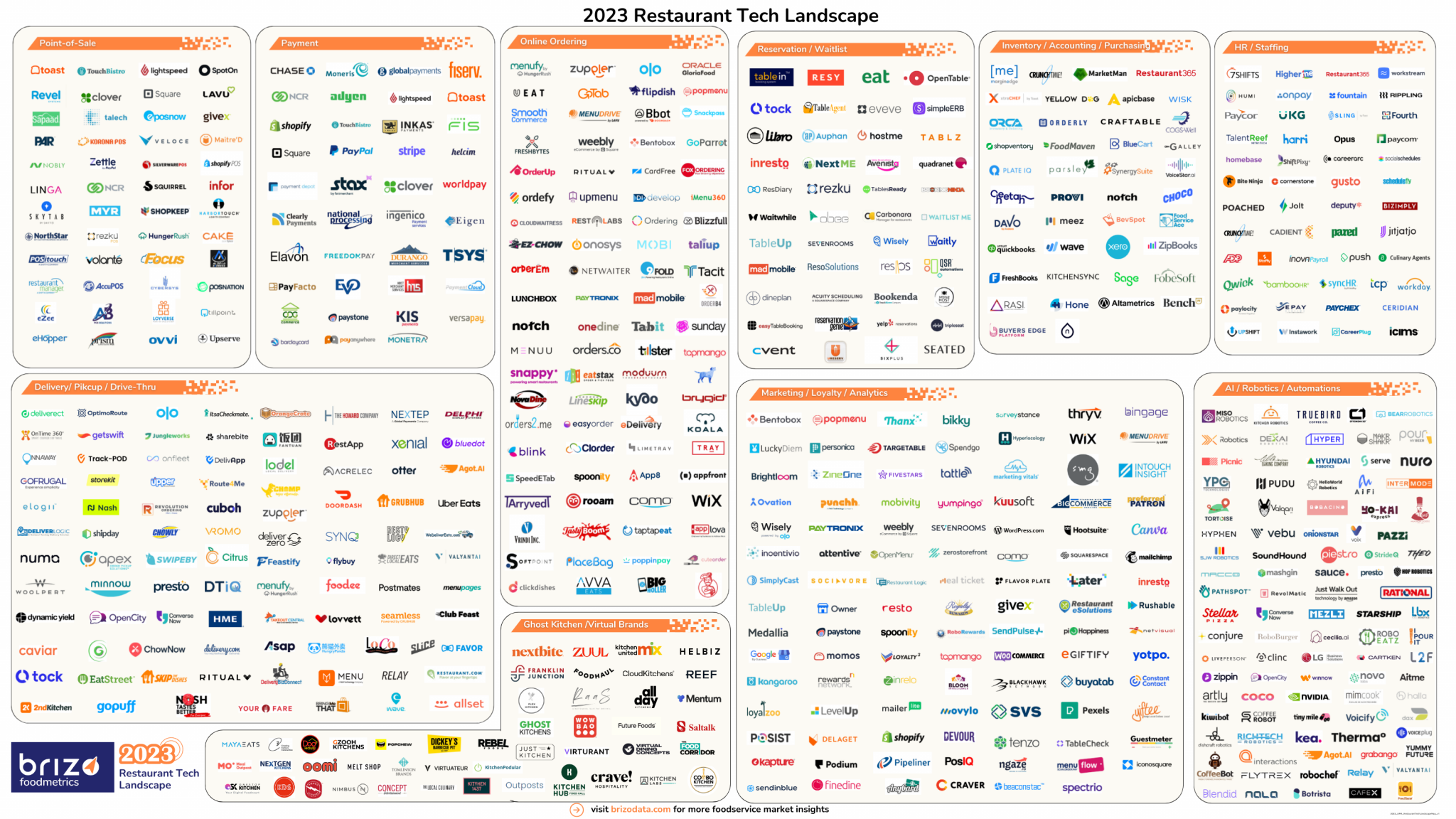 ---
FINANCE & DEALS
Private equity's evolving approach to sustainable infrastructure investing
The real asset sector plays a unique role in the sustainable investment landscape, and private investors are important and dynamic players in the asset class. With new regulations related to sustainability-related targets (under various labels including net-zero and ESG) and evolving investor expectations on environmental impact, fund managers must navigate a market poised for significant change.
—Read the article from S&P Global Market Intelligence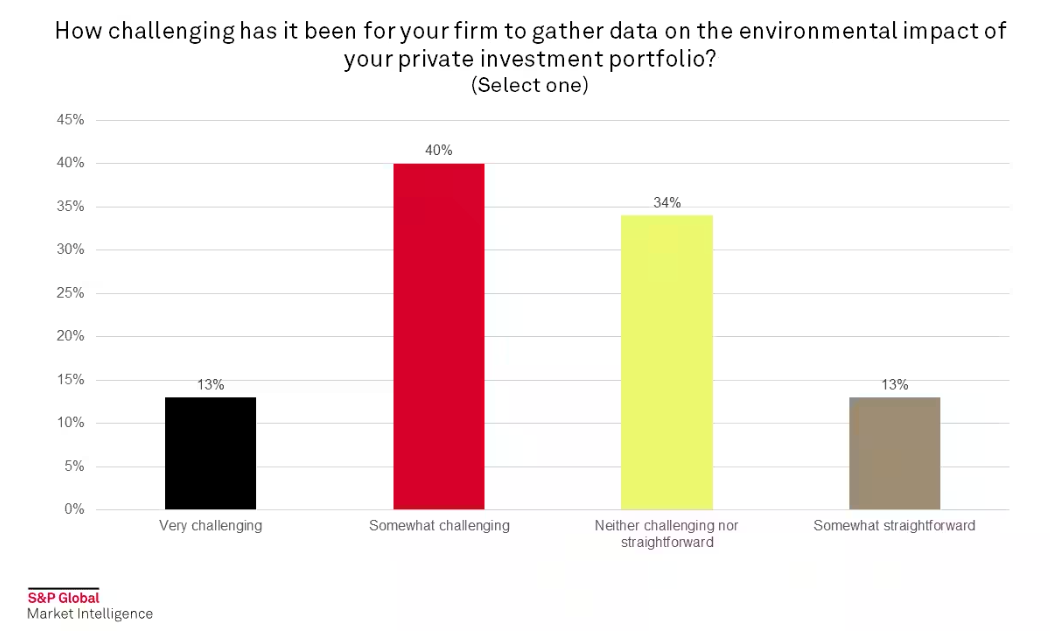 Listen: This Week in Startups- ANGEL: Brad Feld on investing through 3 economic cycles, CEO/investor dynamics, and more | E1660
Restaurant Industry Movers in the Market
—Data as of 1/27/23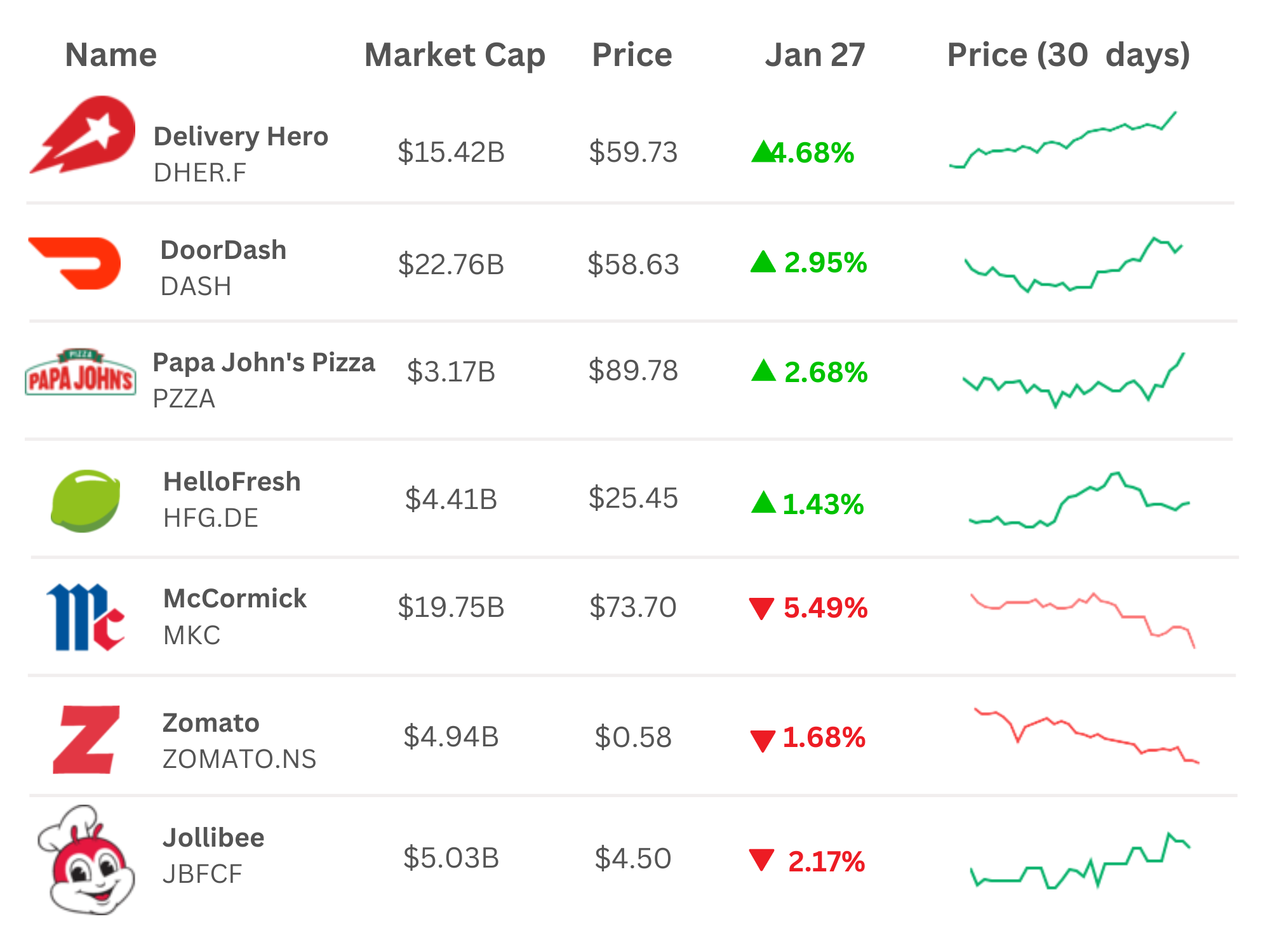 ---
BUSINESS
Tech is no longer a nice to have, it's a need to have. For a restaurant to be successful in today's world it must be agile and adapt quickly to changes in procedures and protocols.
Below please find a few insights from some of the largest consulting firms in the world.
---
PODCAST
Tuesday, January 24th- Hospitality Hangout: In the latest episode of Hospitality Hangout podcast, Michael Schatzberg "The Restaurant Guy" and Jimmy Frischling " The Finance Guy" chat with Robert Guarino, partner at Chef Driven and Andrew Nash, chief executive officer of Targetable for The Restaurant Marketing Summit!
Guarino is a New York City restaurateur that has been in the city managing and owning restaurants since 1996. Chef Driven is a multi-concept restaurant group with all of their locations in New York City. The company has thirty years of history and are currently running 14 restaurants, 13 are unique concepts with 2 new concepts in development.
Nash, an executive with over thirty years experience in technology, is the chief executive officer at Targetable, a done-for-you digital marketing platform for the restaurant and hospitality industry.
Listen to the full episode on Spotify, Google Podcast, Apple Podcasts, or Amazon Music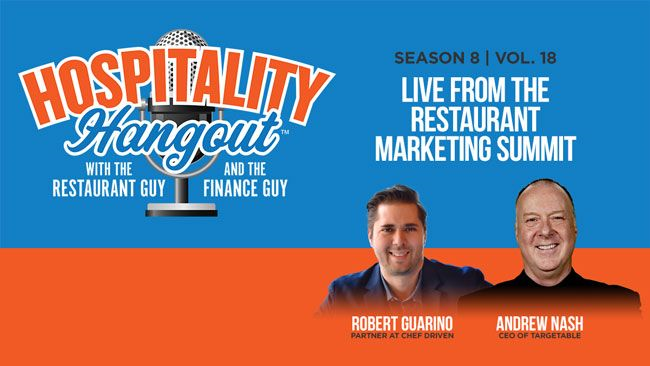 ---

Are you looking for a tech solution? A new partnership? Or maybe an easy way to built your tech stack??? Check out BOOM a food service marketplace!‌
‌‌
‌BOOM a food service marketplace! is a digital ratings and review platform providing best in class technology, innovation, professional services and suppliers for the entire spectrum of the hospitality industry.‌
‌‌
‌Want to learn more? Click HERE or contact us at boom@brandedstrategic.com
---
IN THE NEWS
Hospitality Tech and F&B Innovation IN THE NEWS:
We love to highlight Food Service & Hospitality news, especially when it's Partners & Friends making it!
And in other News…please see some of the stories that caught our attention and that we're paying attention to. This week was loaded with headlines and news!!
---
MARKETING
Did you miss the Branded Restaurant Marketing Summit?
33 incredible speakers came together to share playbooks, tactics and hacks to master your restaurant marketing and its over ... but not for you!
We recorded every session and you can get access to all of them plus the downloads with an All Access VIP Pass for 90 days!!
Learn more: https://bit.ly/BRMS2023VIP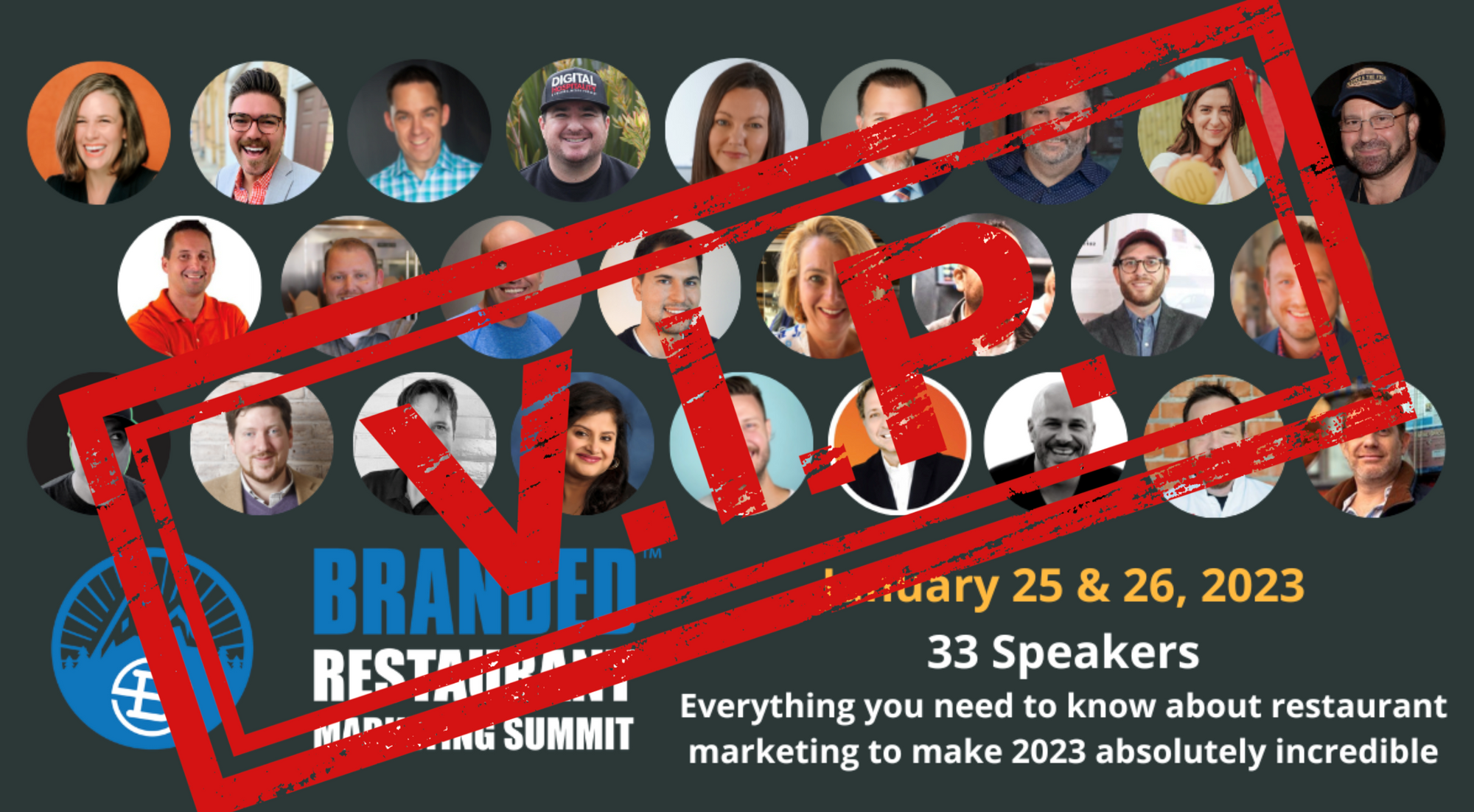 ---
That's it for today! I wish you a wonderful weekend!
See you next week, (about the) same bat-time, same bat-channel.
It takes a village!
Jimmy Frisch & Julia Suchocki
Branded Hospitality Ventures
jimmy@brandedstrategic.com & js@brandedstrategic.com
235 Park Ave South, 4th Fl | New York, NY 10003
---
Branded Hospitality Ventures ("Branded") is an investment and advisory platform at the intersection of food service, technology, innovation and capital. As experienced hospitality owners and operators, Branded brings value to its portfolio companies through investment, strategic counsel, and its deep industry expertise and connections.
Learn more about Branded here: Branded At-A-Glance_Jan 2023