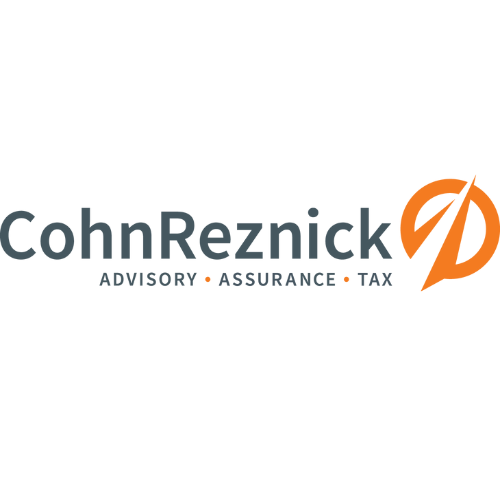 Together with CohnReznick
Serving hospitality and technology organizations through all stages of the business lifecycle
Friends of Branded!
Happy Saturday and I hope everyone had a great week!
The Last Mile is a 1932 American crime drama directed by Samuel Bischoff and starred Preston Foster, based on John Wesley's 1930 Broadway play.
In 1959, the play was adapted a second time into a film of the same name and starred the legendary Mickey Rooney. I've always had a big love of Mickey Rooney, so with apologies to the Foster-family, but I gave the nod (and by that I mean the photo above) to Mickey despite his playing the lead role in the film's second go around.
With this brief filmography now behind us and the goal of bringing us all back to the foodservice and hospitality industry, "The Last Mile" is the FINAL step in the delivery process from a distribution center or facility to the end-user. To keep it as relevant and relatable as possible, please allow me to restate that, it's the final step in the delivery process that brings the food from the restaurant to guest.
This final step is understandably quite simple (delivering an item from point A to point B), but it continues to be one of the hardest pieces of the supply chain for the industry to solve. Our industry's challenge is not because it's a particularly difficult issue to solve for, but because it's an incredibly difficult issue to solve for at an attractive price for the three parties involved in this transaction: (i) the restaurant; (ii) the guest and (iii) now let's make sure we insert the person executing the delivery - the driver.
According to a Cap Gemini study, the cost of the last mile accounts for about 40% to 50% of the entire supply chain. This makes the last mile the most expensive in terms of logistics costs!
I think all readers of The Weekend Update can agree that there's been tremendous growth in off-premise dining. While the pandemic gets the (well-deserved) attention for sparking the growth of food delivery, according to Edison Trends, a market research firm, the US food delivery service industry experienced a growth rate of 85% from Jan 2018 to Feb 2020. So, to be clear, yes, the pandemic was a big turning point for the food delivery industry, but it was a turning point for an industry that was already growing at 85%!
To put some context around the size of the food delivery industry, according to an industry report from Grand View Research, the global online food delivery market size was valued at $221.65 billion in 2022 and is expected to expand at a compound annual growth rate of 10% from 2023 to 2030.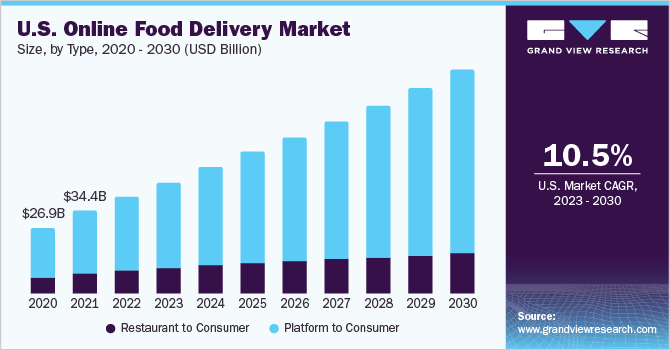 The Grand View report, makes clear that consumers now have access to a variety of applications, including online food delivery services, with improved network connectivity and an increase in the number of smartphones.
The report goes on to say that "online food ordering and delivery service is considered a fast-growing business owing to factors such as cost & time saving, safer and healthier food, increased customer loyalty, and highly customizable food options. Digital food innovation is constantly growing with recent advancements such as virtual restaurants and ghost kitchens."
According to Revolving Kitchen, the number of digital ordering and delivery is increasing by up to 300% compared to dine-in traffic.
Okay Weekend Update readers, stay with me. I went long research and analytics early in this week's edition. To be clear, there will be no more stats or math in this Top of the Fold section of this week's edition. I just needed to set the stage for this fast growing, evolving and consumer desired segment of the market – the convenience and importance of food delivery!
Now back to The Last Mile. The critical piece of the puzzle required to make the food delivery industry work is getting the food from point A to point B.
One of the largest complaints I hear about the food delivery industry is the costs to the restaurants and the costs specifically to the consumers. On Facebook (which I admit I rarely use, not b/c I'm cool, but b/c I was so late to the social media game that I missed it, and it passed me by), I've read how customers are upset about the fees charged on relatively inexpensive items that are delivered to their homes or offices.
There was even a class action lawsuit against Chipotle over service fees charged to customers that resulted in their paying 10% more for delivery than they would for in-person purchases. Chipotle allegedly increased the price of food items by 12% to 15% when customers ordered delivery.
I'm not going into details of the lawsuit b/c if I do, I'll lose the interest of even more readers today than I did with the research work included above. With respect to the lawsuit, I will simply say that I'm a big believer in transparency and that all parties should make fees charged to customers as clear as possible. That's completely fair and logical, right?
Again, and in the spirit of the KISS theory (Keep It Simple Schatzy), there is a REAL cost associated with The Last Mile. Let's move away from food for a moment and instead say that the item the guest ordered was the new iPhone 14 Max Pro (available at your local Apple Store and listed on Google today for $1,599) and was delivered to you in 30 to 45 minutes after you placed the order. Would the $6 delivery fee be an issue? My bet, it most certainly would not.
The act of a delivery-person, picking up an item, from point A and bringing it to point B, is unchanged (whether it's a burrito or an iPhone). I could ask the obvious question of why this critically important role in the supply-chain and specifically the role of the person executing this logistical task should care about the item he or she is delivering. The job is to get the item YOU ordered from point A to point B, safely, securely and in an appropriate amount of time.
You know who understands the role and importance of the delivery drivers better than anyone else I know, my friend, Mr. Andrew Simmons, who leads the Restaurant Marketing Delivery Association (RMDA). The mission of the RMDA is to provide knowledge, community, integrations, and valuable partnerships to help its members thrive and scale their delivery enterprise. How many members does the RMDA have? Over 30,000! If you're an operator or a tech company involved in the delivery industry, you should get to know the RMDA. You'll put yourself ahead of your competition with this one relationship alone.
Branded has the privilege of working with and we've invested in a number of emerging technology companies that are focused on off-premise solutions to benefit operators. The importance of leveraging technology to improve margins and efficiencies for hospitality operators remains one of Branded's most important investment verticals. It's also the segment of the market where our first two exits came from: Bbot to DoorDash and GoParrot to Square (this is an example of how you highlight successful exits from your investment portfolio without actually saying you had exits…unless you do what I just did and actually say you were highlighting them). 😊
As an industry, we're experiencing a bevy of creative solutions designed to reduce the cost of the last mile, but at the end of the day, there is a limit to what can be done if the solution ultimately requires a person to execute the point A to point B solution.
For hospitality operators, Branded continues to emphasize the following: (i) work with a strong white-label delivery platform; (ii) work with a leading online food integration platform (to address tablet-hell & menu management); (iii) work with a strong logistics platform; (iv) create a guest-centric pick-up solution (thereby eliminating the last mile issue); and finally (v) be nice to the delivery drivers that are bringing your food to your guests.
This last one often confuses people, but it shouldn't and it's one of the simplest things you, as an operator, can do. These drivers, whether you believe me or not, are an extension of your team! Again, they're bringing YOUR food to YOUR guests. You should want to be on the short list of venues that drivers like to engage and work with. Humanize this part of the process and you will improve YOUR delivery offering for YOUR guests. Make the pick-up, for these drivers, as easy as possible. Let them use the bathroom, offer them a glass of water. Treat them as an extension of your team and they will work harder for you!
You think I'm pontificating or standing on some sort of soapbox? Maybe, but I was also a pizza delivery person in college and the relationship I had with the owner of my favorite joint is one I still cherish today (thank you, Pete the Greek, for everything).
Follow the steps I've presented above and while I know it won't eliminate the cost of the last mile, it will improve your delivery offering and your guests will notice, appreciate, and value it!
Okay, there's a lot to cover from the week we just closed. As always, it takes a village. Let's go!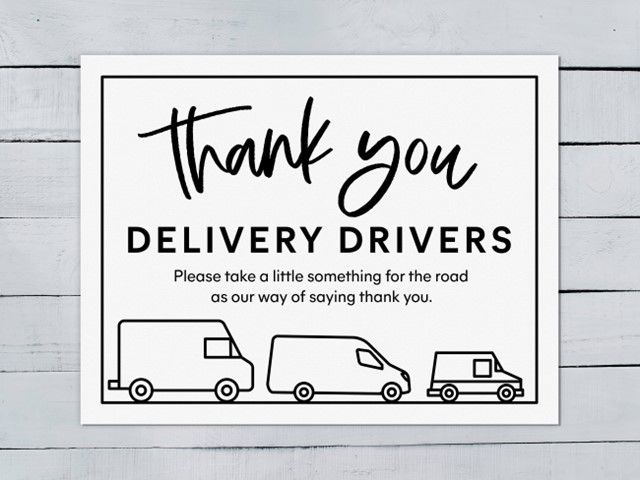 ---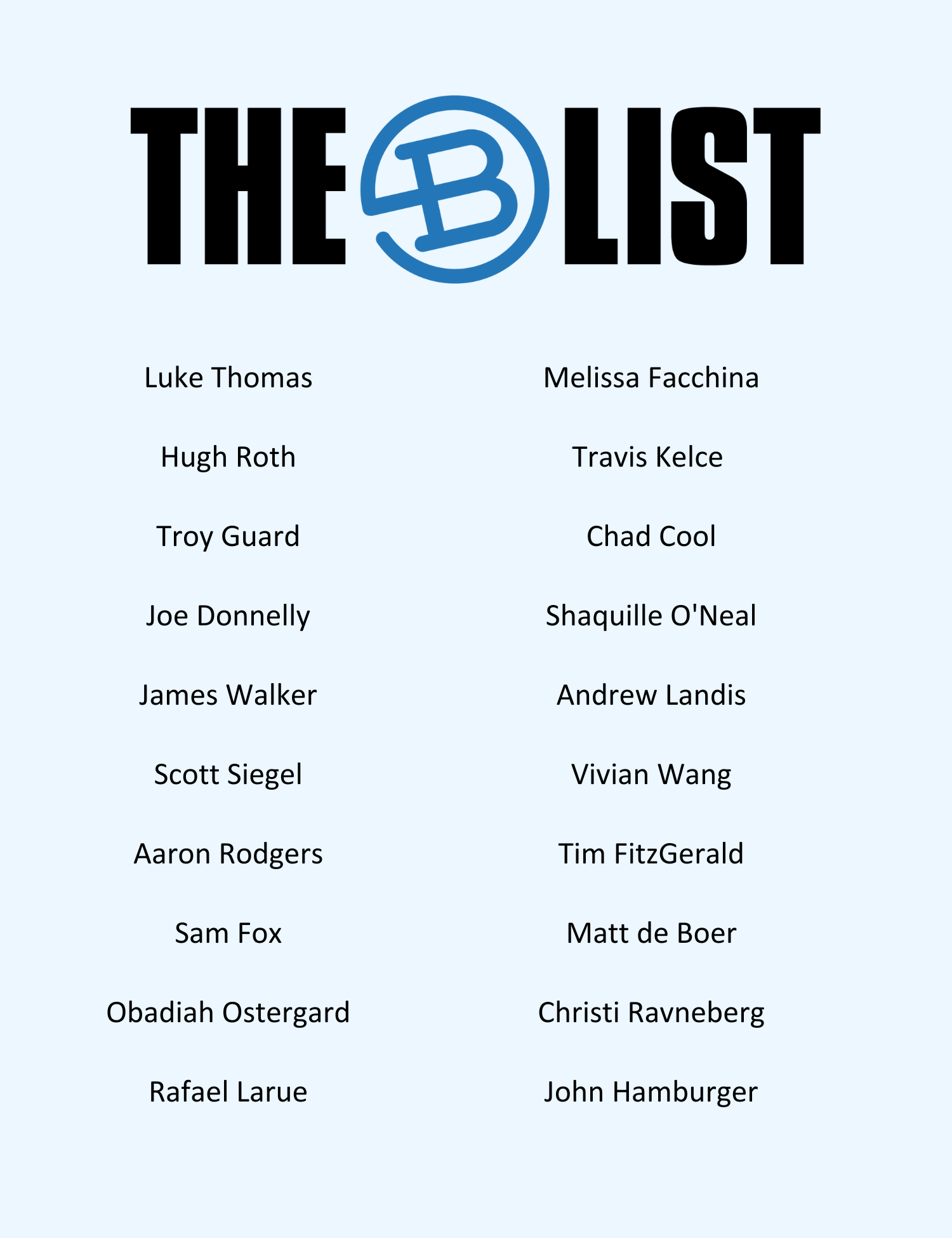 ---
MARKET COMMENTARY
I know the Top of the Fold section keeps getting a little longer (a little?), so let me try to balance this out with a Market Commentary section that is written in the spirits of Schatzy's favorite part of the Hospitality Hangout, the Branded Quick Fire! This section will therefore be sponsored by Chico's Bail Bonds until our executive producer makes me stop saying that!
Chico's – "let freedom ring!" 😊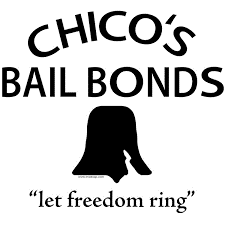 Last week I wrote about the current state of the reservation industry and tried to highlight some of the friends, frenemies and enemies of restaurant operators.
I included this article from New York magazine by Rachel Sugar about Impossible Tables. In the immortal words of Ricky Bobby, "if you ain't first, you're last." Hey New York Magazine, I was first, so well…you know! 😊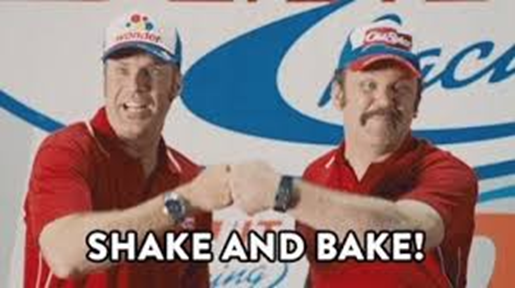 The CEOs and promoters of these secondary market platforms are trying to argue why their service is good for and can benefit restaurants and diners alike!
LIPSTICK, please meet PIG!
I'm harping on this issue b/c any tech platform that is reselling reservation WITHOUT PERMISSION of the restaurant is NOT a friend of and not helping the restaurants. People in the article asked NOT to have their name used. What does that say about this business?
I encourage tech platforms that are engaging in this nefarious activity to stop and work in partnership and in cooperation with hospitality operators. As I've written before, I'm a free markets person, so I respect that everyone can do as they like, and that includes selling, without permission, restaurant reservations.
Here's the rub and your future - YOUR business is going to crumble when YOUR customers, who pay YOU to secure these hard-to-get tables, are denied entry to these restaurants. As highlighted in the article, managers are denying people from checking-in using these contraband reservations. At that point, it's YOUR customer that is going to be upset and complain that they "paid for this reservation." I'm sure the managers at these venues will deal with this situation far better than I would, b/c I would say "talk to the hand, 'cos the face ain't listening." Thank you Ali G!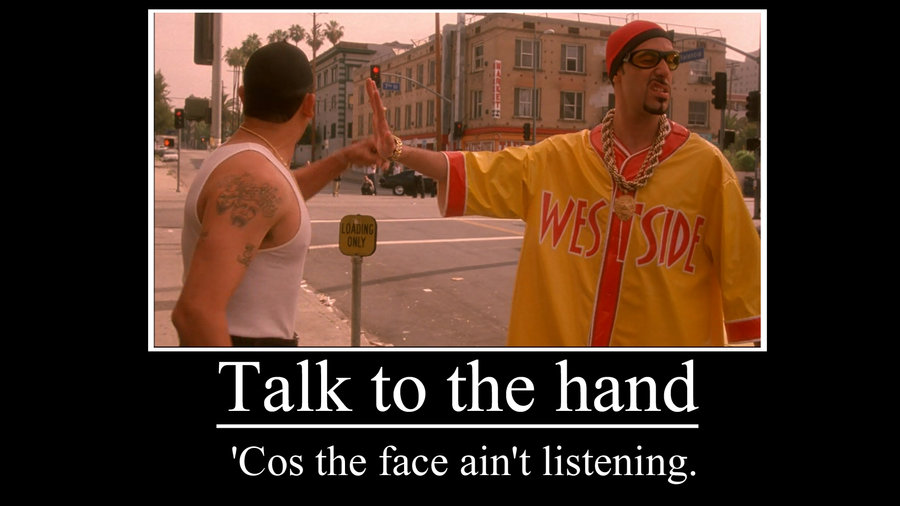 This article caught my eye b/c it put a spotlight on a sector of the market that I believe deserves a great deal more attention and is one of the key investment verticals that Branded is focused on – data and analytics.
As the article by Alexandra Garfinkle highlights, geopolitical and economic volatility has a way of crystalizing the importance of specialized data providers.
According to the article, despite a 14% decline in overall deal volume, information, data, and analytics M&A jumped from 16 transactions in the fourth quarter of last year to 35 transactions in the first quarter of 2023. The same is true of capital raises - there were 10 done by funds targeting the sector at the end of last year and 17 in Q1 of 2023. These aren't earth-shattering deals, to be sure, but in a market where dealmaking is barely moving, it's notable.
Branded has made two data and analytic companies key parts of portfolio - Brizo Foodmetrics and Ingest.
Brizo is all about actionable, data-rich foodservice insights to help you prequalify markets, reduce customer acquisition costs, and close more deals.
Ingest connects all of your separate data sources together, making it easy to get a full view of your business in just a couple of clicks.
To the Branded Hospitality Network, I highly recommend you lean into Brizo and Ingest. In a world where there are so many headwinds that make our industry a most challenging one, these companies are friends, allies, and represent the tailwind we need! IYKYK!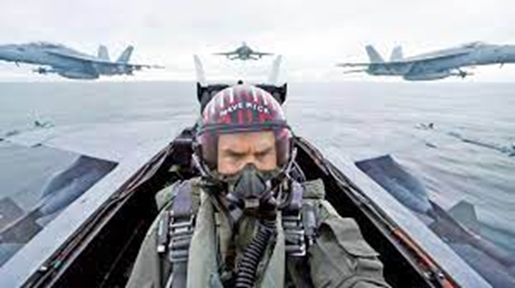 ---

Join the National Venture Capital Association as they celebrate 50 years of empowering America's startups and entrepreneurs at the 2023 Leadership and Awards Gala. This event will be at the Four Seasons Hotel in San Francisco on May 11th and will bring the venture industry together. The awards ceremony will honor those who have made significant contributions to foster innovation, advance technology, and drive new company formation. We hope to see you there!
* This event is for VCs only. Discounts applied for NVCA members.
---
TECHNOLOGY
For those familiar with me and my partner-in-crime Schatzy, you'll know that we take our drinks very seriously. In fact, our first-ever investment was in PourMyBeer, a company revolutionizing the way we serve and enjoy our libations! As a former bartender, I was blown away by the efficiency the system brings to the table. And as the finance guy, I couldn't help but see the potential in saving restaurants both time and money. Who knew that our love for a good cocktail could lead to such a promising business venture?
Fast forward a few years and we met Tim McLaughlin, CEO of GoTab. Those that know his story know that the idea of GoTab came to fruiting while he was running his very own restaurant and brewery back in 2015. Now, let me make one thing clear - at Branded, we don't just invest in beverage aficionados. We're all about finding the best ideas out there, no matter where they come from. That being said, what I do believe is that there's no better way of solving a problem than experiencing it yourself. Tim immediately saw areas where his new restaurant could improve and now he has built what we believe is the POS of the future. We're talking the ultimate game-changer here, folks.
I'm thrilled to share this week that two of our partners have created the ultimate integration for not only operators but guests!  The integration between PourMyBeer and GoTab is incredibly cool and is set to revolutionize the way we order and enjoy beer. With PourMyBeer's advanced self-pour technology and GoTab's mobile ordering and payment platform, customers can now conveniently order and pour their own beer at their favorite bars and restaurants. This seamless integration allows customers to skip the line and enjoy a hassle-free experience, while bar owners can benefit from increased efficiency and improved customer satisfaction. Overall, this integration is a game-changer for the hospitality industry, and I'm excited to see how it will shape the future of self-service ordering and payment.

---
FINANCE & DEALS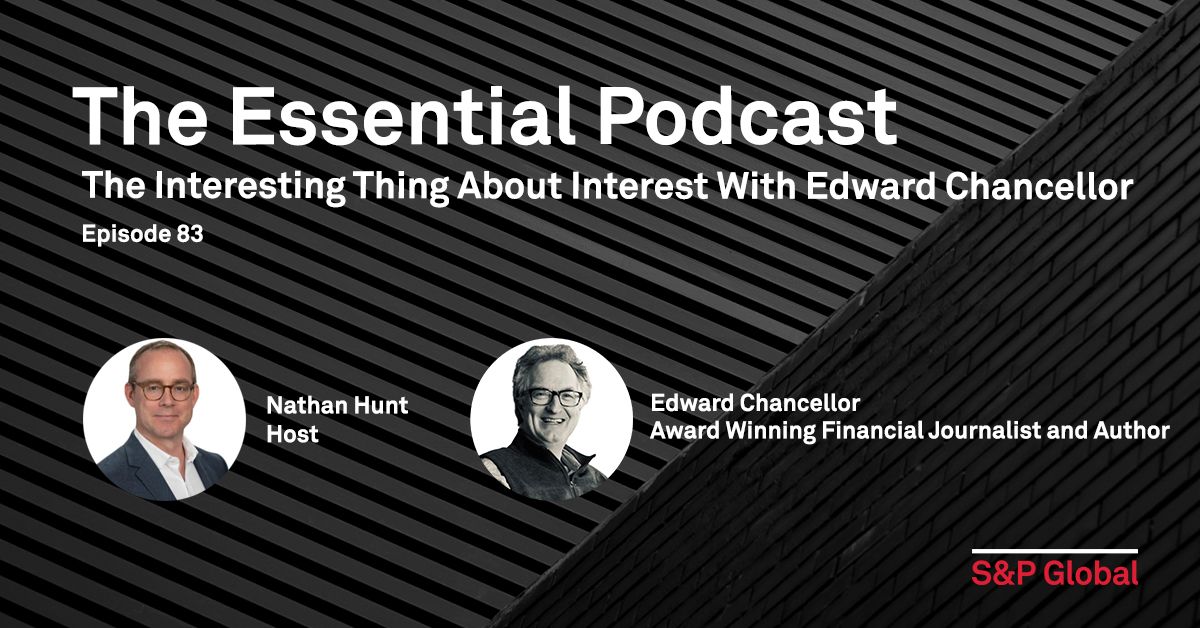 Edward Chancellor joins The Essential podcast to discuss his book "The Price of Time: The Real Story of Interest."

The Essential Podcast from S&P Global is dedicated to sharing essential intelligence with those working in and affected by financial markets. Host Nathan Hunt focuses on those issues of immediate importance to global financial markets—macroeconomic trends, the credit cycle, climate risk, ESG, global trade, and more—in interviews with subject matter experts from around the world.

Listen and subscribe to this podcast on Apple Podcasts, Spotify, Google Podcasts, and Deezer.

Restaurant Industry Movers in the Market
—Data as of 4/28/2023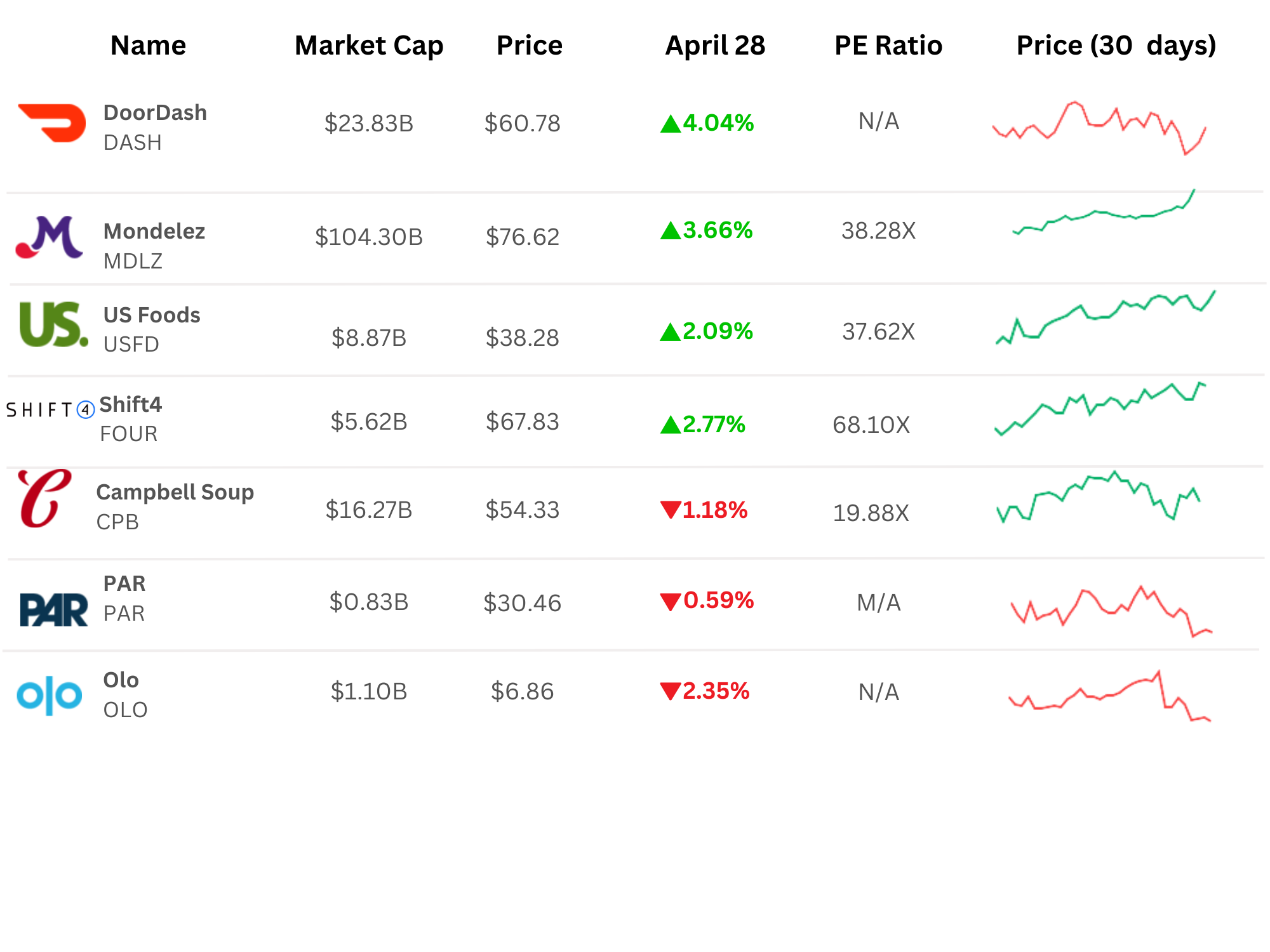 ---
BUSINESS
Product velocity is the new buzzword in the world of business, and it's all about speed, speed, and more speed! In today's fast-paced world, companies are bringing new products and services to market faster than ever before. For those that know me and know my team we move fast and with a purpose. As Dom Toretto famously stated in The Fast and The Furious, "I live my life a quarter mile at a time," the pursuit of speed, precision, and victory applies to entrepreneurs and racers alike. While launching a product and a quarter-mile drag are vastly different endeavors, the desire to optimize for efficiency and achieve success remains the same.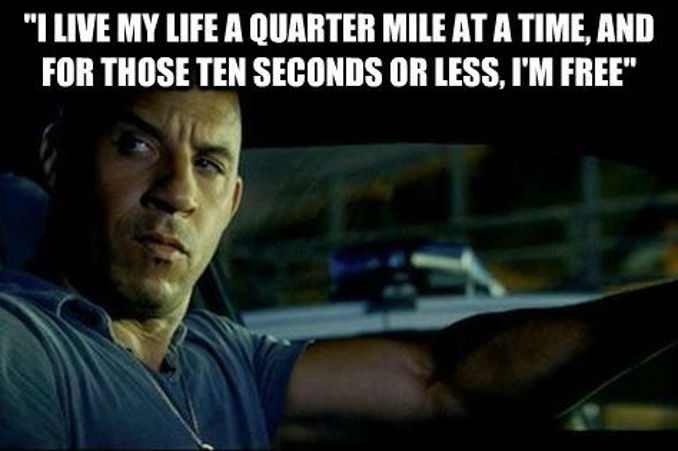 For startups, acceleration is a critical metric of success. If it takes everyone else to launch a product in a year and you do it in 9 months, then you are a winner! Ultimately, this enables you to learn, iterate, and improve at a faster pace.  
So, how do you achieve a high product velocity? Well, it's all about being agile, nimble, and gaining momentum. Product velocity can be compared to Newton's law of momentum, which states that the force acting on a particle is proportional to the change in momentum over time. In both cases, the ability to quickly adapt to changes and maintain a consistent forward movement is crucial for success. Just as a particle with high momentum is difficult to stop, a product with high velocity is able to gain traction and make a significant impact in the market.
---
PODCAST
Tuesday, April 25th- Hospitality Hangout: In the latest episode of the Hospitality Hangout podcast, Michael Schatzberg "The Restaurant Guy" and Jimmy Frischling "The Finance Guy" were on the road at the Restaurant Leadership Conference in Scottsdale, Arizona. Their guests include Kim Plahn, the President of Dunn Brothers Coffee; Alex Eagle, the CEO of Freebirds World Burrito; Daran Han from Cargill and Scott Taylor, the President and CEO of Walk'Ons Sports Bistreaux.
Listen to the full episode on Spotify, Google Podcast, Apple Podcasts, or Amazon Music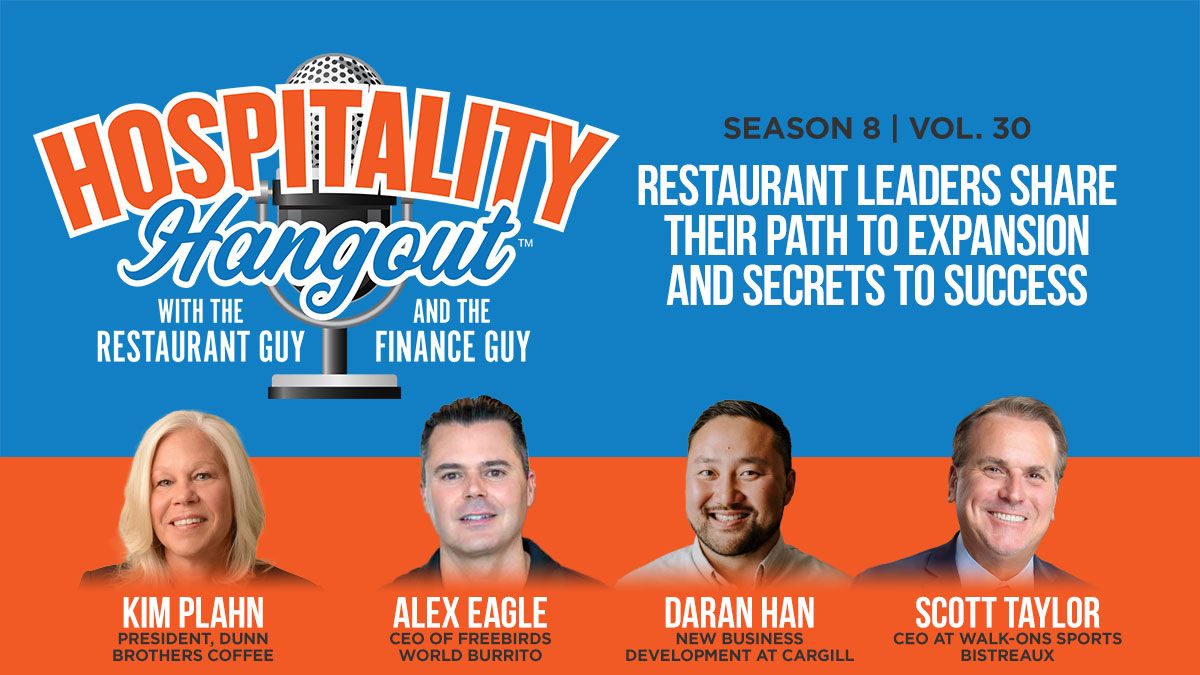 Thursday, April 27th- Branded Insights: 📢 Gimme an E! Gimme an A! Gimme a T! Gimme an E! Gimme an R! Gimme a T! Gimme an A! Gimme an I! Gimme an N! Gimme an M! Gimme an E! Gimme an N! Gimme a T! 📢
What's that spell? EATERTAINMENT!💡 a consumer user experience that involves dining before, during and/or after other entertaining activities.
Albeit a long cheer, if any category in the foodservice industry deserves a post-COVID, pom-poms in the air, crowd-chanting, standing ovation… Eatertainment has undoubtedly earned it. During the pandemic, restaurants had it bad, but for dining concepts built around and dependent on social gatherings, it was a whole-other non-ball game.
Fortunately, Eatertainment didn't just survive the pandemic, it's now thriving largely due to consumers' renewed desire to reconnect and socialize at fun venues that include the whole package: food, drinks, and interactive, entertaining activities.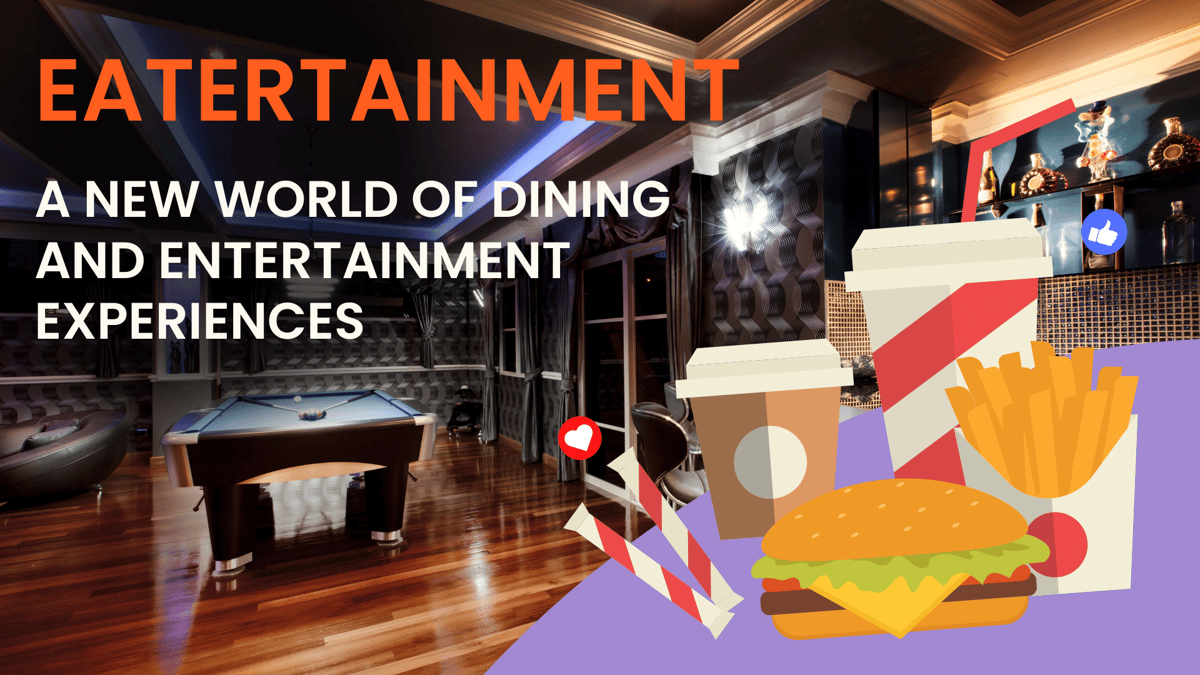 ---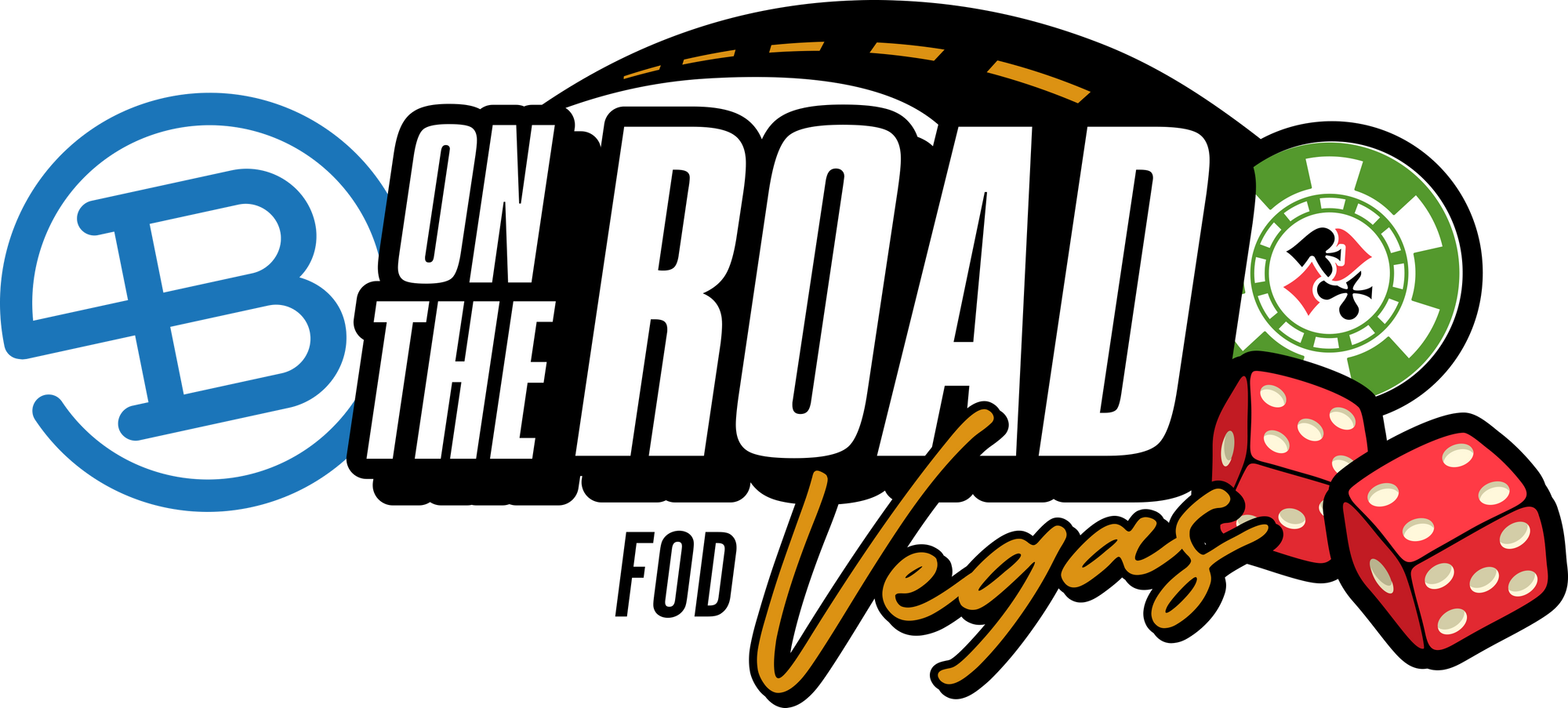 Team Branded is hitting the road next week and heading out to Vegas for the Food On Demand Conference.
We'll be joined by seven of our friends and Partner Companies including  Juicer,  Ovation, Bite; Spendgo; Incentivio; Brizo; Galley and VROMO.
I am thrilled to announce that I will be speaking at the upcoming Food On Demand conference. I'll be sharing the stage with Branded's good friends, Andrew Peskoe from Golenbock, Brita Rosenheim from Vita Vera Ventures, and Marty Hahnfeld of 858 Partners. I'm looking forward to discussing my perspectives on investing in the future of food. If you plan to attend the event, please join us at 10:20 am on Thursday, May 4th, in Breakout 2. It will be a fantastic opportunity to network and gain insights on this dynamic industry!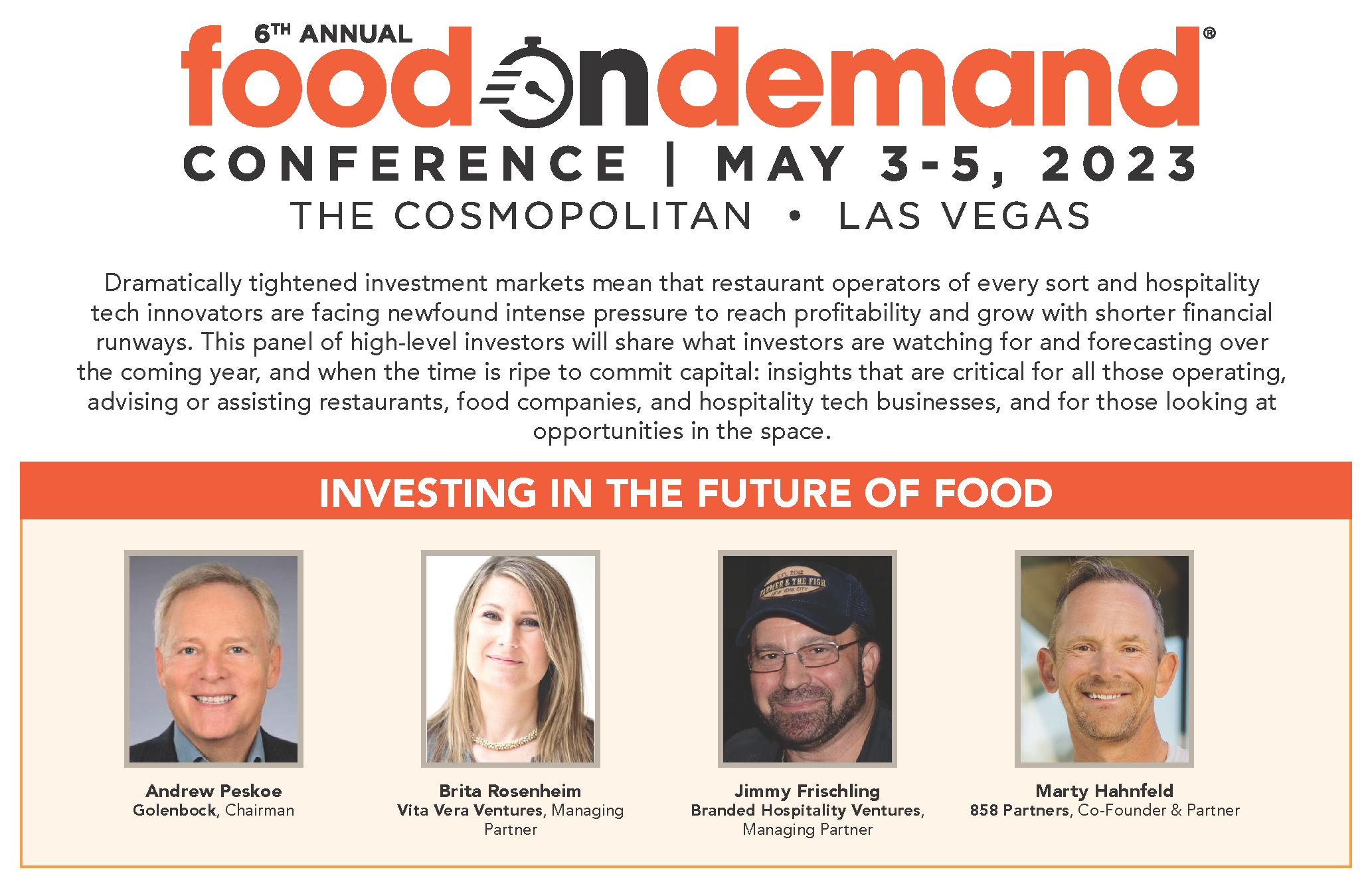 ---

Are you looking for a tech solution? A new partnership? Or maybe an easy way to build your tech stack??? Check out BOOM a food service marketplace!‌‌‌‌‌‌‌‌ Boom is a digital ratings and review platform providing best-in-class technology, innovation, professional services and suppliers for the entire spectrum of the hospitality industry.‌
We're excited to highlight our new Marketplace Partners in the logistics space!
Want to learn more? Click HERE or contact us at boom@brandedstrategic.com
---
IN THE NEWS
Hospitality Tech and F&B Innovation IN THE NEWS:
We love to highlight Food Service & Hospitality news, especially when it's Partners & Friends making it!
And in other News…please see some of the stories that caught our attention and that we're paying attention to. This week was loaded with headlines and news!!
---
MARKETING
THE BEST PANEL EVER IS AT FOOD ON DEMAND THIS YEAR!!
🎲 Are you headed to Food On Demand in Las Vegas next week? I'll be there with Schatzy & Jimmy. Hit us up.
If you'll be in town Tuesday afternoon, I'm co-hosting a food crawl with Zack Oates, CEO of Ovation. If you would like to enjoy some tasty local eats, reach out for details.
Check out the video of our Food Crawl at RLC last week https://youtu.be/p_xpeUUBGiw
Thanks to Joe and the team at the Digital Restaurant Association for putting it together!
If you're going to FOD, Im hosting a panel that I think you'll be interested in.
YOUR RESTAURANT MARKETING QUESTIONS ANSWERED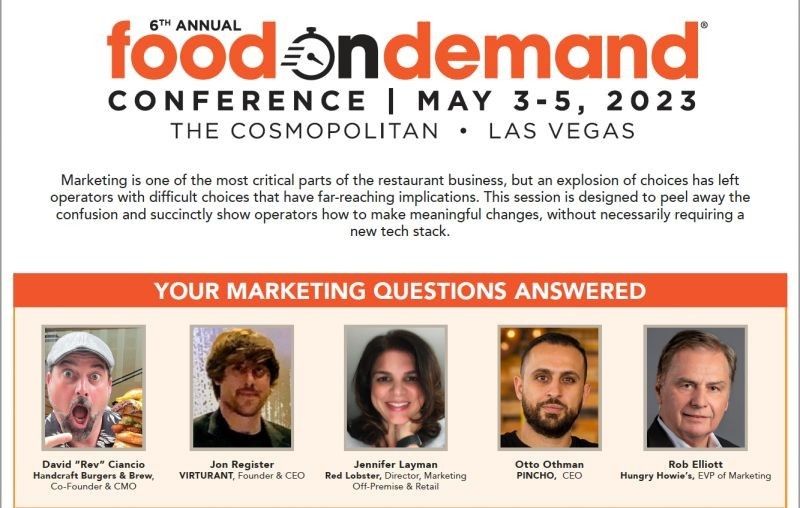 THURSDAY, MAY 4, 2023
11:20 am–12:10 pm
Marketing is one of the most critical parts of the restaurant business, but an explosion of choices has left operators with difficult choices that have far-reaching implications. This session is designed to peel away the confusion and succinctly show operators how to make meaningful changes, without necessarily requiring a new tech stack.
️ ⭐️ Jon M. Register, virtuRant
️ ⭐️ Jennifer Matullo Layman, Red Lobster
️ ⭐️ Otto Othman, PINCHO
️ ⭐️ Rob Elliott, Hungry Howie's Pizza
🎩 Moderator: David "Rev" Ciancio, Handcraft Burgers and Brew
So, will we see you in Vegas?!?!
Thanks!
Rev Ciancio
Branded Strategic, Head of Revenue Marketing
---
That's it for today!
See you next week, (about the) same bat-time, same bat-channel.
It takes a village!
Jimmy Frisch & Julia Suchocki
Branded Hospitality Ventures
jimmy@brandedstrategic.com & js@brandedstrategic.com
235 Park Ave South, 4th Fl | New York, NY 10003
---
Branded Hospitality Ventures ("Branded") is an investment and advisory platform at the intersection of food service, technology, innovation and capital. As experienced hospitality owners and operators, Branded brings value to its portfolio companies through investment, strategic counsel, and its deep industry expertise and connections.
Learn more about Branded here: Branded At-A-Glance April 2023