Today, it's hard to imagine a fast-food chain without a drive-thru lane. It was estimated that there were 200,000+ drive-thru operations across the U.S in 2020. Can you imagine pulling up to your favorite burger joint and having to get out of your car? That's sooo old-school! But once you get a taste of that sweet luxury and convenience, you just can't get enough. And guess what? The restaurant industry is hitting the gas pedal to satisfy your drive-thru cravings!
Not only is it great for the consumer though, but operators are also benefiting from this tremendous invention that was born in 1948. (But you didn't really think I'd reveal the answer to the quiz above just yet. You'll have to keep reading to receive that nugget of information.)
Data has proven that restaurant owners can make up to 60%-70% of their sales from the drive-thru! For instance, "a typical Dunkin' location without a drive-thru generated $1 million in sales. Add a drive-thru and that location generates nearly $300,000 in additional sales, or about $1.3 million, according to the company's franchise disclosure document." Doesn't seem like a bad gig for franchisors right? Luckily at Branded, we know the experts.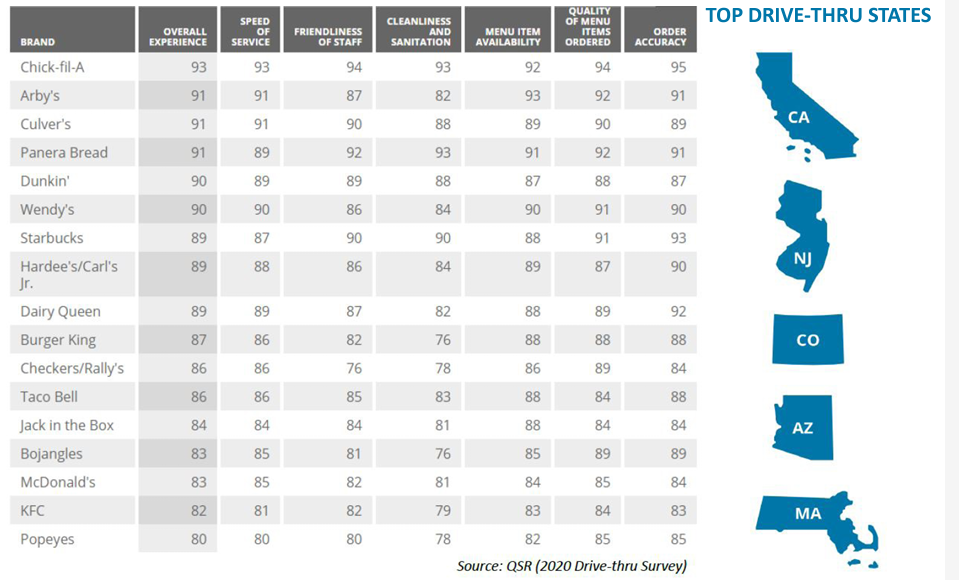 But this isn't a shameless plug to our friends at Fransmart, it's also a shout-out to our friends Joshua Kobza, Jose Cil, Bart Weymeis, Phil Crawford, and David Gibbs whose brands, according to a 2020 drive-thru survey by QSR, are dominating the drive-thru experience.
Some brands are even getting creative with it! For example, Dunkin Donuts unveiled its first dual-lane drive-thru system in 2018 and Chipotle even gave its drive-thru a name when it rolled out its first version in 2019 called Chipotlanes. I'm looking forward to the creativity that is and will continue to be put into these concepts and of course the innovation!